Rams punter Johnny Hekker has some history with the Seattle Seahawks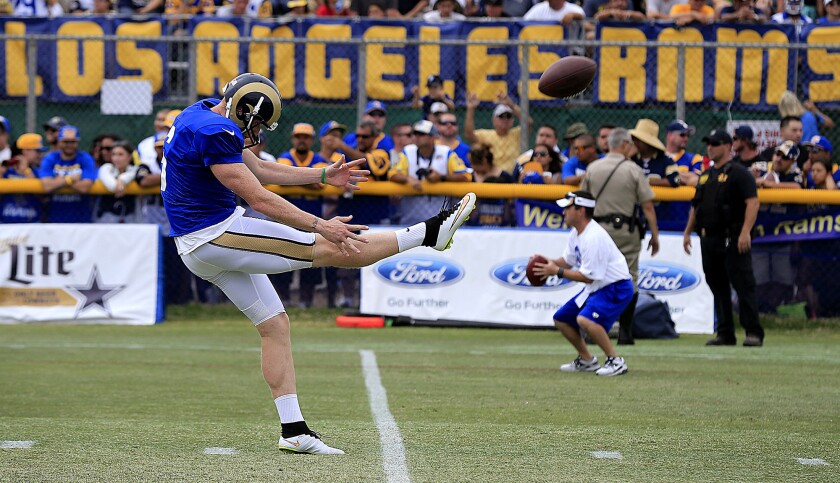 Though many Rams players and coaches welcomed the short week to forget about their season-opening loss on Sept. 12, punter Johnny Hekker probably could have used an extra day to recover.
Hekker punted 10 times in the Rams' 28-0 loss to the San Francisco 49ers in the Monday night game.
"I think any punter would agree that 10 times is a couple too many," Hekker said. "Of course, getting to contribute, getting to leave a little print on the game is fun. But I'd rather be scoring touchdowns and holding for field goals and PATs."
Hekker said he is looking forward to Sunday's game against the Seattle Seahawks at the Coliseum.
The Washington native has been involved in several noteworthy special-team plays against the Seahawks.
In 2014, Hekker completed a fourth-down pass to Benny Cunningham to keep alive a drive that clinched a victory at St. Louis.
Last year, Hekker drew an unsportsmanlike conduct penalty when he hit Seahawks defensive lineman Cliff Avril after a punt.
"I punted the ball, I'm running down, I see a blue jersey, went and gave him a little shoulder," Hekker said. "I kind of caught him between strides and he went down kind of hard.
"It was just a dumb play in the heat of the moment. … It ended up being something bigger than I anticipated."
The Seahawks did not wait long to respond.
On Hekker's next punt, Avril came up to him and had words. Defensive end Michael Bennett also charged Hekker, who fell to the ground.
"They were just coming after me," he said. "I knew what I did was not too warmly welcomed on their sideline for sure.
"They were sticking up for their teammates. That's exactly what our guys would do.
"That's just football. You do something they don't like so you're going to hear it or feel it."
---
Get the latest on L.A.'s teams in the daily Sports Report newsletter.
You may occasionally receive promotional content from the Los Angeles Times.