Jaguars' offense runs through Leonard Fournette, and Rams must find a way to stop him
The Times' Gary Klein and Lindsey Thiry preview the Rams' (3-2) Week 6 matchup against the Jacksonville Jaguars (3-2). Up next, a trip to London.
Reporting from JACKSONVILLE, Fla. —
In the days leading up to the start of their 11-day trip, the Rams spent time making sure they were appropriately packed, including passports required for the second leg to London.
So it's probably a good thing that film study of the Jacksonville Jaguars' tendencies was relatively uncomplicated.
There is no mystery about the Jaguars offense: Rookie running back Leonard Fournette is the centerpiece.
The former Louisiana State star is the NFL's second-leading rusher.
His breakout performance through five games — combined with one of the NFL's most aggressive defenses — has helped the Jaguars to a 3-2 record and put them atop the AFC South.
Controlling Fournette will be among the Rams' greatest challenges on Sunday at EverBank Field.
"What [Fournette] gave this team is a different type of energy," Rams linebacker Robert Quinn said.
After struggling early this season to stop the run, the Rams have of late performed well in that area.
They controlled the Dallas Cowboys in the second half of a victory, and last week shut down the Seattle Seahawks' rushing attack in a narrow defeat.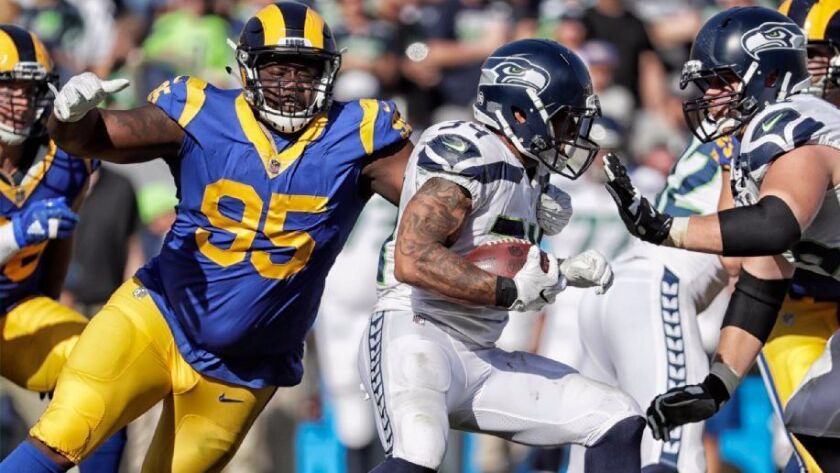 But can they contain the upstart Jaguars, the NFL's top rushing team?
Playing what Rams defensive coordinator Wade Phillips described as "smash-mouth football," the Jaguars are ascending under coach Doug Marrone.
In last week's 30-9 road victory over the Pittsburgh Steelers, the Jaguars executed 18 consecutive running plays over three drives in the fourth quarter. On the 18th play, Fournette broke free for a 90-yard touchdown.
Phillips said the Jaguars' rushing attack reminds him of 1970s Steelers teams that featured running backs Franco Harris and Rocky Bleier.
"It's an old, old formula," Phillips said, "but they're doing really well with it."
The 6-foot, 228-pound Fournette has rushed for 466 yards and five touchdowns in a league-high 109 carries. Against the Steelers, he gained 181 yards and scored two touchdowns in 28 carries.
"He's a guy that he gets 30 yards where a play might be blocked for three or four," Rams coach Sean McVay said.
Fournette also has 13 receptions for 128 yards and a touchdown.
"Everything that we've asked of him he's delivered on," Marrone said. "So, it's just a matter of the management of what we want to do or much he can do or how much we want to go.
"Obviously, we're very pleased with that position."
Fournette is not the only capable back: Chris Ivory has rushed for 159 yards.
But Fournette is the focal point of an offense that features much-maligned quarterback Blake Bortles.
"It could be first and 10 or third and 10," Quinn said. "Sometimes it looks like they'll just hand it off."
The Jaguars defense takes care of the rest.
The unit has amassed a league-best 20 sacks and 10 interceptions.
The Jaguars intercepted five passes last week against the Steelers.
That was not welcome news for a Rams team that committed five turnovers against the Seahawks. Quarterback Jared Goff had two passes intercepted and lost a fumble.
"Our goal every game is to protect the football and take care of the ball," Goff said, "but this game's going to be an emphasis for sure."
If the Rams limit their turnovers and contain Fournette, they could be off to a good start on a trip that includes a "home" game against the Arizona Cardinals at London's Twickenham Stadium.
It will be difficult to be on the road for more than a week, several Rams players said after practices at the team's Thousand Oaks training facility.
"Guys have massage people here, yoga, people who lift — it takes you out of your rhythm," running back Todd Gurley said. "I don't really like it at all."
Last season, the Rams lost at Detroit and then left immediately for a resort outside London, where they trained before losing to the New York Giants.
The Rams changed the itinerary this season.
After Sunday's game, the Rams will remain in Jacksonville until Thursday, and then travel to London.
McVay was the offensive coordinator for a Washington Redskins team that last season departed for London on the Thursday before a game against the Cincinnati Bengals at Wembley Stadium. The game ended in a 27-27 tie.
"We felt like that was a pretty seamless transition," McVay said of the travel schedule, "as seamless as it can get I guess when you're adjusting with that different time-zone change."
A victory over the Jaguars would help make the Rams' long trip more bearable.
"It's a great opportunity for us to travel together as a team, continue to work on staying connected," McVay said. "We look at it as an advantage.
"It's not something that we're ever going to make an excuse for."
Follow Gary Klein on Twitter @latimesklein
---
Get the latest on L.A.'s teams in the daily Sports Report newsletter.
You may occasionally receive promotional content from the Los Angeles Times.