In his third practice with Rams, receiver Sammy Watkins shows there's a lot to be excited about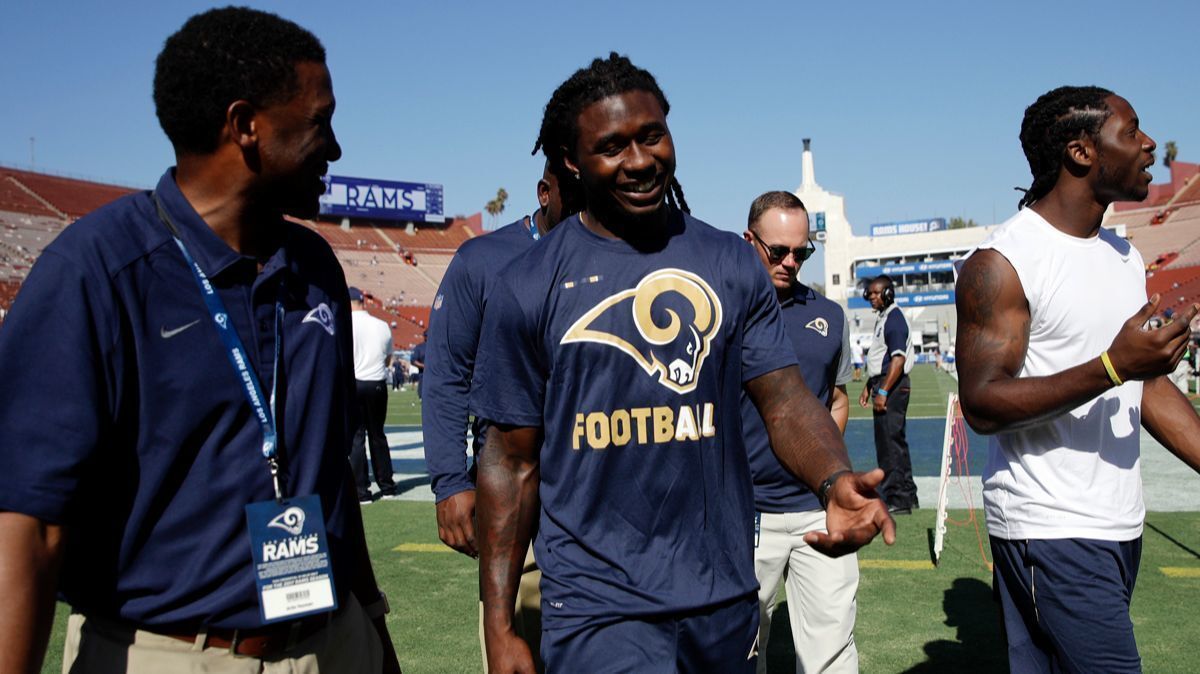 As Jared Goff's mid-range pass spiraled above the middle of the field, players on both sides of the line of scrimmage — as well as those on the sideline and fans in the stands — looked up with anticipation.
New Rams receiver Sammy Watkins snaked through defenders, reached above his head, snatched the ball into his yellow-gloved hands and raced downfield.
Goff tried to hide his reaction but could not help himself.
"I did kind of turn around and looked at everyone like, 'Hey, everyone see that? All right,' " Goff said after Wednesday's practice at UC Irvine. "It was a good catch and, hopefully, something that won't be quite a surprise anymore."
Watkins, acquired in a trade on Friday, said earlier this week that it would take some time to acclimate, that he would "not look like Sammy Watkins in three days." But he gave a pretty good impression during his third practice, his first as a fully integrated part of the offense.
Watkins' impressive catch on the first play of a full-team drill left cornerbacks on the sideline shaking their heads.
After two days of sometimes tentative steps, Watkins appeared to take a confident one on Wednesday.
"The way he ran through that ball is something I don't think we've seen in a little while," Goff said. "It was pretty special, the way he plucked it and ran through it.
"It was obviously a special play and special player."
That play and others also caught coach Sean McVay's attention.
"When the ball's in his hands," McVay said, "you could feel his speed and his juice down the field."
Watkins will take another step on Saturday night when the Rams play their second preseason game against the Oakland Raiders.
After watching last week's game against the Dallas Cowboys from the sidelines, the game in Oakland will mark Watkins' debut with the Rams. Starters are expected to play through the first quarter.
"Sammy's going to be a guy that is a big part of our plans offensively and we expect to get him involved on Saturday," McVay said.
Watkins' play on Wednesday, and the confidence it seemed to engender, helped Goff bounce back from spotty performances the previous two days.
Defensive backs intercepted three of his passes on Monday and two on Tuesday.
On Wednesday, cornerback Trumaine Johnson intercepted a pass on a play that appeared to go awry because of a miscommunication between Goff and Watkins.
But other than that miscue, Goff was much more efficient.
"He had a better day [Wednesday] than the last couple," McVay said.
Goff said his struggles had stemmed from "being a little aggressive" and trying some things he might not otherwise attempt in games. He added that he was still learning and growing.
"You should test your limits a little bit, I think," he said. "But at the same time I have to be smarter than that and take care of the ball better than that. And I will."
McVay's challenge will be mixing Watkins with a receiver corps that also includes Robert Woods, rookies Cooper Kupp and Josh Reynolds, Pharoh Cooper and Mike Thomas and the injured Tavon Austin.
Reynolds marked his return from a quadriceps injury with a sometimes spectacular performance on Tuesday.
He had another good practice Wednesday but was overshadowed by Watkins' head-turning plays.
With Watkins' arrival, a receiver corps that was regarded as a question mark is now potentially a versatile threat.
"It's nice when you have a good complementary group where everybody does have something unique about their game," McVay said, "but I think you also want to be mindful of these guys can all do a little bit of everything as well."
Etc.
Offensive linemen Andrew Whitworth, Jamon Brown and John Sullivan, linebackers Connor Barwin and Mark Barron and cornerbacks Kayvon Webster, Nickell Robey-Coleman and Mike Jordan were held out of practice for rest and precautionary reasons. … Tight end Temarrick Hemingway made several impressive catches. … Cornerback Dominique Hatfield intercepted a pass by Dan Orlovsky. … In the aftermath of fumbling five times against the Cowboys, the Rams have been going through daily ball-security drills. "It starts with me, I've got to do a better job of emphasizing it," McVay said, adding, "We've got to be mindful of protecting, especially in those congested areas. Looking forward to seeing how we improve on Saturday."
Follow Gary Klein on Twitter @latimesklein
Get the latest on L.A.'s teams in the daily Sports Report newsletter.
You may occasionally receive promotional content from the Los Angeles Times.