Column: With addition of Ndamukong Suh, Rams defense looks like 'Legion of Goon'
Apparently not satisfied with replicating the Seattle Seahawks' lost "Legion of Boom," the Rams have outdone their division rivals this winter by constructing a defense that will multiply the mayhem.
Meet the "Legion of Goon."
With the acquisition of free-agent defensive lineman Ndamukong Suh on Monday, the Rams have completed a blood-curdling remodeling job that has transformed their friendly cottage into a haunted house.
Meet Suh, a powerful force but arguably the dirtiest player in the NFL. Every time he's on a highlight video, it seems as if he's beating somebody up.
In his eight-year career he has been fined seven times for player safety violations. He has paid more than $250,000 for his bad behavior. He has been suspended for two games.
His reckless violence never takes a holiday. On one nice Thanksgiving afternoon, he pounded the Green Bay Packers' Evan Dietrich-Smith's head into the ground three times. On another cozy Thanksgiving day, he kicked the Houston Texans' Matt Schaub in the groin.
He is nothing if not consistent. He was fined before his career even started, for grabbing a facemask in the preseason of his rookie season with the Detroit Lions. Seven years later, while playing for the Miami Dolphins last season, he was penalized for attempting to choke Baltimore Ravens quarterback Ryan Mallett.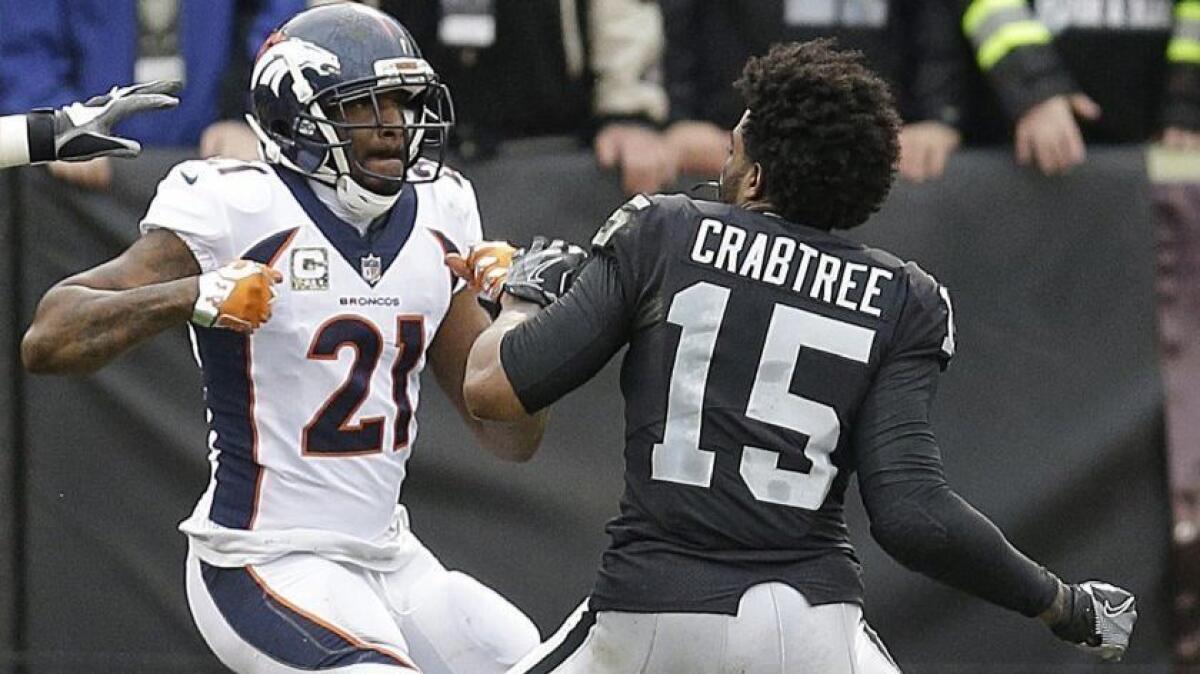 Signing Suh to a one-year, $14 million deal would be risky enough for a Rams team that was steadied last winter by an embracing young coach in a drama-free environment. But Suh is only the latest of three acquisitions by an aggressive front office apparently unworried about messing with the team's emerging playoff culture.
Meet Aqib Talib, a cornerback acquired in a trade with the Denver Broncos this offseason. He is a bruising veteran known for two pieces of jewelry. He has a Super Bowl ring on his finger, and he once had Michael Crabtree's chain in his hand after he tore it off the Oakland Raiders wide receiver's neck last season for the second year in a row.
Meet Marcus Peters, another cornerback, acquired in a trade with the Kansas City Chiefs. He is one of the best cover guys in the game, but last season, in a manner different from many other NFL players, he got in trouble with a flag. He angrily threw an official's flag into the crowd. Then he walked off the field even though he had not been ejected from the game. He didn't return for two weeks, as he was suspended for both the thrown flag and an argument with an unnamed coach.
This could work. Sean McVay, the Rams coach, has gained enough credibility to withstand a little turmoil. Wade Phillips, the Rams defensive coordinator, is known for handling all types of nutty players. The Rams defense, ranked 19th last season, has gone from OK to potentially great.
Talib has 34 interceptions in 10 seasons. Peters has 19 in three. Suh will be an even bigger force playing next to Aaron Donald.
Last January, the Rams needed somebody to stop the Atlanta Falcons on their 83-yard dagger drive that won the divisional playoff game. Maybe now they have those somebodies.
All season, the Rams were looking for a tough defensive attitude to complement their league-best offense. Maybe now they've found that swagger.
But at what price?
Les Snead, Rams general manager, said Monday that he recognizes the importance of chemistry, and that these additions wouldn't change that.
"Our culture of football is important,'' Snead told the Times' Gary Klein at the owner's meetings in Orlando. "We've got standards and we're going to meet those standards.''
Snead said he did his due diligence on all three players, and came away impressed.
"Aqib Talib has been a veteran leader in their locker room,'' said Snead. "Marcus Peters, teammates clearly liked him, respected him. Nhdamukong Suh is somebody who, hey, he gets up at gawd-awful early hours to train to be really good at football.''
The bottom line is, the Rams feel their defense needs guys who are not only really good at football, but really passionate about playing it, and they believe to take the next step, they'll have to increase that passion even at the risk of problems.
"Guess what, now we've got a target on our back and it might require a little bit more just to meet what we had last year,'' said Snead.
It's going to be different. It could be fun. It could get ugly.
Most assuredly, it's going to be Hollywood, and that is the one thing the Rams have been missing in their two seasons here, one of the things that has kept the Coliseum from filling up even as they were rolling into the playoffs.
They've had stars, but no buzz. They've won games, but not eyeballs. They've been solid, but with little sizzle. These three defensive players could change that.
Suh once did a discount double-check dance on Aaron Rodgers' leg. Talib once shot himself in the leg. After the trade, Peters told the NFL Network, "I am a Tasmanian devil.''
Ready or not, they all are now Rams.
Get more of Bill Plaschke's work and follow him on Twitter @BillPlaschke
Get the latest on L.A.'s teams in the daily Sports Report newsletter.
You may occasionally receive promotional content from the Los Angeles Times.