Column: Waiting is over for LAFC, which now faces a difficult path as MLS expansion team
Reporting from SEATTLE —
Forty months ago MLS commissioner Don Garber walked down a red carpet laid across a Sunset Boulevard sidewalk and into a small movie studio, where the newest team to join his soccer league was being introduced.
The Los Angeles Football Club will play its first game on another carpet Sunday, the artificial turf covering Seattle's CenturyLink Field. And Garber admits after the longest rollout in MLS history that he can't wait.
"I'm very excited about it," he said. "I'm very confident they'll be successful."
Garber has said that before, of course. He said it when Chivas USA and Real Salt Lake joined the league, then again when MLS spread to Vancouver and Portland, Oregon, and Montreal. No other commissioner in the history of U.S. professional sports has welcomed more expansion franchises than Garber, who has seen his league more than double, to 23 teams, since 2004.
"I have birthed a lot of babies in my 19 years as MLS commissioner," he said. "And they are all very special in their own way."
LAFC might be extra special, though. Its ownership group is among the largest and most diverse in U.S. professional sports, with 30 members from five countries — though just one of those owners, former World Cup and Olympic champion Mia Hamm, is a woman.
It's among the richest ownership groups in MLS history too, having paid a record $110-million fee just to join, then setting another record by sinking $350 million into the team's stadium. What separates this franchise from those that have gone before is the 3 1/2-year gestation period. The Korean War didn't last that long.
LAFC has used its extra time well, methodically rolling out a brand, engaging its fans and building a culture. That worked so well when the team asked for season-ticket deposits, more than 20,000 people signed up.
Next the team hired a big-name manager in Bob Bradley, who led the U.S. to a World Cup, and signed big-name players in Mexico's Carlos Vela, Belgium's Laurent Ciman, Costa Rica's Marcos Ureña and Uruguay's Diego Rossi.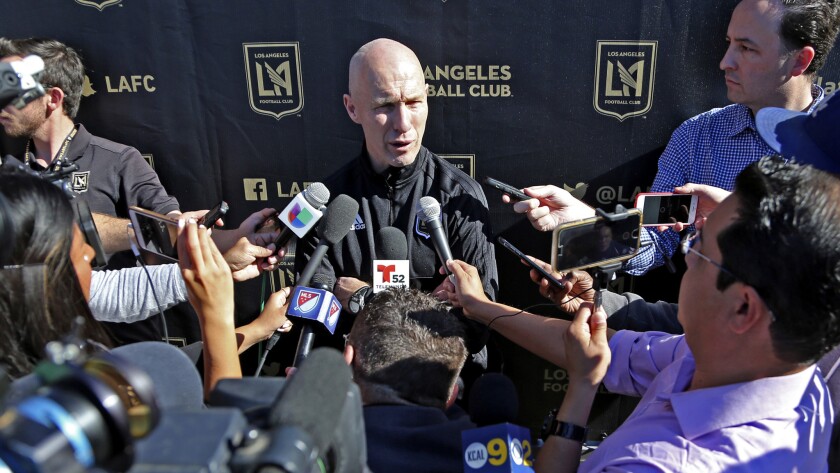 Yet none of that guarantees success on the field. In fact, history argues against it.
No team in the top four major U.S. sports leagues — the NBA, NHL, NFL and Major League Baseball — had a winning record in its first season. First-year MLS teams have had more success, with the Chicago Fire winning 20 games, a league title and the U.S. Open Cup in its inaugural season in 1998.
But just two other teams — the Seattle Sounders in 2009 and Atlanta United last year — won more often than they lost in their expansion year.
LAFC need look no further than its own staff for first-hand experience about both the possibilities and pitfalls for a first-year team. John Thorrington, the executive vice president for soccer operations, played for the Vancouver Whitecaps, who entered MLS in 2011 by losing a league-high 18 games. Bradley, meanwhile, coached the Fire in 1998 when it won the MLS Cup.
"With a new team, a new club, that first match is so important in all ways," Bradley said. "You can make a strong first impression."
Thorrington, meanwhile, favors a slow, steady approach, stamping down the kind of expectations that naturally follow a team that rolls out a red carpet to introduce itself.
"Our goal here is not to be good year one," he said. "For sure we want to be competitive year one. But our goal is to be sustainably successful, which is much harder in MLS."
It's uncertain how that will play with owners who have known nothing but winning. Aside from Hamm, the group includes basketball legend Magic Johnson, a five-time NBA champion and three-time MVP; baseball's Nomar Garciaparra, a former rookie of the year and two-time batting champion; YouTube co-founder Chad Hurley; and Hollywood heavyweight Peter Guber, whose films have earned more than 50 Academy Awards.
The group came together quickly and almost accidentally after Henry Nguyen, a Vietnamese American venture capitalist, approached Garber in 2012 with interest in investing in an MLS franchise. Nguyen talked up the idea with Tom Penn, a former criminal defense attorney and one-time NBA executive, and Penn brought in Guber, a part owner of the Dodgers and NBA's Golden State Warriors.
Guber had long been interested in MLS, once trying to buy the Galaxy from AEG. With him on board, the ownership group kept growing, taking on bankers, businessmen — even actor Will Ferrell, whose wife played college soccer.
"This is a fabulous ownership group," Garber said. "The minute this team was launched, they were laser-focused on building a good brand, connecting in the community, understanding the environment they were getting themselves into."
They've done their homework and their team will take its first test Sunday. Bradley, however, cautions patience because even after 3 1/2 years, there's still work to be done.
"We've done a number of things that we're very excited about," he said. "But I don't think we're finished."
If at first you don't succeed ...
MLS has expanded faster and wider than any major professional sports league in the U.S., and for most of those new franchises, the first year has been a rocky one: Just three of 15 teams reached the playoffs in their first season.
1998: Chicago Fire, 20-12, won MLS Cup and U.S. Open Cup; # Miami Fusion, 15-17, eliminated in Eastern Conference semifinals
2005: * Chivas USA, 4-22-6, finished last in Western Conference
Real Salt Lake, 5-22-5, finished fifth in Western Conference
2007: Toronto FC, 6-17-7, finished last in Eastern Conference
2008: San Jose Earthquakes, 8-13-9, finished last in Western Conference
2009: Seattle Sounders, 12-7-11, eliminated in Western Conference semifinals
2010: Philadelphia Union, 8-15-7, finished seventh in Eastern Conference
2011: Portland Timbers, 11-14-9, finished sixth in Western Conference; Vancouver Whitecaps, 6-18-10, finished last in Western Conference
2012: Montreal Impact, 12-16-6, finished seventh in Eastern Conference
2015: New York City FC, 10-17-7, finished eighth in Eastern Conference; Orlando City SC, 12-14-8, finished seventh in Eastern Conference
2017: Atlanta United FC, 15-9-10, eliminated in first round of playoffs; Minnesota United FC. 10-18-6, finished ninth in the Western Conference
# -- disbanded in 2002
* -- disbanded in 2014
Follow Kevin Baxter on Twitter @kbaxter11
---
Get our high school sports newsletter
Prep Rally is devoted to the SoCal high school sports experience, bringing you scores, stories and a behind-the-scenes look at what makes prep sports so popular.
You may occasionally receive promotional content from the Los Angeles Times.