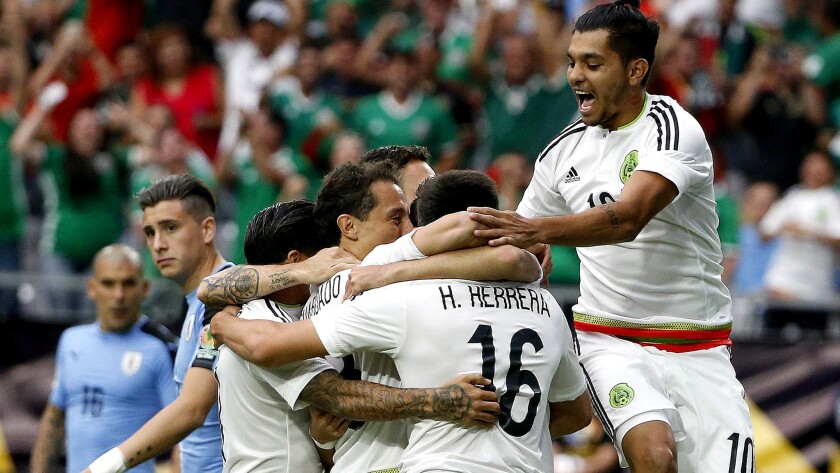 Reporting from Glendale, Ariz. —
At 37, Rafael Marquez has clearly lost a step or three. But he was brought back to Mexico's team for the Copa America Centenario just the same, valued more for what he could contribute with his heart and his head than with his feet.
Sunday he used all three, scoring in the 85th minute to break a tie and lift Mexico to 3-1 victory over Uruguay before a heavily pro-Mexico crowd of 60,025 at University of Phoenix Stadium.
Mexico also got a first-half own goal and a second-half stoppage-time score from Hector Herrera to extend its unbeaten streak to 20 games, the longest current streak in international soccer.
Two other streaks didn't survive, though, with Diego Godin's header in the 74th minute for Uruguay ending Mexico's string of eight straight shutouts and 804 scoreless minutes.
And speaking of streaks, El Tri is now perfect in nine games under new Coach Juan Carlos Osorio, who made the decision to revive Marquez's national-team career, which appeared at an end when he was off the roster for last summer's Gold Cup.
Marquez paid him back Sunday by providing leadership and grit, not to mention the go-ahead goal, for a fading and fatigued Mexico in the final minutes.
"They pressured us and complicated things for us," defender Hector Moreno said. "But in the end the most important thing is that the team maintained its personality when it seemed things could fall apart."
The game, easily the most entertaining of the first six in the young Centenario, had a little bit of everything: two expulsions, end-to-end runs, athletic goalkeeping and some creative attacking, especially on the Mexican side.
For Uruguay, however, it was a day that started poorly and went downhill from there.
First La Celeste took the field without injured striker Luis Suarez and was made to stand at attention for the playing of the Chilean national anthem rather than its own.
Four minutes after kickoff things got worse, with defender Alvaro Pereira inadvertently heading in an Andres Guardado cross to give Mexico a 1-0 lead.
Then in the waning seconds of the first half midfielder Matias Vecino was sent off with his second yellow card, forcing Uruguay to play the first 28 minutes of the second half a player down.
Guardado was also sent off with a second yellow midway through the second half, leaving both squads a man short. Vecino and Guardado will have to sit out their team's second group-play games later this week as well.
Uruguay's attack had little first-half bite without Suarez, who strained a hamstring two weeks ago in the Copa del Rey final in Spain and will likely sit out all three group-stage games.
It came alive in the second half, though repeatedly testing Mexican keeper Alfredo Talavera, and a minute after Guardado was expelled, that hard work bore fruit when Godin beat Talavera off a free kick to tie the score.
The tie was less than 10 minutes old when second-half substitute Raul Jimenez set up the winning score by beating two defenders to a loose ball near the end line.
Marquez was smart enough to stay where he was so when Jimenez sent a back-pass his way, he had enough time and space to take half a step back and blast a right-footed shot in at the near post.
Marquez, the only man to serve as Mexico's captain in four World Cups, then spun and raced for the sidelines, pumping his right fist in celebration before being wrapped in a hug by Jimenez.
"We knew it was the most important match of this phase because if you start losing then the confidence will go down. But if you start winning, everything changes," defender Miguel Layun said.
In the closing seconds, with Uruguay again pressing for an equalizer, it left itself open to a counterattack and Mexico took advantage, with an unmarked Herrera nodding home an insurance goal to seal the victory.
"We were better than a great team and we're happy with a great result," Osorio said. "We're going to face more teams of this quality and that's going to require us to have more performances like the one we had today."
kevin.baxter@latimes.com
Twitter: @kbaxter11
---