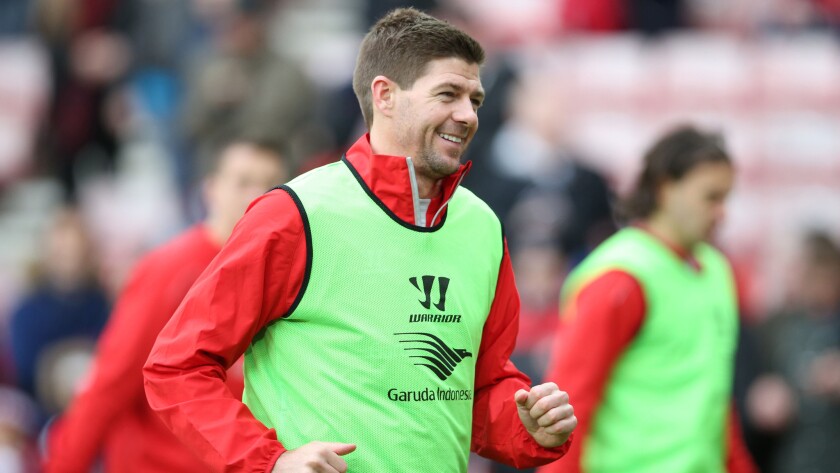 Bruce Arena pulled off an impressive feat of magic last year when he guided an aging, injury-plagued Galaxy to its third Major League Soccer title in four seasons.
But that's nothing compared to the trick he performed last week when he turned Landon Donovan into Steven Gerrard.
It was a transformation that took four months and a small army of assistants to complete. Yet, it's one that wouldn't have happened without the vision and creativity of Arena, who saw Donovan's surprise retirement announcement in August not as a loss but as an opportunity.
And no one capitalizes on opportunities better than Arena, the Galaxy's Hall of Fame coach and general manager.
In the college ranks, he took Virginia to the NCAA final five times, and five times came away with a title. In his first two seasons in MLS, he led D.C. United to two championships. And in his first World Cup he coached the U.S. to the quarterfinals, the first time since 1930 that it had gone that far in the tournament.
So when Donovan, the greatest player in U.S. history, stepped aside, Arena replaced him with one of the greatest players in English history.
For MLS, Gerrard may be more than that. The captain and leading scorer for Liverpool of the English Premier League, he is arguably the second-most significant import in league history, behind David Beckham.
Beckham's 2007 move to the Galaxy ushered in a new financial structure for MLS and raised the league's profile around the world. But what is often forgotten is he was out of Real Madrid's lineup and appeared on the verge of being out of a job when he made the move.
Thierry Henry was also a part-time player when he left Barcelona for the New York Red Bulls in 2010. And 25 of the final 32 games Robbie Keane played in Europe before joining the Galaxy in 2011 were in the Scottish Premier League or with West Ham United, which was relegated out of the EPL.
At 34, Gerrard's best days are behind him. Yet, he comes closest to refuting the charge that MLS is where graying European stars go to die.
This season he has played in 20 of Liverpool's 21 EPL games and leads the club with 10 goals in all competitions. Six months ago, he captained England in the World Cup.
"What we know is we've got a world-class player that's coming into our club this summer," Galaxy President Chris Klein said.
And for that they should thank Donovan.
Shortly after Donovan announced last summer his plans to retire, Arena and Klein put together a short list of players they'd like to have take his spot. Gerrard's name was on it, but he didn't seem like a realistic target: Liverpool had narrowly missed its first EPL title last season and Gerrard had not been with any other club, having entered the Reds' youth program when he was 8.
"It was going to be a longshot to acquire Stevie," Arena said. "But as we got closer to the [new] year, interest on both parties picked up."
MLS, with its stingy payroll rules and single-entity structure, is designed for parity and conservative thinking. However, Arena is wired differently and his aggressive approach as coach and general manager has not only produced three titles since 2011 — "that's a bit of a dynasty at this point," he said — but it allowed him to extend Beckham's contract, attract Keane and fit six other national team players under the salary cap.
So when he decided he wanted Gerrard, he pushed hard
"The Galaxy," Gerrard said "was very aggressive in their pursuit toward me."
But Gerrard hadn't really thought of leaving Liverpool until the team started pushing him out the door. In late fall, he was offered a one-year contract extension that called for a 50% pay cut and at about the same time Coach Brendan Rodgers told Gerrard his starting job would not be guaranteed in the second half of the season.
Now the Galaxy was offering a soft place to land.
It was a deal that made sense for both sides. Without Donovan, the Galaxy needed a playmaking midfielder with cachet and a reputation that would pay off at the box office as well. (And it did. The Galaxy sold more than 300 season-ticket packages in three days after the Gerrard signing.)
Plus in retirement, Donovan had left behind a "designated player" spot, an exemption that allows teams to go above the league-mandated payroll cap, and the $8.5 million in base salary left on his contract.
The Galaxy molded them into a contract for Gerrard reportedly worth $9 million over 18 months.
For Gerrard, the Galaxy and MLS offered a new experience after 17 EPL seasons with his hometown team. He also wanted a chance to win.
"They told me what I wanted to hear as far as the Galaxy's concerns about the winning mentality, the strive for more success," Gerrard said. "It basically suits what I'm thinking as well.
"The main decision was for football reasons and for success on the pitch. Anything else is a bonus."
Now it falls to Arena to perform the magic that will make it all work. When Gerrard joins the team in July, the Galaxy will be more than halfway through the season and it will be up to the coach to work him into the lineup without upsetting whatever chemistry has developed over the first 21 games.
But for Arena, that's an easy trick.
"The part I love in my job is the challenge. And in my role with the Galaxy, obviously my challenge is developing good teams," he said. "We want to fill the stadium. We want to be a viable sports franchise in Los Angeles. So there's still a lot to accomplish at that end.
"But I like the challenge."
Twitter: @kbaxter11
---