Soccer! The U.S. national team's long, strange trip to hiring a coach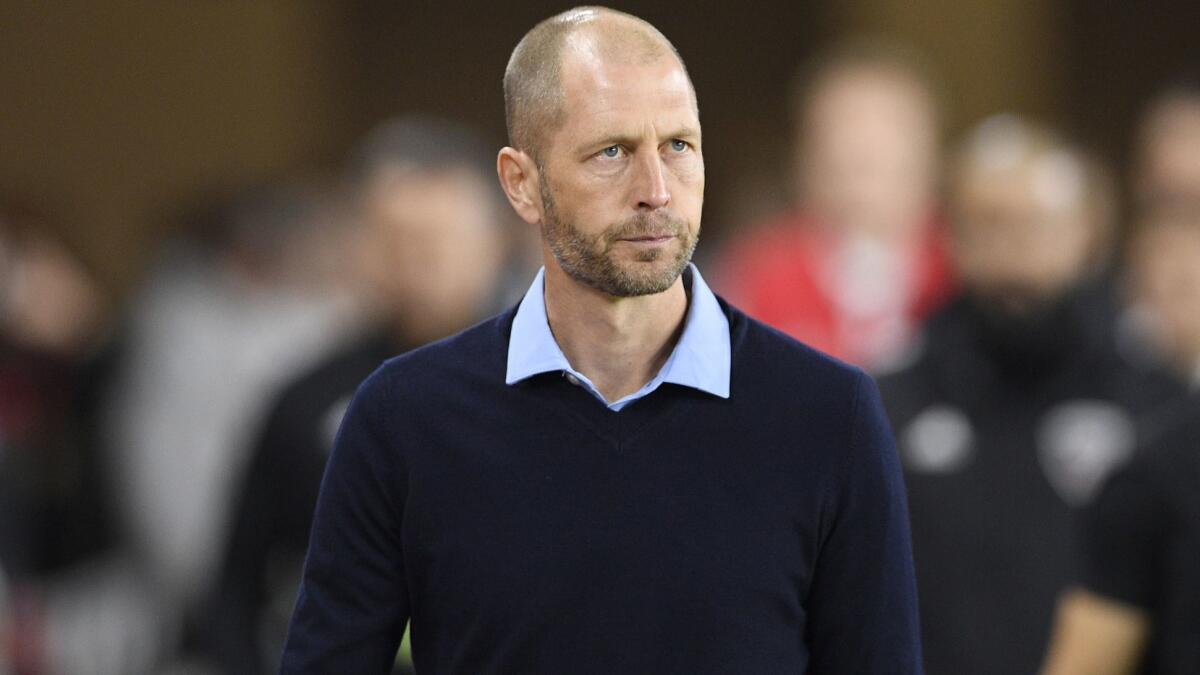 Hello and welcome to this week's edition of the L.A. Times soccer newsletter. I'm Kevin Baxter, the Times' soccer writer, and we start today with the U.S. national team, which last weekend finally filled a coaching vacancy that had stood open for nearly 14 months.
And if the fact the job went to Gregg Berhalter seemed like old news, it's only because it kind of was.
Berhalter, the Columbus Crew's manager and sporting director the last five seasons, was the heavy favorite for the position from the moment Earnie Stewart, U.S. Soccer's general manager, began his search for a coach last August.
Stewart said he started with a list of 33 candidates, quickly whittled that to 11, then interviewed just two: Berhalter and former FC Dallas coach Oscar Pareja. As Sports Illustrated's Grant Wahl pointed out, among those not interviewed were Tata Martino, Peter Vermes, Jesse Marsch, Tab Ramos, Juan Carlos Osorio, the Los Angeles Football Club's Bob Bradley and Julen Lopetegui, who coached Spain to an unbeaten record over two years and had reached out to U.S. Soccer about the job.
Interim coach Dave Sarachan, a former Galaxy assistant, was not interviewed either.
So when word leaked two weeks ago that Pareja was leaving Dallas for Tijuana of Mexico's Liga MX, it was obvious that Stewart had made his choice.
But was it the right choice for a program in transition after its first failed World Cup qualifying campaign in more than three decades? And was Stewart's laser-like focus on Berhalter, his former World Cup teammate, so bright it blinded him to other candidates?
Stewart promised a thorough and methodical search, one befitting the 414 days U.S. Soccer waited between the resignation of Bruce Arena after the final World Cup qualifier in October 2017 and the smoke that rose last Sunday from the chimney at Soccer House, the federation's Chicago headquarters, signifying a successor had finally be anointed.
There are many reasons — including some good ones — why nearly 14 months passed between those events, slowing the U.S. buildup for the 2022 World Cup cycle. Consider that Spain, Egypt and Tunisia all hired new coaches less than six weeks after being eliminated from the World Cup in Russia. The U.S. hadn't even formally started looking for it coach by then.
For the U.S. the delays were numerous, if not always excusable, starting with the failed qualifying campaign that not only led Arena to step down but convinced Sunil Gulati not to run for a fourth term as federation president. Then, in December, U.S. Soccer's board of directors authorized the hiring of a general manager, a newly created position that would be responsible for, among other things, the hiring of national team coaches.
Next came the election of a new president, one Carlos Cordeiro won in February. Upon taking office, Cordeiro turned his attention not to the selection of a general manager but to the 2026 World Cup bid, which the U.S. shares with Mexico and Canada.
As a result, Stewart wasn't hired until June, then delayed the coaching search an additional two months by setting an Aug. 1 start date for the new job.
There were other problems with the process too. Consider that Berhalter's brother Jay is among the most powerful officials in U.S. Soccer, though he works on the commercial side, not the sporting side. Stewart said Jay Berhalter played no role in the hiring of his brother but that he did participate in the decision to hire Stewart, which raises questions over a potential conflict of interest.
Add it all up and what could have — should have? — been a yearlong search was actually conducted in less than four months. And it really didn't take that long because Berhalter, a cerebral and detailed coach, "ticks all the boxes with his background as a person, a successful coach and an accomplished former international player," according to Stewart.
"I was looking for someone that demonstrated a clear ability to implement a style of play where the players knew their roles and it showed in the results his team attained on the field," said Stewart, who sought input from eight former national team captains who had, as he has, played at least 100 games for the U.S.
Berhalter has other traits Stewart valued as well. A defender, he appeared in 44 games and made two World Cup teams internationally, making him the first U.S. coach with World Cup experience as a player. On the club level he played in the Netherlands, England, Germany and MLS during a 17-year playing career that ended in 2011, when he was a player-coach on a Galaxy team that won both the Supporter's Shield and MLS Cup.
"During his playing career, both at clubs and for the national team, he worked with so many different coaches from which he can draw little ideas," said Kasey Keller, a four-time World Cup goalkeeper and former teammate of Berhalter. "He knows what it's like being a European-based player on the national team and what challenges that brings. And he knows what it's like for MLS guys.
"With that whole package, the choice of Gregg makes total sense."
Berhalter has worked just two places as a coach, though, at Hammarby IF, a second-division Swedish club, where he became the first American to manage in Europe, and with the Columbus Crew, who he took to four playoff appearances and an MLS Cup final in five seasons.
At 45, Berhalter will become the youngest man to head the U.S. national team since Steve Sampson, who was 38 when he took the job in 1995. And coincidentally, he is also the godson of baseball Hall of Famer Carl Yastrzemski.
He will inherit a young, talented team in search of identity, cohesion and a consistent tactical style, needs Berhalter is likely to answer by bringing over the aggressive, ball-control philosophy he used to great success at Columbus and one that appears well-suited for a roster that includes Christian Pulisic, Tim Weah and DeAndre Yedlin.
Whether Berhalter proves worth the 14-month wait it took to get him will begin to be answered next month when he convenes his first training camp in Chula Vista ahead of a Jan. 27 friendly in Glendale, Ariz., versus Panama and another game Feb. 2 in San Jose against Costa Rica. Stewart is betting he'll pass that test.
"Gregg has the background as a person, successful coach and former player. When it comes to the base and added value qualifications, he scored extremely high. His willingness, work ethic and ideas about developing this player pool and influencing these players in and outside of camp and the thought process he has about that — constantly seeking new things — set him apart," Stewart said.
"He is a coach that is learning at all times. Every single day he tries to develop himself so he can be a better leader for the team that he has. That is something that really stood out with Gregg and went a long way in the decision to offer him the job."
They're getting Te Kloese
Now that the national team has ended its long search for a coach, it's time for the Galaxy to do the same. Only with them, there's a catch: The team needs to hire a soccer operations chief first, a move that appears to have already been made.
Dennis Te Kloese, the first soccer director for Chivas USA and for the last 16 months the director of national teams for the Mexican soccer federation, has spent much of the last week at StubHub Center, meeting people and watching some of the academy teams play in preparation for a formal announcement of his hire. That could come before the end of the week.
Te Kloese's first move is likely to be the naming of a permanent manager, something the Galaxy have been without since Sigi Schmid was fired in early December. Dominic Kinnear, the team's caretaker manager, has met with Te Kloese and is the only name the team has publicly identified as a candidate, although Berhalter was also believed to have been considered.
Whoever Te Kloese picks will have just six weeks to put a staff together before the start of training camp in late January. One man who won't be on that staff is goalkeeper coach Oka Nikolov, who left the Galaxy to return to the Philadelphia Union on Monday.
Even before Te Kloese's hiring, the Galaxy were making progress on shoring up their roster, closing in on contract agreements with a number of players including defender Rolf Feltscher, whose option the team declined last month.
LAFC, meanwhile, signed midfielder Mark-Anthony Kaye to a three-year contract extension with a one-year option Monday, leaving him under club control through 2022. Financial terms of the deal were not announced, but it's likely to call for a raise from the $75,000 Kaye earned last season, which could make it difficult for the team to re-sign Benny Feilhaber.
Kaye, 23, who played for Louisville in the USL in 2017, started all 20 games he played for LAFC in a rookie MLS season ended by injury in July.
Feilhaber, who is eligible to become a free agent at the end of the month, is also due a raise after leading the team in games (35) and starts (33) while setting a career high for minutes (2,877) this season. But he earned $625,000 in 2018 and the team may have trouble increasing that and trying to keep center back Walker Zimmerman, who is reportedly seeking more than double the $235,000 he made this year.
Fields of schemes
How far has soccer come in the U.S.? When MLS launched its inaugural season in 1996, many of the fledgling league's teams paid rent to play in massive football stadiums. But when the XFL, a proposed tackle-football league being put together by wrestling impresario Vince McMahon's Alpha Entertainment, kicks off in early 2020 it will be playing many of its games in MLS arenas.
The XFL has scheduled a news conference for Wednesday at MetLife Stadium in East Rutherford, N.J., where it will announce the markets — expected to include Southern California, St. Louis, Houston and Dallas-Ft. Worth, among others — for its inaugural season.
And with the NFL unlikely to share its stadiums with an upstart competitor, the Washington Post reported last week that Audi Field, D.C. United's home pitch, will play host to one team. The Galaxy's StubHub Center in Carson, which already has a pro football tenant in the NFL's Chargers, will likely be home for another XFL franchise.
That brings MLS full circle from its first season, when it played in places such as the Rose Bowl, Mile High Stadium in Denver and 102,000-seat Ohio Stadium. The average attendance that year was less than 17,500, leaving fans rattling around in massive arenas that looked empty.
This season, 17 of the league's 23 teams played in soccer-specific stadiums with no more than 30,000 seats. Attendance averaged nearly 22,000 a game, leaving many of buildings feeling full and raucous, an atmosphere McMahon clearly wants to see repeated in the XFL.
Youth is served … in some places
Spain's 2-1 win over Mexico in last week's U17 Women's World Cup final is just the latest sign that La Roja, long a force on the men's side, is about to break out in a big way on the women's side as well, perhaps as early as next summer's world championships in France.
Spain's senior team has never won a game in the Women's World Cup, a tournament it has played in just once. But in the last two years it has won three European championships in the U17 and U19 age groups; reached the final of this year's U20 World Cup, where it lost to Japan; and has now won its first major international trophy in the U17 World Cup behind two goals from Claudia Pina.
Mexico's appearance in the U17 final was also its best-ever finish in a women's age-group World Cup, which could take some of the sting out of El Tri's dismal performance in this year's CONCACAF Women's Championship. In that tournament Mexico went out in group play, meaning it will miss the senior World Cup for the first time since 2007.
Mexico's U17 team included two teenagers from Southern California in Bishop Amat senior Nayeli Diaz and Los Alamitos' Nicole Soto. Both played in the final.
The U.S. women, meanwhile, haven't made it to the final of a U17 World Cup since the first tournament in 2008, when it lost to North Korea, and the last of its three U20 World Cups titles came in 2012. The Americans were eliminated in group play in both tournaments this year.
Podcast
Don't miss my weekly podcast on the Corner of the Galaxy site as cohost Josh Guesman and I discuss the Galaxy each Monday. You can listen to the most recent podcast here.
Until next time
Stay tuned for future newsletters. Subscribe here, and I'll come right to your inbox. Something else you'd like to see? Email me. Or follow me on Twitter: @kbaxter11.