U.S. Soccer gets its man in new coach Gregg Berhalter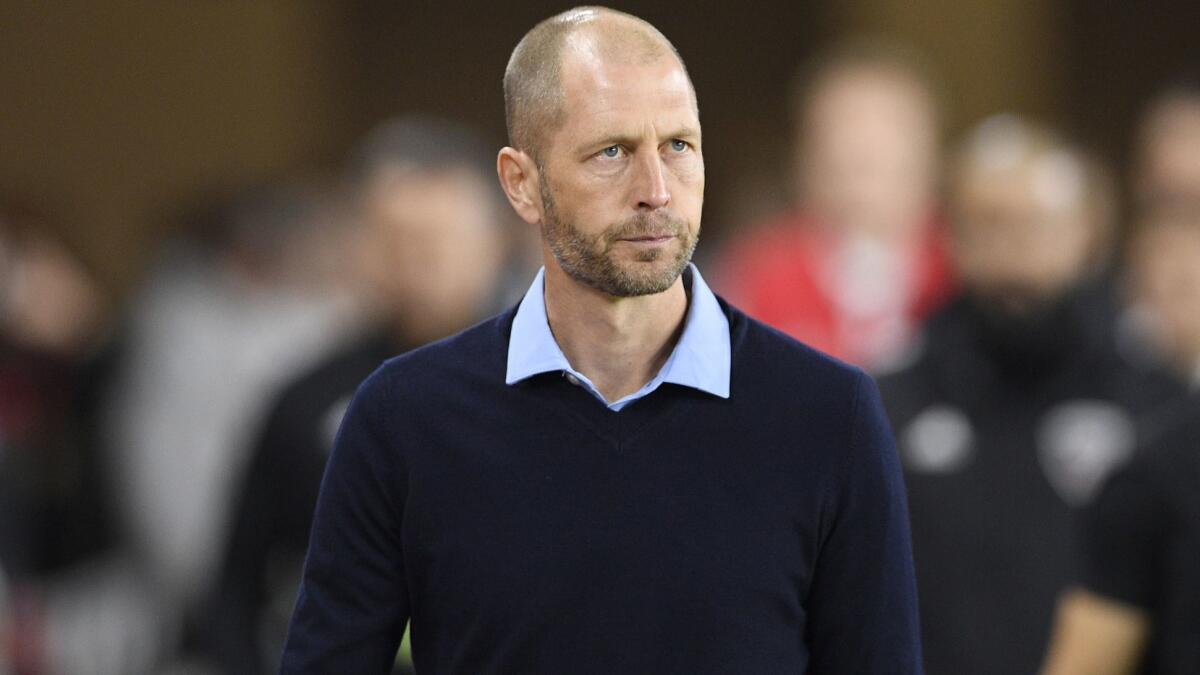 U.S. Soccer's search for a head coach ended pretty much where it began last summer, with the federation selecting Columbus Crew manager Gregg Berhalter to be the leader it sought for nearly 14 months.
A source close to Berhalter on Saturday confirmed the hiring, which will be announced Sunday, clearing the way for the former Galaxy player and assistant coach to take up the mantle left by Bruce Arena, who stepped down in October 2017 following a failed World Cup qualifying campaign.
Berhalter had been the top candidate since Earnie Stewart, general manager of the men's national team, began his search for a replacement shortly after assuming his newly created job in August. Stewart considered 33 candidates and spoke with 11 but only Berhalter and Oscar Pareja, the former coach at FC Dallas and current manager at Tijuana of Mexico's Liga MX, were granted formal interviews.
Berhalter, who also was a leading candidate to fill the Galaxy's head coaching vacancy, will preside over his first national team training camp next month and make his international coaching debut in a friendly against an unnamed opponent in late January.
In what has been described as a methodical search, Stewart reached out to more than a dozen people to help develop a profile of the kind of coach that would best represent the team. And it became obvious early in the process that Berhalter, his former teammate with the national team, best fit that profile.
"We are a country that are aggressive in the right sense of the word, that we're a little bit in your face," Stewart said when the search began. "There's also a way that could be implemented in a system by a coach."
A defender on two World Cup teams, Berhalter appeared in 44 games with the national team and played for clubs in the Netherlands, England, Germany and MLS during a 19-year career. He was a player-coach under Arena in 2011, his final season, when the Galaxy won both the Supporter's Shield and MLS Cup.
Three weeks later Berhalter became the first American to manage in Europe when he was named the head coach at Sweden's Hammarby IF, a second-division club partly owned by AEG, the Galaxy's parent company. He lost just 11 times in 46 games, but disappointment with the team's offensive performance led to his sacking after 19 months.
He wasn't unemployed long, though, taking over as coach and sporting director in Columbus in November 2013, taking the Crew to the playoffs four times in five seasons and reaching the MLS Cup in 2015. After being criticized for a lack of attacking creativity in Sweden, Berhalter pushed an entertaining, possession-oriented style in Columbus, one designed to create scoring opportunities for his forwards.
He's certain to bring a similar style to a national team that features a wealth of young, dynamic players in Christian Pulisic, Tim Weah, Josh Sargent, Bobby Wood and Julian Green.
At 45, Berhalter is the youngest coach to head the national team since Steve Sampson, who was 38 when he took the job in 1995. Stewart's hope is that Berhalter will bring new ideas to a team in transition.
The players whom caretaker coach Dave Sarachan started last month in the national team's final game of the year averaged 22 years 71 days, about five years younger than the players Arena used in the final World Cup qualifier 13 months earlier.
Sarachan, Arena's top assistant with the Galaxy and in a previous stint with the national team, was charged with reinvigorating the team's talent pool and he delivered, giving 23 players their international debuts in his 12 games as interim coach, most of any U.S. coach in the modern era. He went 3-5-4, including a win over Mexico and a draw with eventual World Cup champion France.
Berhalter's brother Jay is U.S. Soccer's chief operating officer, a potential conflict of interest Stewart avoided by not involving Jay Berhalter in the coaching search.
Stewart also said early in the process that neither Carlos Cordeiro, the federation's president, nor Dan Flynn, its chief executive officer, would interview coaching candidates. Instead Stewart said he would conduct the search with Nico Romeijn, U.S. Soccer's chief sport development officer, and Ryan Mooney, the chief soccer officer.
Sunil Gulati, the former U.S. Soccer president, was heavily involved in hiring previous managers Bob Bradley, Jurgen Klinsmann and Arena and in the appointment of Sarachan as caretaker coach last fall.
kevin.baxter@latimes.com | Twitter: @kbaxter11