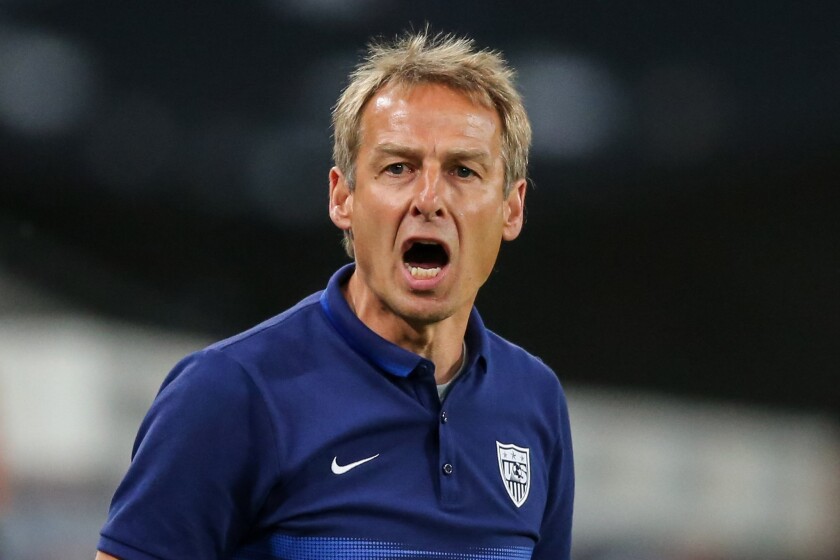 Nothing says more about the current state of U.S. Soccer than the fact that Friday's game against lowly St. Vincent and the Grenadines now looms as an important test.
Not only is the game, in St. Louis (3:30 p.m. PST, ESPN2) the first in the semifinal round of qualifying for the 2018 World Cup, but it comes during a historic slump for Juergen Klinsmann's team, which has lost three in a row on home soil for the first time since 1997. The U.S. is also winless in four games against CONCACAF foes for the first time in five decades.
Both those streaks seem sure to end against St. Vincent, an island country about the size of Bakersfield and with a smaller population than El Monte. However, to truly right the ship and rebuild the team's flagging confidence, the U.S. will need a dominant victory over a country ranked 129th in the world by FIFA and one the Americans, ranked 33rd, have never played.
"With St. Vincent and the Grenadines, we have a team that is an unknown," Klinsmann said.
Here are two things that are known: St. Vincent's leading scorer is a 20-year-old fisherman named Tevin Slater and its top assistant coach is former Galaxy defender Ezra Hendrickson.
The roster Klinsmann has summoned to face them is a young one, featuring 11 players under the age of 26 and 10 who have never played in a World Cup qualifier. Among that group is Liberian-born midfielder Darlington Nagbe, a newly minted U.S. citizen who plays for Major League Soccer's Portland Timbers, and New York Red Bulls defender Matt Miazga, both of whom were called up to the national team for the first time.
Six other players on the roster have made fewer than 15 appearances for the national team, among them forwards Bobby Wood, 22, and Jordan Morris, 21, who have combined for four goals in three starts this year. That's quite a change from the roster Klinsmann assembled in last month's CONCACAF Cup playoff loss to Mexico, when he had six players 30 and older.
"You have to water the seeds and watch them grow," Klinsmann said. "We've been bringing these guys along for the last year as part of the transition period, and it's time for them to prove their point."
Among those left out was former U.S. captain Clint Dempsey, who has a team-high nine goals this season, and fellow forward Chris Wondolowski. Both can be added to the national roster before Tuesday's qualifier in Trinidad and Tobago, where the U.S. has struggled previously.
To advance to the six-team final round of the CONCACAF qualifying tournament next fall, the U.S. must finish in the top two of a four-team semifinal group that also includes Guatemala. After next week's game in Trinidad the U.S. will play a home-and-away series with Guatemala in March before concluding the semifinals next September in St. Vincent and at home against Trinidad and Tobago.
"We're all excited about starting World Cup qualifying toward Russia 2018," Klinsmann said. "Every time you say the words 'World Cup' it means so much to everyone involved that it gets you pumped up and energetic.
"The players realize it's going to be a long marathon toward Russia 2018, but we have to start it on the right foot."
---