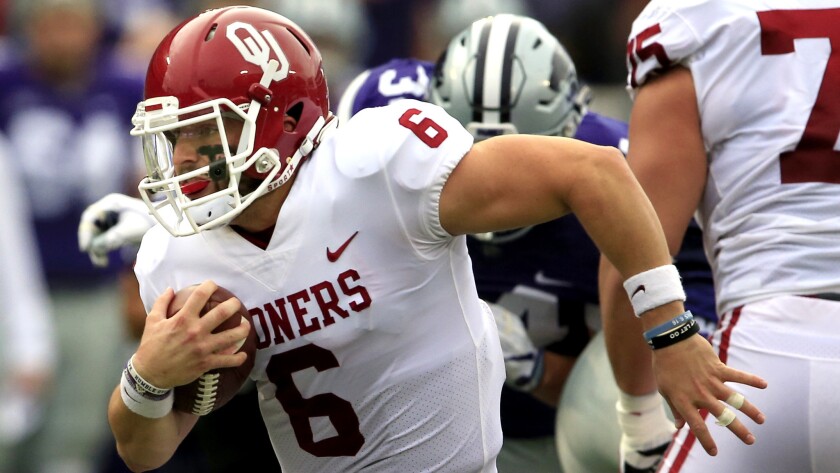 Rodney Anderson ran 22 yards for the go-ahead score with seven seconds left, Baker Mayfield threw for 410 yards and accounted for four touchdowns and No. 9 Oklahoma rallied for a wild 42-35 victory over Kansas State on Saturday night.
Anderson finished with 147 yards rushing for the Sooners (6-1, 3-1 Big 12). They trailed 21-10 at the break proceeded to shred the overmatched secondary of the Wildcats (3-4, 1-3) in the second half.
Kansas State sophomore Alex Delton's first career touchdown pass with 2:25 left tied it at 35, but Mayfield and Anderson calmly went to work. The two-time Heisman Trophy finalist hit on a series of throws downfield before Anderson took a carry around the left side for the decisive score.
Making his second career start, Delton finished with 161 yards rushing and three TDs while completing 12 of 14 passes for 144 yards through the air. Alex Barnes added 108 yards and a touchdown in just six carries.
It was the Sooners' nation-leading 14th consecutive true road victory, and it extended their run of dominance in Manhattan. Oklahoma hasn't lost to the Wildcats in their home stadium since 1996.
at No. 8 Miami 27, Syracuse 19: Malik Rosier threw for 344 yards and two touchdowns, and Travis Homer's 33-yard touchdown run with 2:48 left helped the Hurricanes defeat the upset-minded Orange and extend Miami's winning streak to 11 games.
It was the third consecutive down-to-the-end game for Miami (6-0, 4-0 Atlantic Coast Conference), which is off to its best league start since joining the ACC in 2004.
The Hurricanes needed last-second plays to beat Florida State two weeks ago and Georgia Tech last week. This one was nearly as dramatic.Miami's defense intercepted Syracuse's Eric Dungey four times, all in the first half.
Christopher Herndon had a career-best 10 catches for 96 yards and a touchdown for Miami. Jeff Thomas caught a 48-yard touchdown pass for the Hurricanes, who haven't had a winning streak this long since winning 34 straight from 2000 to 2002.
Cole Murphy kicked four field goals for Syracuse (4-4, 2-2), including a career-best 53-yarder with 5:23 left to get the Orange within 20-19. But Miami answered with a nine-play, 85-yard drive capped by Homer's TD run that helped the Hurricanes escape.
Syracuse faced a fourth-and-7 with 1:38 left, but Dungey's pass for Ervin Philips was incomplete and Miami ran out the clock.
at No. 1 Alabama 45, Tennessee 7: Bo Scarbrough had two fourth-down touchdown runs and the Crimson Tide (8-0, 5-0 Southeastern Conference) improved to 11-0 in the traditional Third Saturday in October game under coach Nick Saban while dealing another blow to the slumping Volunteers (3-4, 0-4) and embattled coach Butch Jones.
Alabama outgained Tennessee 604-108 in total yards even with reserves manning the offensive backfield most of the second half.
at No. 2 Penn State 42, No. 19 Michigan 13: Saquon Barkley and Trace McSorley cut through Michigan's stingy defense, each scoring three touchdowns, and the Nittany Lions emphatically avenged theirlast regular-season loss.
McSorley ran for three scores for Penn State (7-0, 4-0 Big Ten), including a darting 13-yarder in the third quarter that made it 28-13 and led the record-breaking, white-out crowd of 110,823 at Beaver Stadium to sing along to "Sweet Caroline." McSorley and Barkley combined for the knock-out blow, a 42-yard TD pass with Barkley easily burning linebacker Mike McCray and then making a juggling catch to increase the lead to 35-13 early in the fourth quarter.
Michigan came in allowing 223 yards per game and 3.68 yards per play. Nittany Lions went for 506 yards and 8.3 per play. Penn State has not lost a regular-season game since getting trounced 49-10 by Michigan (5-2, 2-2) last season.
No. 4 Texas Christian 43, Kansas 0: Kenny Hill matched his career high with five touchdown passes, KaVontae Turpin returned a punt 90 yards for a score after going backward to the three-yard line and the Horned Frogs' defense dominated the overmatched Jayhawks (1-6, 0-4).
John Diarse had a 67-yard catch-and-run touchdown for a 24-0 lead in the second quarter and finished with 130 yards on four receptions as the Horned Frogs (7-0, 4-0 Big 12) improved to 19-0 at home as a top 10 team under coach Gary Patterson.
at No. 5 Wisconsin 38, Maryland 13: Jonathan Taylor ran for a touchdown and broke the 1,000-yard mark for the season, Alex Hornibrook passed for two scores and the Badgers stayed unbeaten with the win at Camp Randall.
Taylor finished with 126 yards on 22 carries, a relatively ho-hum day following two straight 200-yard outings for the running back. Playing in his seventh contest at Wisconsin (7-0, 4-0 Big Ten), Taylor tied a major college football record shared by five other backs for fewest games by a freshman to get to 1,000 yards.
Hornibrook shook off an interception on his second attempt of the day, finishing 16 of 24 for 225 yards to balance the offense. Maryland (3-4, 1-3), which has the league's worst defense, could have picked up some early pointers from Wisconsin.
No. 10 Oklahoma State 13, at Texas 10 (OT): The Cowboys' Ramon Richards intercepted a Sam Ehlinger pass in the end zone in overtime and Matt Ammendola kicked a field goal, giving Oklahoma State the victory.
The Cowboys (6-1, 3-1 Big 12) scored the winning points on a 34-yard field goal by Ammendola on the first possession of OT. He missed a 29-yard attempt in the fourth quarter. Texas (3-4, 2-2) had a first down on the Oklahoma State 12 after a pass interference penalty against A.J. Green.
Oklahoma State quarterback Masons Rudolph passed for 282 yards, but he failed to reach 300 for the first time in eight games. Nevertheless, the Cowboys beat Texas for the fifth straight time in Austin, the most ever by a Longhorn opponent.
at No. 14 Virginia Tech 59, North Carolina 7: Josh Jackson threw three touchdown passes and the Hokies scored on fumble, interception and punt returns to rout the Tar Heels.
Jackson passed for 132 yards and Virginia Tech (6-1, 2-1 Atlantic Coast Conference) dominated in sending North Carolina (1-7, 0-5) to its fifth straight loss.
No. 16 South Florida 34, at Tulane 28: Quinton Flowers passed for two touchdowns, ran for 138 yards and another score, and USF extended the nation's longest active winning streak to 12 games. South Florida (7-0, 4-0 American) also scored at least 30 points in a game for a modern-era record 24th straight time, but needed to hold on after Tulane nearly clawed back from a 27-point hole.
Jonathan Banks passed for two touchdowns for Tulane, and Dontrell Hilliard's tackle-slipping, 16-yard touchdown run made it a one-possession game with 2:45 left. But the Green Wave (3-4, 1-2) failed to recover an onside kick and could not stop Darius Tice's run on third down, allowing the Bulls to run out the clock and drop Tulane to its first home loss this season.
at No. 18 Michigan State 17, Indiana 9: Brian Lewerke threw a 10-yard touchdown pass to Felton Davis with 5:59 left to lift the Spartans to the win. Lewerke struggled for much of the game, but he was able to connect with an open Davis to the left side of the end zone. The extra point by Matt Coghlin put Michigan State (6-1, 4-0 Big Ten) ahead 10-9.
On the next possession, the Spartans forced an Indiana punt — one of 17 the teams combined for. Then LJ Scott ran 18 yards for a touchdown for Michigan State, which may have actually helped the Hoosiers because it gave them the ball back with 1:49 remaining and a chance to tie it.
But Indiana (3-4, 0-4) wasn't able to cross midfield before turning the ball over on downs.
No. 20 Central Florida 31, at Navy 21: Adrian Killins ran for 122 yards and two touchdowns, McKenzie Milton passed for 233 yards and the Knights have their first 6-0 start in school history. The score was tied in the third quarter before Killins bolted down the right sideline for a 79-yard touchdown run to put the Knights ahead for good.
With the victory, Central Florida (6-0, 4-0 American Athletic Conference) became bowl eligible, matched its win total of last year and improved to 6-0 for the first time in the 39-year history of the program.
The Midshipmen (5-2, 3-2) kept it close, but their chances of pulling off an upset dwindled after quarterback Zach Abey was forced from the game in the third quarter. Abey was dazed from a hit to the helmet at the end of a run and had to be helped off the field.
No. 21 Auburn 52, at Arkansas 20: Kamryn Pettway rushed for 90 yards and three touchdowns and Auburn bounced back from a loss to LSU.
The rushing yards are the most for Pettway since he gained 128 in a win last month over Mercer, and the Tigers (6-2, 4-1 Southeastern Conference) rushed for 345 yards overall. They outgained the Razorbacks 629-334 and have outscored their SEC West counterpart 108-23 over the last two seasons.
Jarrett Stidham completed 19 of 28 passes for 218 yards and rushed for a touchdown for Auburn.
No. 23 West Virginia 38, at Baylor 36: Xavier Preston sacked Charlie Brewer on a two-point conversion attempt with 17 seconds left and West Virginia withstood a furious fourth-quarter Baylor rally.
Will Grier threw for five touchdowns to pad his national lead with 26 for the Mountaineers (5-2, 3-1 Big 12), who led 38-13 at the start of the fourth quarter.
That's when Brewer entered the game for Baylor and began to turn things around with his scrambling ability. He was 8-for-13 passing for 109 yards and two touchdowns and fellow freshman Treston Ebner had 109 yards and two touchdowns receiving and a 40-yard scoring run — all in the final quarter.
No. 24 Louisiana State 40, at Mississippi 24: Derrius Guice ran for a season-high 276 yards and a touchdown to lead the Tigers (6-2, 3-1 Southeastern Conference), who have won three straight games. Danny Etling threw for 200 yards and two touchdowns and coach Ed Orgeron won in his return as a head coach to Oxford. Orgeron was the Ole Miss coach for three years from 2005-07.
The 5-foot-11, 218-pound Guice ran for 126 yards in the first half, which was already good enough for his season high. It was the biggest reason the Tigers had a 13-6 by halftime and the junior was far from finished. Ole Miss (3-4, 1-3) came into the game with the SEC's most prolific passing offense, but struggled for pretty much the entire night against LSU's defense.
---