Baseball players and owners share revenue 'close to 50-50,' union chief says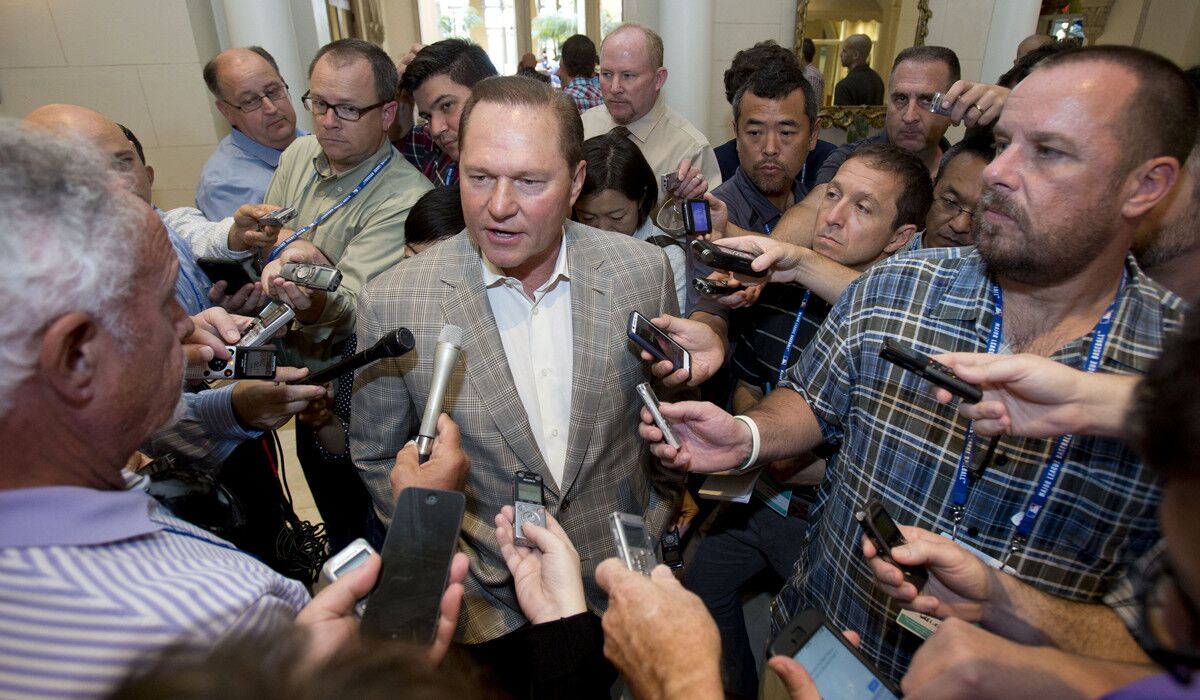 Reporting from LA JOLLA —
Scott Boras sounded an alarm last month. As major league general managers met in a ritzy Florida hotel, one of baseball's most prominent agents stood in a hallway and told the assembled media that owners were grabbing an increasingly large share of the sport's revenue.
Boras offered numbers. The owners took home 57% of revenue, the players 43%. That ratio, Boras said, should be 50-50.
That appeared to present a significant hurdle for Tony Clark, the executive director of the Major League Baseball Players Assn. The collective bargaining agreement expires next year, and for the first time Clark will lead the union in negotiations for a new agreement.
Clark met with dozens of players, including the MLBPA executive board, in meetings that concluded Thursday. After the meetings, Clark disputed the notion that players were getting a lesser share of the revenue pie.
"Despite what you may have read or heard at any given time, the quote-unquote 'player share' is as close to 50-50 as it has been in a long time," Clark said.
"From top to bottom, the industry is indeed doing well, and whether you're on the players' side or you're on management's side, we've been able to collectively move forward in a positive fashion."
There is no mandate for players to receive a designated percentage of revenue. That would be part of a salary cap, which the union has fiercely and successfully resisted.
The current labor agreement expires in December 2016. Clark said he expects negotiations on a new one to start during spring training.
The players could ask owners to increase the luxury tax threshold, which some clubs have used as an unofficial salary cap. The players are expected to discuss a wide range of issues during the contract talks, from how owners share revenue and whether qualifying offers should be modified to scheduling, travel, safety and international play.
However, as Commissioner Rob Manfred reports that the sport is approaching $10 billion per year in revenue, Clark sounds confident that owners and players can strike a new deal without the threat of a work stoppage. There has been no strike or lockout in baseball since 1995.
"There is an opportunity to find common ground that is in everyone's best interest," Clark said. "We've been able to do that of late. We anticipate being able to do that in 2016."
Get our high school sports newsletter
Prep Rally is devoted to the SoCal high school sports experience, bringing you scores, stories and a behind-the-scenes look at what makes prep sports so popular.
You may occasionally receive promotional content from the Los Angeles Times.