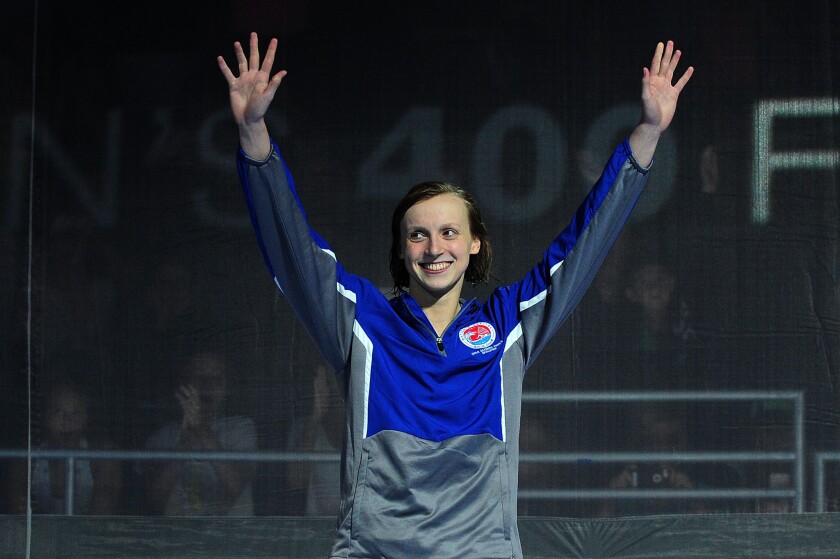 Reporting from OMAHA —
The spectacle at the U.S. Olympic swimming trials includes colored spotlights swirling around CenturyLink Center, fountains spewing flames next to the medal stand, thumping music and a giant flip-flop signed by each newly minted Olympian.
Then there's Katie Ledecky.
The unassuming 19-year-old makes the sport look easy. She has become so dominant — owning three world records — that the real competition when she races seems to be for second place.
Such was the case Monday when Ledecky nearly broke her own world record en route to winning the 400-meter freestyle during her first day of competition at the trials.
"The last 150 [meters], I just kept telling myself, 'Rio, Rio, Rio,'" Ledecky said. "I tried to keep myself fired up and didn't really care what the time was."
The performance transformed the sold-out venue into a deafening celebration. Everyone stood. Some jumped up and down. Others pumped their arms in the air. They all wanted to see history. And Ledecky almost obliged.
Her coach, Bruce Gemmell of Nation's Capital Swim Club in the Washington area, told her before the race that she didn't need him this time. There weren't any last-minute instructions, other than to race and have fun.
The crowd buzzed as the public address announcer noted Ledecky's world-record pace after the first 50 meters. Each successive turn brought louder oohs when her time was updated on the arena's video boards. At the halfway point, she was two seconds ahead of the pace.
"I heard the crowd tonight and I could hear the announcer even saying something, so I knew I was probably having a good swim," Ledecky said.
Leah Smith, a 21-year-old from the University of Virginia, managed to keep close — at least as close as anyone is able to be when Ledecky is involved.
"I had never been able to see her feet before [in a race], so that was pretty exciting," Smith said. "My goal wasn't really to stay with her because that would be stupid."
But Ledecky slowed in the final 50 meters and touched the wall in 3 minutes 58.98 seconds. That's less than a second short of the world record she set in 2014 — and is still the fastest time in the world this year.
"I could tell I was tightening up just a little bit, but knowing that I had to get my hand to the wall pushed me through that," Ledecky said, "and I didn't really focus on how I was feeling."
Smith placed second in 4:00.65, dropping more than three seconds off her previous personal best. After Smith finished speaking to a flurry of cameras and microphones, a group of shrieking Virginia teammates engulfed her in a group hug near the entrance to the warmup pool.
"She pushed me there and I know I need that," said Ledecky, who also owns world records in the 800 and 1,500 freestyles and will swim the 200 freestyle at the trials Tuesday.
Four other swimmers joined Ledecky and Smith in clinching spots at the Rio de Janeiro Olympics on Monday.
In the 100 butterfly, Kelsi Worrell held off defending Olympic gold medalist Dana Vollmer to make her first Olympic team. Worrell clocked the second-fastest time in the world this year and the fifth-best all-time mark.
"I was shocked, for sure," she said. "I wasn't expecting to see a '1' next to my name because I couldn't see Dana at all the whole time."
Vollmer, returning to the sport after having her first child 15 months ago, qualified for the Olympics for the third time, albeit with a time slower than she recorded in the semifinals.
"Kelsi made that race for me," Vollmer said. "When she touched the wall and to see that kind of excitement and her tears … I remember that feeling of making my first Olympic team."
Kevin Cordes won a close race against Cody Miller in the 100 breaststroke, 59.18 seconds to 59.26 seconds.
"I knew it was going to be tight," Cordes said.
As the crowd filed out of the arena Monday, the lights dimmed. The flaming fountains shot to life. Music started. And Ledecky received the first of what are likely to be several medals at the trials.
During an interview with former Olympic gold medalist Kaitlin Sandeno broadcast throughout the arena after the ceremony, Ledecky sounded every bit the low-key teenager who happens to possess an extraordinary ability. She told Sandeno she never thought she'd make the Olympics before winning gold in London in 2012.
Sandeno, as is traditional with each winner at the trials, asked Ledecky to repeat a few words that she'll be using regularly in the coming days.
"I'm Katie Ledecky and … ," Ledecky said, before pausing to laugh, "and I'm going to Rio."
Twitter: @nathanfenno
---