Column: Moses Brown is one big reason to watch UCLA basketball
Steve Alford couldn't contain his delight.
After the kind of season he had last year, could you blame him?
The UCLA basketball team's season opener this week confirmed what the embattled coach saw in preseason workouts: Moses Brown is a game changer.
The slender freshman center, who is listed at 7-foot-1 but says he's 7-foot-2, was as much of a secret as a player of his stature could be when the Bruins ran over Purdue Fort Wayne on Tuesday night, 96-71.
The game was watched by a live audience of only 5,931 fans, the smallest crowd for a home opener at Pauley Pavilion in three decades. There figures to be a similar-sized crowd at the arena Friday for a game against Long Beach State.
Except Brown's relative anonymity won't last. Los Angeles is a bandwagon city and it's only a matter of time before the town realizes there is a worthy attraction in Westwood.
Unusually agile for a player his size, the former McDonald's All-American had five dunks against Purdue Fort Wayne. He finished with 19 points on 9-of-10 shooting and collected 17 rebounds.
"Mo is just special," a beaming Alford said.
If a coach can be only as good as his players, Brown's presence makes Alford a better coach — just as Lonzo Ball's did two years ago. And Brown doesn't come with a carnival barker of a father.
Brown won't have to shoulder as much of a burden as Ball did in his only collegiate season, as the Bruins now have a substantially more well-rounded team.
They have a reliable scorer in Kris Wilkes and a dynamic point guard in Jaylen Hands. They have shooters who can spread the floor, including sophomore reserve Chris Smith. They have size and athleticism. And they have depth.
They will soon have even more depth. Cody Riley, who was suspended all of last season because he was involved in a shoplifting incident in China, is sidelined with an injured jaw. Power forward Alex Olesinski has a stress fracture in his foot and isn't expected back until next month.
So the talent is there. What the Bruins lack is experience — they don't have any seniors and only one junior in their rotation, Prince Ali.
Alford will have to coach.
No conclusions should be drawn from the season opener, but there were times Tuesday when the Bruins were careless with the ball and launched ill-advised shots. They also had stretches when their defense was porous.
"Defensively, I think there's some things we need to work on," Wilkes said. "I know we beat them by 20, but we have to play all 40 minutes and not just 20 minutes, like we did last year."
How far the Bruins go could be a direct reflection of Alford.
If he can get them to play with greater precision, the national quarterfinals should be within reach. With the help of new assistant Murry Bartow, if he can make them the rare team in his tenure that can defend, who knows, maybe they could go even further.
If not?
Well, the buyout on Alford's contract is down to $3.6 million. That figure will drop to $1 million on May 1. The school paid Jim Mora $12 million last year to stop coaching its football team.
But it shouldn't come to that. This team is too talented to lose in a play-in game for the NCAA tournament, as it did last year to St. Bonaventure.
It starts with Brown, a five-star recruit from the same New York high school that produced former NBA point guard Kenny Anderson.
About a minute and a half into the season opener, Hands missed a three-pointer early in the shot clock.
As he retreated on defense, Alford's voice could be heard echoing through the largely empty arena: "Inside-out!"
The Bruins did as they were instructed and Alford was noticeably pleased with the results. Brown was the first player Alford mentioned by name in his postgame remarks.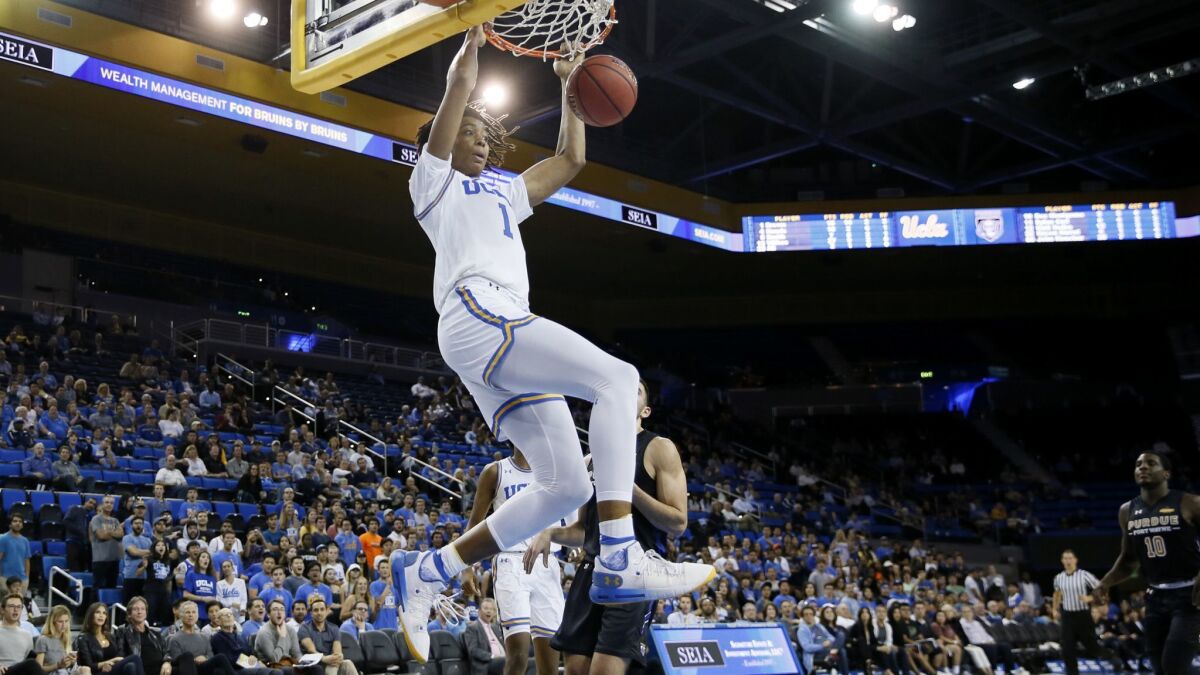 "We've got a huge presence inside and as the guys learned to play through Mo and around Mo, I think things really opened up for us on the perimeter," Alford said.
Asked about Wilkes' career-high 27 points, Alford almost immediately turned the conversation back to Brown. Alford pointed to how Wilkes made 11 of 19 shots, then mentioned how Brown made nine of 10.
"Moses' first college game and he goes for 19 [points] and 17 [rebounds]," Alford added.
Alford even found joy in missteps, such as when Brown was whistled for a technical foul early in the second half for slapping the backboard after a dunk.
"I was a little excited," Brown confessed.
"New York habit we're trying to break," Alford joked.
Alford removed Brown from the game as punishment, and Brown temporarily disappeared into the locker room.
Brown later explained a contact lens popped out on the play.
Alford didn't know that. Recalling how Brown suddenly vanished from the bench, Alford smiled and shook his head.
"Big Mo can do some things and you just kind of go with it," Alford said.
Go with it and UCLA could be playing into the final week of March, if not the first week of April.
---
Get the latest on L.A.'s teams in the daily Sports Report newsletter.
You may occasionally receive promotional content from the Los Angeles Times.