After nearly dying, UCLA's Marcus Rios returns to football field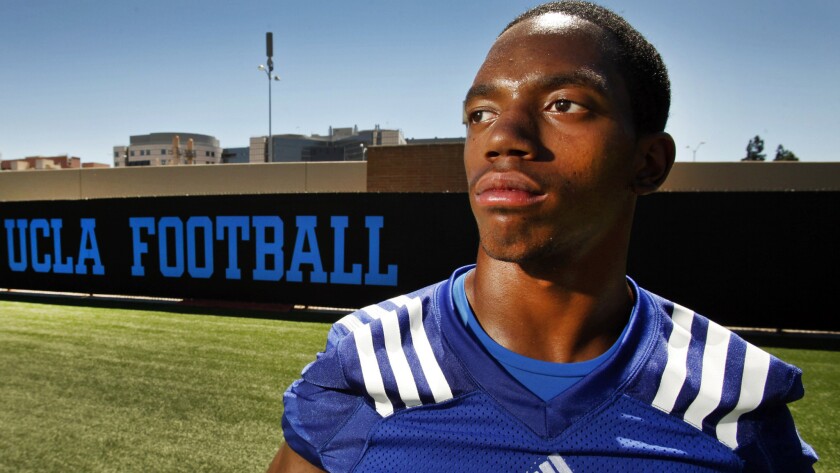 UCLA cornerback Marcus Rios reached a milestone Monday. His parents, Richard and Ivy, were there to witness it, but there was little fanfare.
Rios was back on a football field, ready to compete.
"I haven't been out here for about two years," Rios said. "I have been thinking about it for a very long time. I took a moment, took it in and was ready to go."
Rios, a freshman in 2012, spent months fighting for his life. What was believed to be a sinus infection turned out to be a rare and aggressive fungal infection. He was hospitalized for more than two months in the spring of 2013 and, after being released, was told by doctors that they had not expected him to live.
So stepping back onto the field was a big deal.
"I have been through enough," Rios said. "I'm just ready to play ball again."
Demetrice Martin, the Bruins' defensive back coach, remembers Rios as a recruit. There were obvious physical capabilities.
"He was very fluid," Martin said. "He had great length for a cornerback and ran very well."
Martin also saw that Rios "didn't lack for courage. You could see that on film."
Rios displayed that through his ordeal, which began in the fall of 2012. It's a story that brought the television show "Monsters Inside Me" to his doorstep this summer.
The show, which airs on Animal Planet, feature people who are victims of parasites that live on or in another species, which serves as hosts from which the parasite gains nutrients.
Perfect casting, Rios thought.
"I definitely had a monster inside me," he said. "Anything I can do to help people in a similar situation. I can be a witness for people who go through troubles. You get depressed, but things can get better if you stay positive. I can embrace what I have been through. I am blessed to be alive."
Alive and playing football again.
Rios spent last fall on the UCLA sidelines. He was in uniform, but that was for his morale. Now he is off medications. His weight, which was down to 130 pounds, is up to 185.
Martin is seeing the same traits he saw when Rios was a recruit.
"Fighting back from that illness, enduring something that serious, you have to admire him," Martin said. "He's picking things back up. He respects the process. I believe he will be rewarded. Hard work will pay off."
The next milestone for Rios will come later this week.
"I can't wait to get into pads," Rios said.
Protecting their future
Quarterback Brett Hundley and linebacker Myles Jack have taken out insurance policies that would provide financial security should injuries curtail their football futures. Jack's policy reportedly will pay $5 million. Hundley's policy amount is unknown.
"I just want to protect myself," Jack said. "I don't worry about injuries. It doesn't faze me. But it's like protecting a car. You want to be safe. Anything can happen."
Hundley has never worried about the "anythings."
"To be honest, I never was a big believer in that," Hundley said. "I played football for the fun. I never worried about injuries."
A year ago, Hundley was urged to take out a policy and declined. This season, he has relented.
"If it happens, and God willing it won't, I feel comfortable having something there," Hundley said.
Quick hits
Receiver Mossi Johnson will sit out at least two weeks of full contact drills after suffering a sprained left shoudler Monday. … Linebacker Cameron Griffin left practice Tuesday after injuring his left shoulder. He was scheduled for an X-ray.
---
Get the latest on L.A.'s teams in the daily Sports Report newsletter.
You may occasionally receive promotional content from the Los Angeles Times.