Pickett has parlayed his punt-return plight into some defensive-play marvels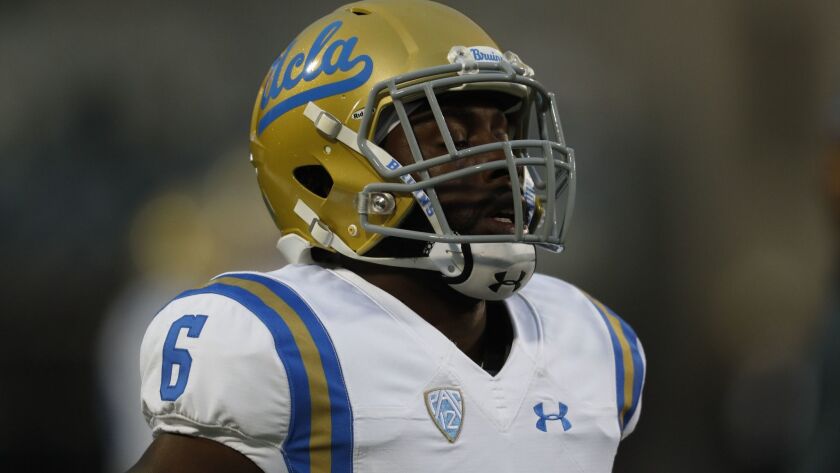 Adarius Pickett waved his right arm and backpedaled a few feet as the punt descended toward him.
The ball carried a little farther than the UCLA punt returner expected, caroming off his chest and rolling onto the Autzen Stadium turf. Pickett tried to chase it down but was beaten by Oregon's Tony Brooks-James, who recovered the ball at the Bruins' 11-yard line.
The devastation was immediate. Pickett held his helmet in his hands and pounded the turf with his right hand. For the second time in as many games, he had muffed a punt.
Chip Kelly made sure there was not an opportunity for a third blunder. The UCLA coach replaced Pickett with Theo Howard, later explaining that maybe Pickett was overthinking the situation after his first dropped punt.
Pickett said Tuesday that wasn't the case, that it was just one of those times when bad things happen.
"I felt like last game," Pickett said, referring to the Bruins' 42-21 loss to Oregon, "I was being tested a little bit by the man above, just to see how I will respond to that."
Relieved of his punt-return duties, the senior safety had to make his retort on defense. He stopped Ducks tailback Travis Dye for no gain on fourth and one in the third quarter, giving his team the ball back.
It was a play in which the Bruins' scheme and execution perfectly aligned.
"It felt amazing just to trust my instincts, read my keys," Pickett said. "On that play specifically, I had the running back, so just to track him and it was almost like an old-school Pop Warner drill. You track him, track him and meet him in the hole and that's what it was. Right there, I won."
Pickett has been winning a lot of individual battles. He leads the team and ranks tied for third in the Pac-12 Conference with 95 tackles, putting him on track to become the first Bruins defensive back to notch 100 tackles since Dennis Keyes had 115 in 2007.
But will Pickett get to return another punt? He was back on special teams in practice early this week but acknowledged that he would not be the arbiter of his fate in games.
"I'm not the one who makes those decisions," Pickett said, "but I'm always up to return."
Passing grade
UCLA's successful fake punt against the Ducks came with its own nickname: the Flint Flicker.
It involved Stefan Flintoft and some rattled nerves when the punter threw a pass toward Ethan Fernea.
"The second the ball left my hand," Flintoft said, "I've never been more afraid in my life."
Why worry? Fernea secured the catch on a 15-yard gain that gave the Bruins a first down. Unfortunately, they couldn't sustain the drive and Flintoft had to trot back onto the field four plays later for an actual punt.
Flintoft said the fake had been conceived early in the season and run each week in practice. He completed it every time. It was no different in the game after Oregon showed the coverage the Bruins wanted to call for the fake.
Some of the details of what happened remained sketchy to Flintoft by design.
"I immediately shut my mind off," Flintoft said of his approach on the play, "because I knew if I thought about it leading up to it, I would probably mess it up."
Etc.
Kelly was unusually demonstrative during the portion of practice open to the media, yelling commands and grabbing a player's jersey to show the proper technique. "You wanna play?" Kelly barked. "Get your hands inside!" … Receiver Kyle Philips, who has not played since suffering an unspecified injury in the game against Colorado on Sept. 28, increased his activities in practice, stretching with his teammates for the first time since he was hurt. He remained in a yellow noncontact jersey. … Guard Christaphany Murray returned to practice after a one-day absence but right tackle Justin Murphy was not on the field during the open part of practice.
Follow Ben Bolch on Twitter @latbbolch
---
Get the latest on L.A.'s teams in the daily Sports Report newsletter.
You may occasionally receive promotional content from the Los Angeles Times.