UCLA's road in the NCAA tournament won't get any easier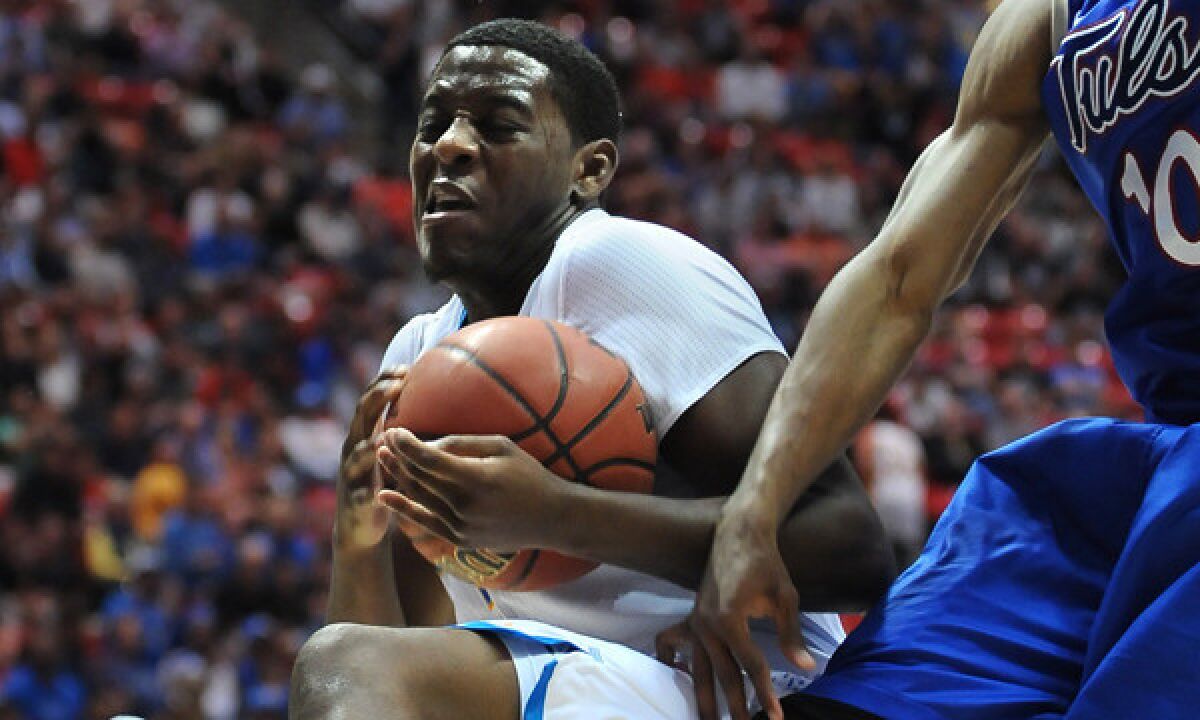 SAN DIEGO — Florida is still out there.
This is where a young man's mind could wander. UCLA players have been snared in this trap before.
The fourth-seeded Bruins are so close to Memphis that they can almost smell the cheeseburgers cooking at Graceland. All that stands in their way of a shot at top-ranked Florida in the NCAA South Regional semifinals is little ol' Stephen F. Austin.
The TSA at LAX seems more of a travel obstacle than SFA.
The Bruins have 100 NCAA tournament victories. The Lumberjacks have one. UCLA has 11 national titles. Stephen F. Austin has two Southland Conference tournament championships.
But the Bruins claim a laser-locked gaze heading into Sunday's game against the Lumberjacks (32-2) in Viejas Arena.
"Yeah, Florida is there, but we're playing a team that knows how to win," UCLA center Tony Parker said. "This can be an easy mistake to make. We've watched Florida, but we're focused on Stephen F. Austin."
UCLA (27-8) had an "oops" road tour this season — Salt Lake City, Corvallis, Pullman. San Diego, they say, won't be added to those gaffes.
"We sure hope not," forward David Wear said. "From what we have shown in the last few games, I think we can come off a big win and continue to link together good performances."
What awaits the Bruins if they don't is something that will be hard to explain, followed by a long drive home to Westwood.
"There is always the pressure of the tournament for any team that really likes themselves," Coach Steve Alford said. "The teams that are left, like the team we play [Sunday], they are having fun. You don't want that to end. The reality is, you have one bad performance and it's over."
Alford said, "We're fortunate that we've got a group of players who really like playing, so … "
So, no problem. Bring on Florida.
Except those weren't the words coming out of the UCLA locker room Saturday.
Everything on paper, and everyone everywhere outside of Nacogdoches, Texas, has UCLA advancing to Memphis. The Bruins were ready with talking points to counter that assumption.
The starting point: Stephen F. Austin is a good team.
The Lumberjacks have not lost since before Macy's officials were putting helium in the Thanksgiving Day balloons. Of course, that 29-game winning streak includes a victory over Incarnate Word (by two points, at home). And so many things about the Lumberjacks, from their purple uniforms to their 6-foot-6-and-under starting lineup, seems to spell YMCA rec league.
But the Lumberjacks are a team to fear.
Just ask Parker.
"That is great team," Parker said. "The name, who they've played, that does not matter. When you don't lose a game since Thanksgiving, you're a great team, you're a tough team."
In fact, the Lumberjacks should be favored, according Parker, who was again talking turkey.
"It will be more an upset if we beat them," Parker said. "They haven't lost since Thanksgiving. They haven't had any slip-up since then. We have."
And that seems the bigger concern.
But UCLA's flops were pre-postseason. Since the Pac-12 tournament began, the Bruins have had an eyes-on-the-prize look.
"There is no way you can look past an opponent to the next game," Wear said. "If you do, there won't be a next game."
UCLA buried Oregon and Stanford to open the Pac-12 tournament, then outlasted Arizona in the title game. The victory over Tulsa on Thursday, as uneven as it was, never seemed in doubt.
It was the Bruins' fourth consecutive victory, matching their longest streak since opening the season with eight consecutive victories against teams that did not get an NCAA tournament experience.
Alford remains wary.
"I think there is a madness to this tournament," Alford said. "Some kids feel that pressure and they don't play well. Coaches try to lighten the pressure. But you also have to keep them focused and disciplined. There's a fine line there."
If the Bruins toe it, they'll get a crack at No. 1 Florida.
No one in the UCLA locker room was wanting to look that far ahead.
"We don't want to think about the Sweet 16," Kyle Anderson said. "We don't want to have our minds focused on getting to the Sweet 16. We have to focus on the this team."
Twitter: @cfosterlatimes
---
Get the latest on L.A.'s teams in the daily Sports Report newsletter.
You may occasionally receive promotional content from the Los Angeles Times.