What Los Angeles-area coaches mostly didn't say about college basketball's pay-off scandal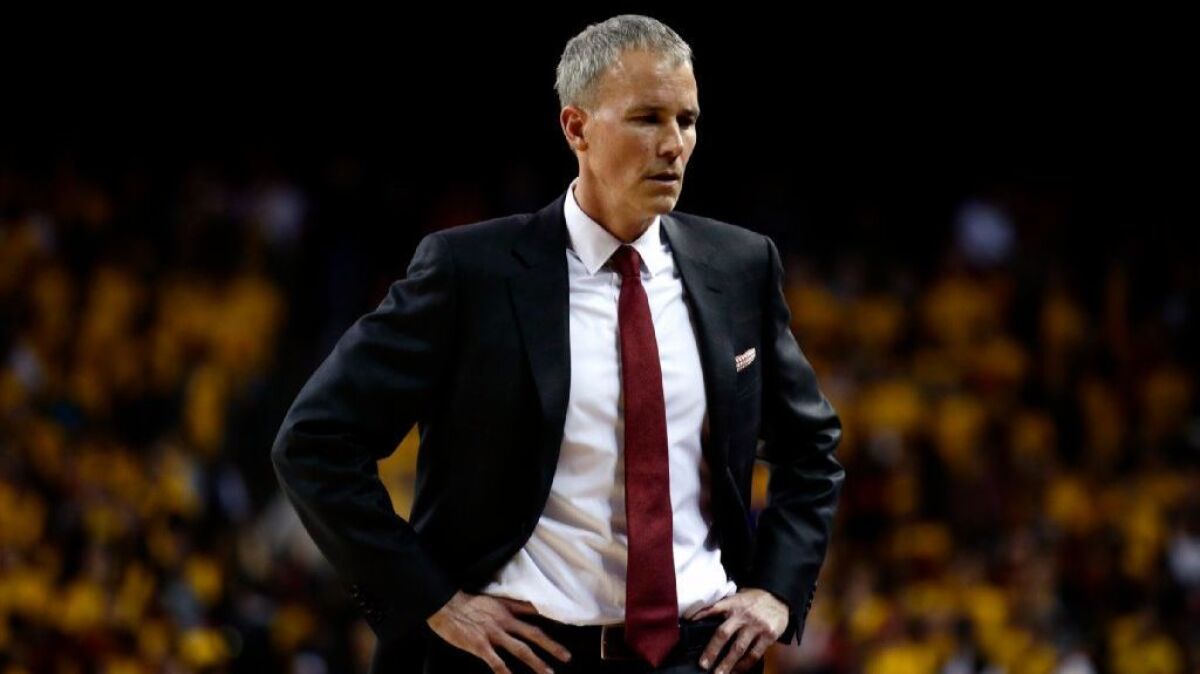 College basketball has plunged into scandal, with undercover agents, FBI wiretaps and the arrest of 10 men on federal corruption and bribery charges, including USC assistant coach Tony Bland.
Anyone who wandered into the Los Angeles Athletic Club on Tuesday for the annual Southern California Coaches Tip-Off Luncheon would not have known it. The event gathers Southern California's college basketball coaches before each season. Everyone gives a short speech.
None offered a single reference, even obliquely, to the scandal.
USC coach Andy Enfield, who has said he has been advised not to talk about the ongoing FBI investigation or USC's own internal investigation, did not have to. Before his speech, he was introduced as the coach of a program on the rise. He talked about his upperclassmen, who helped lift the program to back-to-back NCAA tournament appearances. He received polite applause.
His remarks lasted a bit more than two minutes, briefer than all but UC Santa Barbara coach Joe Pasternack. In March of this year, Pasternack won the job at Santa Barbara over a field of competitors that included Bland. Pasternack had spent six seasons as an assistant at Arizona, which had another assistant, Book Richardson, arrested last month.
From other coaches, there were the usual cracks about golf games. There were height jokes. There were solemn odes to the profession. The event was hardly different from years past, even though some coaches, such as Pepperdine's Marty Wilson, said when the news of the scandal broke he "was on Twitter finding every article."
CSUN's Reggie Theus was among the coaches who declined to answer questions about the scandal. "There's no place for me to comment on it," he said.
The reticence underlined how closely intertwined the college basketball world is, especially locally. Several coaches said they had friends arrested. The coaches who did speak about the scandal privately expressed disappointment at the allegations, which included facilitating payments to players and accepting bribes to funnel players to shoe companies, financial advisers and agents.
"Nobody wins," Cal State Fullerton coach Dedrique Taylor said. "It's just shame on everybody."
Taylor said the day of the arrests, "I felt a different type of look from people on campus." He felt as though people were wondering if he, too, were cheating.
Reaction to the news varied. UCLA Coach Steve Alford said the scandal sometimes dominates idle talk among his staff. "You hear the things that are happening, and that becomes the talk of the office maybe for 15, 20 minutes of what's going on," Alford said.
But Alford said he did not feel it necessary to fully debrief his assistants. "They know the common theme is do the right thing in what we're doing," he said.
Long Beach State coach Dan Monson said the allegations caught him off guard. "I think when you're on the outside, you always see the good in people," he said. "And I wanted to maybe bury my head in the sand, [that] everybody was trying to do their job the right way. And it's disappointing when you hear that it maybe isn't an even playing field."
Other coaches said they were not surprised.
"I was surprised about the FBI part and the phone taps and the wiretaps," Wilson said. "I was like, holy cow. That blew me away. Just the other stuff, I'm not surprised by that.
"You hear it. You're not naive. You don't know who and you don't know what they're doing. But you have an idea. You see certain guys with certain people."
Prosecutors have promised that more arrests will follow. Wilson predicted that the effect would have
"a huge impact on our business."
Most of the coaches in attendance lead mid-major or low-major programs, where there are fewer players attractive enough to draw outside money. Loyola Marymount coach Mike Dunlap, who has held several college and NBA jobs, said he hoped the fallout from the scandal would lead to reform.
"The ripple effect would be if the FBI will work in concert with the NCAA, there will actually be real change," he said. "If they don't, there won't."
Coaches typically use the event to mingle with donors, reporters and other coaches. But on Tuesday, Enfield, the progenitor of the Dunk City offense, led a one-man fast break. .
He was among the last to arrive and the first to leave. Asked if every USC player was still participating in practice, he nodded and gave a thumbs up, then proceeded to the elevators.
Los Angeles Times staff writer Ben Bolch contributed to this report.
Follow Zach Helfand on Twitter @zhelfand
---
Get the latest on L.A.'s teams in the daily Sports Report newsletter.
You may occasionally receive promotional content from the Los Angeles Times.