Pete Carroll continues to defend USC as sanctions come to end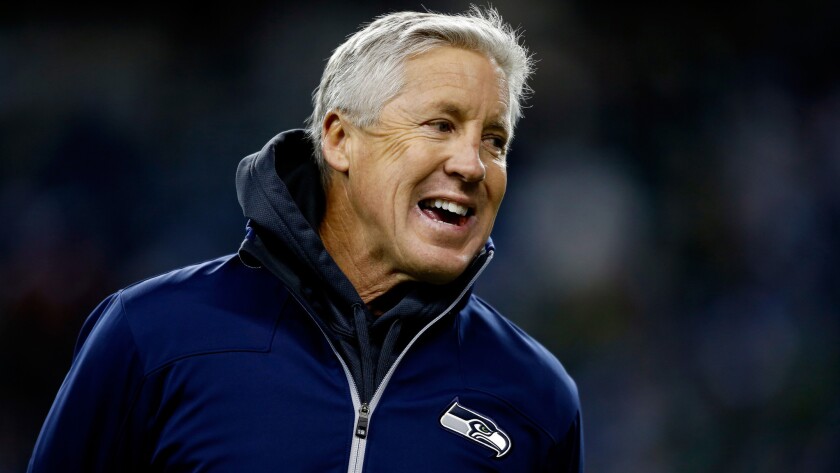 Four months after winning the Super Bowl, Pete Carroll is already back in high-gear, post-NFL-draft mode, chasing another title. But he always makes time to defend USC.
The Seattle Seahawks' rout of the Denver Broncos in February made Carroll only the third coach to win a college football national championship and Super Bowl.
Carroll was USC's coach when the Trojans enjoyed an unprecedented run of success — he had a record of 97-19, including six wins in seven Bowl Championship Series bowl games — and NCAA scrutiny. He left USC for the NFL five months before the NCAA hammered the Trojans with crippling sanctions.
After an investigation of more than four years, the NCAA determined that former tailback Reggie Bush and his family received cash and benefits from sports marketers and that a USC assistant coach knew or should have known about it. It also found that Carroll's hiring of a special teams consultant for the 2008 season violated a rule limiting the number of assistant coaches.
Among the penalties was the loss of 30 scholarships over three years and a two-year bowl ban. USC also vacated two victories in games Bush participated during the 2004 season — including the Trojans' win over Oklahoma in the BCS title game — and all 12 of the team's wins in 2005.
Carroll, 62, has never shied from voicing his displeasure about what he has described as "a terrible error" by the NCAA.
"What I hope comes out of this is that this never happens to a university again," he said during a recent telephone interview. "I think it was extraordinarily overdone, an overreaction."
On the day the NCAA announced the penalties, Carroll said in a video statement that he "never thought there were any facts that supported significant sanctions."
"The university didn't know," Carroll added. "We didn't know."
Carroll met with NCAA investigators and, a month after accepting the Seattle job, appeared on behalf of USC at an NCAA infractions hearing in Arizona.
"I listened to the people talk. I listened to the venom that they had for our program," he told reporters years later. "They didn't understand a thing about what we were all about. … They never were here. And they didn't want to hear it."
Still, Carroll was excoriated by critics for the timing of his departure from USC.
Asked about it before the Super Bowl, Carroll explained that he had not been concerned about the NCAA when he left because the investigation had dragged on.
"It does bother me because it's not right and it's not accurate," he said of the criticism, later adding, "I didn't feel bad about leaving at all. I didn't feel bad about it because I knew what the truth was."
Asked last week what was inaccurate, and what was the truth, Carroll did not hesitate.
"The truth was, an opportunity came up and it was one I couldn't turn away from," he said. "… The NCAA came back at the university… 'Now we're going to revisit after five years.' I had no knowledge that was coming. We thought maybe it wasn't coming because they didn't have anything to get us with. It wasn't five days, it wasn't five weeks. It was five years.
"Had we known that that was imminent … I would never have been able to leave under those circumstances. When I look back now, I would have stayed there to do what we needed to do to resolve the problem."
Carroll, who coached the New York Jets and New England Patriots before USC, was courted by the NFL throughout his run with the Trojans. But Seattle gave him a five-year contract worth about $35 million that included the type of control over personnel decisions that other teams didn't offer.
USC Athletic Director Pat Haden said Carroll should be remembered as one of USC's greatest coaches, and he does not agree with critics who say Carroll shirked responsibility and ran out on the Trojans.
"In house [at USC] and by myself, Pete Carroll is revered," Haden said. "He did a lot of things incredibly well here."
Carroll says he occasionally sees Bush, who plays for the Detroit Lions and is preparing for his ninth NFL season.
"It's always been, 'How're you doing? How's it going?'" Carroll said.
They do not talk about what happened at USC.
---
Get the latest on L.A.'s teams in the daily Sports Report newsletter.
You may occasionally receive promotional content from the Los Angeles Times.