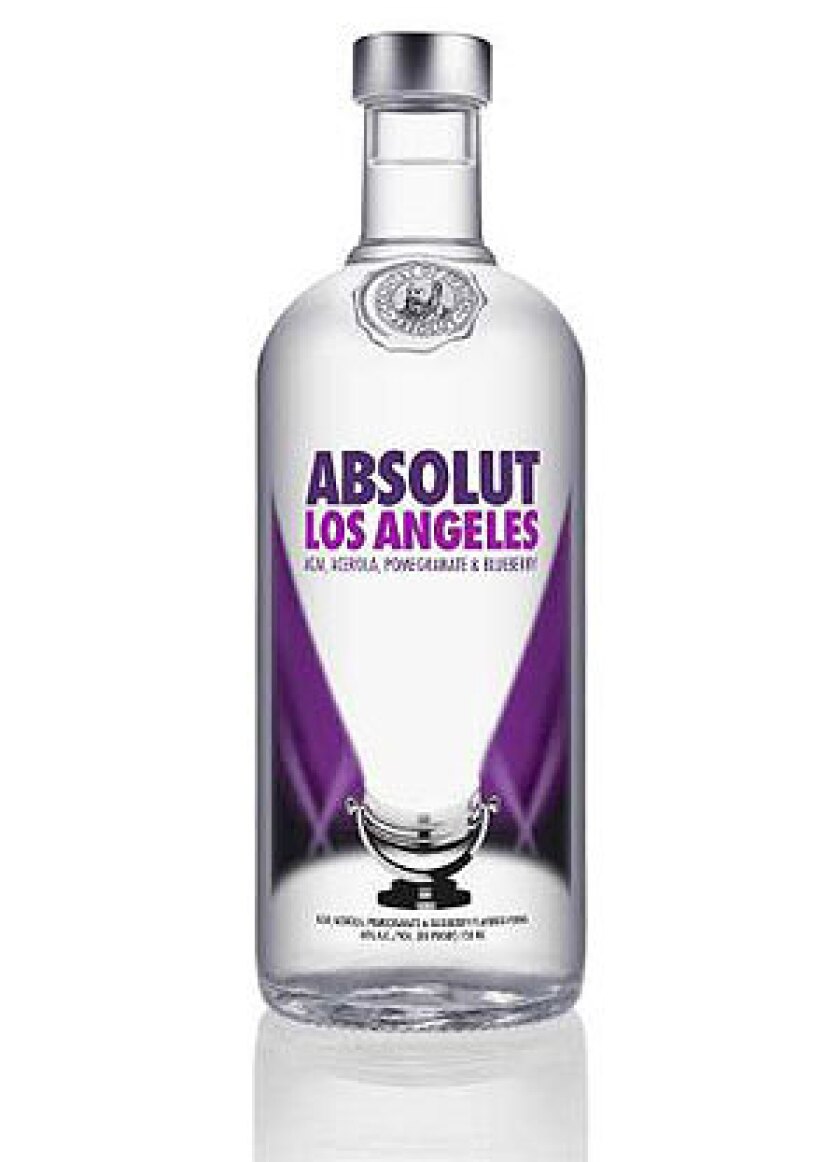 Los Angeles Times Staff Writer
FRANCE HAS given the world Burgundy and Champagne. New York's contributions include the Manhattan and the Long Island iced tea. Even the tiny Caribbean island of Curaçao has placed a bright blue bottle in the pantheon of potent potables.
And Los Angeles? How about a vodka flavored with pomegranate, blueberry, acerola cherry and açai berry? That's the flavor profile of our fair city according to Swedish brand Absolut, which has ginned up 25,000 cases of a limited-run vodka called Absolut Los Angeles that started trickling out to bars and stores in late July.
Absolut's brand director, Ian Crystal, said it took the lab-coat-wearing innovations team in Sweden a good six months to find the right mix, whittling down two dozen formulas through focus groups with bartenders and vodka drinkers and even a field trip to Los Angeles to tune the palate.
The result was a basketful of the so-called superfruits -- vitamin-rich, full of antioxidants and marketing potential, some with exotic origins and names. In short, the hot young starlets of the produce aisle. "We found that L.A. people are very into the New Age berries," Crystal said without the slightest hint of irony. "And all of these flavors -- just like the citizens of Los Angeles -- are very trend- forward."
Loren Dunsworth, owner of Lola's on North Fairfax Avenue, thinks the superfruit mash-up matches the city's mind-set. "People in L.A. want to at least give the impression that they're doing things that are healthy," she said. "And that goes for their alcohol as well."
In its natural state, Absolut Los Angeles smells like flavored ChapStick, and it tastes like a cartoon version of the city: amped-up faux-fruitiness with the curative zing of DayQuil. It's a visitor's first impression, like the belief that the weather never changes or that the people are as see-through as the vodka bottles. There's not a trace of the myriad flavors in our arsenal: the hints of salty sea spray or orange blossom that waft in on the Santa Anas, the licorice-like notes curling up from the pavement after a rare rain, the sweet enigma of jasmine, the smoky bite of taco truck chile peppers or the subtle cinnamon-nutmeg double punch of a drive-through doughnut shop.
But like its urban namesake, it takes on a new personality when things get mixed up a bit. Club soda makes it Hancock Park hammock-worthy, ginger ale takes it toward a Shirley Temple and mixing it with cranberry juice creates a kind of West Coast Cosmopolitan. Lola's signature drink is the LAeX, (Absolut L.A., DeKuyper Wilderberry schnapps, orange juice and pomegranate juice garnished with a lime). Our server at Chaya Brasserie in Beverly Hills favors pomegranate juice, ginger ale and a twist of lemon. ("It doesn't have a name," bartender Marc Samuel said. "I call it the 'I Would Drink That.' ")
Depending on demand, the cache of vodka is expected to last several months, so there's ample opportunity to experiment with liquid L.A. on your own. (Find it at local liquor stores, including Wally's Wine & Spirits, 2107 Westwood Blvd., and the West Hollywood BevMo! at 7100 Santa Monica Blvd.)
We can see drinks like:
The SigAlert: Mix 1 part Absolut Los Angeles to 2 parts pineapple juice and wait at least 30 minutes before drinking.
The Canyon Brush Fire: In a 2-ounce shot glass, float 1 ounce of Bacardi 151 rum on top of 1 ounce of Absolut Los Angeles. Light with a spark from a carelessly discarded cigarette, snuff flames with a $100 bill. Sip gingerly.
The Plastic Surgeon: Add 1 1/2 ounces Absolut Los Angeles to 2 ounces absinthe in a highball glass filled with cracked ice. Fill with lime-flavored Perrier and stir. Drink until your face feels as if it's melting.
But has the Swedish vodka maker truly captured the flavor of the city? Samuel summed it up best: "A pessimist would say it's just like Los Angeles: ugly on its own but with the right lighting, the right makeup and the right touch, it comes out looking great."
---