Cool off in 14 of L.A.'s hottest pools with day passes
Summer temperatures in Southern California are rising. Thankfully L.A. is brimming with phenomenal hotel pools, and you don't have to spend $1,000 a night to take a dip. Instead, buy a day pass — one of the closest things to vacation you can find without actually traveling anywhere.
For as little as $20, you receive access to pools and other hotel amenities. Some less expensive day passes include Andaz West Hollywood, while day-pass prices can climb to $100 at hotels such as the Beverly Hilton.
Spend a day lounging beside a posh pool, drinking margaritas and nibbling on fish tacos while palm trees sway overhead, then return home — all without paying a room charge.
Some of the most popular day-pass bargains can be found at rooftop pools that overlook Los Angeles, with spectacular views from the Hollywood Hills to the Pacific Ocean. You can grab a lounge chair and while away the day by yourself, or visit with friends and splurge on a cabana, which may set you back $500.
You can access deals through sites such as ResortPass and Daycation, but other companies also advertise day passes. While some hotels handle their own day-pass reservations, many use third-party services. Resort Pass, which is located in Los Angeles, tends to have more local options than Daycation.
Cool off while surrounded by the state's natural beauty.
Day-pass programs are a relatively new market, with several hotels in their first few years. Shalesha Kennedy, front office manager of Long Beach's Hyatt Centric the Pike, said that locals would constantly come in and ask to visit the pool prior to the day-pass program.
"It felt so bad having to turn them down, but at the same time, we want to make sure our guests can enjoy it too," Kennedy said, adding that a limited amount of day passes allows crowd control while boosting accessibility. "We get people almost on a day-to-day basis for the pool whether the weather's great or not, so it's great for the hotel, and then it's good for people who just want to come hang out."
And day-pass users can do more than just splash around. "People can take advantage of the lovely pool, have lunch and add on a massage or a facial," said Sam Jagger, general manager at Fairmont Miramar Hotel & Bungalows, a Santa Monica oasis with gilded gates, an incredible 141-year-old fig tree in the entrance courtyard and a garden pool you'll never want to leave.
How does it work? When you arrive at the hotel, "we have someone escort you to a chair or table at the pool and introduce you to the staff," he said.
North Hollywood resident Elena Richardson, who spent time at the W Hollywood's pool with friends, loved her experience. "The hotel took my breath away. I felt like I was relaxing in elegance," she said.
"When you walk through the doors, you know you're in a special place. I live in North Hollywood, so being able to just go down there — it was so close — and have a daycation was incredible. My girls and I had a chance to do something luxurious without spending a lot of money."
We took a quick look at some hotels to let you know what kind of deals you can find in the Los Angeles area. Starting prices are listed below, which may be available only when the hotel is not crowded. For the price breakdown, $ signals under $30, $$ denotes under $50 and $$$ is for all other prices.
In this drought-paused, restriction-lifted, spring-awakening moment, our state is ready for a good head-to-toe inspection. Come explore with us.
Andaz West Hollywood
Grab a Moscow Mule at the pool bar and settle in for a day of fun at this Hollywood icon on the Sunset Strip. Led Zeppelin, the Who and other classic rockers once frequented this boutique hotel and it still appeals to rock enthusiasts and visitors looking for fun on the Strip. Andaz has the highest rooftop pool in Los Angeles (it's on a hill), which means great views in every direction, from downtown skyscrapers to the Pacific Ocean.
Day pass
:
$20; cabana, $150
More Info
Beverly Hilton
Yes, this hotel usually plays host to the Golden Globe Awards and the official Academy Awards luncheon. It's legacy Hollywood and will make you feel like a star as you lounge at the Aqua Star Pool, which claims to be the largest heated pool in Beverly Hills. A pass is pricy but includes a comfy lounger.
Day pass
: $100; cabana, $550
More Info
W Hollywood
You can't get much closer to the Hollywood vibe than the W Hollywood, a massive complex at the famous intersection of Hollywood and Vine. The hotel is known for its palm-fringed rooftop pool called Wet Deck, which has expansive views of the Hollywood Hills and downtown Hollywood and is considered one of the liveliest pool scenes in town.
Day pass
: $35; daybed, $50; cabana, $100; fire pit table, $50
More Info
Hollywood Roosevelt
This is the place to take your aunt and uncle from Kansas when they visit — or anyone else who's impressed by Old Hollywood. The hotel, across the street from TCL Chinese Theatre, opened in 1927 and was once the home of Marilyn Monroe. (It's supposedly haunted by Monroe, Montgomery Clift and Errol Flynn.) The large, ground-level pool is California cool with lots of palm trees and comfortable lounges.
Day pass
: $80, reserved lounge chair; $140, two reserved lounge chairs, with $20-per-person food and beverage minimum per person
More Info
Hilton Universal City
Just across the street from Universal Studios Hollywood, this 24-story glass spectacle offers a spacious pool and hot tub. Lush grass, plenty of trees and well-groomed flower beds craft an oasis in a crowded city. After poolside service, guests can wander into the Atrium Lounge in the evening to enjoy live piano music. Parking is discounted.
Day pass
: $30 adults, $17 kids; daybed, $135; cabana $210 (six people), with $75 food and beverage minimum
More Info
Pasadena Hotel & Pool
Seeking a little piece of serenity in this city east of Los Angeles? This historic property is tucked away in plain sight on bustling Colorado Boulevard and steps away from South Lake Avenue. The large, outdoor pool sits atop an expansive roof deck from which — on a clear day — you can see the San Gabriel Mountains. Built in 1926, the hotel's decor pays homage to the Roaring Twenties, and while you can't actually make a call from them, the vintage phone booths in the lobby are pretty snazzy. This spot hosts an eclectic mix of guests. So whether you are on a first date looking to grab a rooftop drink or craving burgers and family time by the pool, the hotel has you covered.
Day pass:
$35
More Info
Hyatt Centric the Pike Long Beach
From this relaxed rooftop pool, guests overlook the Aquarium of the Pacific, Shoreline Village and harbor cruise ships — all a brief walk away. Ocean breezes sweep up from below as seabirds chirp overhead. Cozy up on vibrant couches and chairs as you check out the panoramic views. Games like Connect Four add a personal touch, and you can drink $13 cocktails at the rooftop Top Sail Bar. As an added bonus, grab shaved ice in the Pike Outlets just outside the hotel lobby.
Day pass
: $35 adults, $15 kids; day bed, $90 (two people); cabana, $175 (four people)
More Info
Beverly Wilshire
Modeled after Sophia Loren's Italian villa, this Mediterranean-style pool boasts top-tier service and amenities. Nestled in the famed Rodeo Drive, this 14-story hotel has a spa, restaurant and 94 years of history. Guests can buy a day pass during the non-summer off-season or splurge on a fully shaded cabana, TV included, while enjoying the two-story fitness center and complimentary valet parking. A day pass is pricy, but so are the hotel rooms, which range from $1000 to $25,000 per night. This daycation offers a glimpse into what it's like to stay at a luxury hotel.
Day pass
: $65 (only available during off-season); cabana, $250 (three people)
More Info
Marina del Rey Hotel
Blue water laps at deck-level at this hotel's freshly renovated pool, accompanied by a matching hot tub and bar. As the hotel name suggests, guests enjoy a marina view while poolside. On summer Sundays, bubbles drift through sunscreen-scented air as the DJ amps up for vivacious weekly pool parties. Cocktails like the $20 lemon drop are pricier than Sunday tickets, which sit at only $15 and include all day-pass amenities from 1 to 6 p.m. Parking is $20 valet on Sundays, but there are cheaper metered lots within walking distance.
Day pass
: $40 adults, $20 kids; love seat, $150; daybed, $350; cabana, $450 (10 people); $15 on Sundays from 1 to 6 p.m.
More Info
Luxe Sunset Boulevard Hotel
An urban oasis enveloped by lush greenery and open space, the Luxe might be the private daycation you're looking for. Nestled at the crossroads of Brentwood and Bel-Air, you'd never know it's right next to the 405 freeway. This 7-acre property attracts its fair share of A-listers — Harrison Ford is a regular. The pool becomes lively during the summer and is certainly Instagram-worthy. You might even consider booking a lesson with the on-site tennis pro before you take an afternoon dip.
Day pass:
$40
More Info
Le Méridien Delfina
This trendy spot is a five-minute drive from its sister hotel,
the Viceroy
. Instead of a traditional lobby, you enter through Le Méridien Hub. The Hub is meant to be a social space for guests — many of whom are creatives and business professionals — to converse. Large, vibrant murals painted by artist
Danny Darkoski
are above this boutique hotel's outdoor pool. You can spend a day this summer in Santa Monica relaxing in a lounge chair. Bonus: You can order the popular poke bowl poolside and just … chill.
Day pass:
$25
More Info
Viceroy Santa Monica
This hip-and-happening hotel is located in the heart of Santa Monica, just a 10-minute walk from the beach. Sip on the Botanist, one of the hotel's signature cocktails, or savor a glass of prosecco as you relax by the two outdoor pools. The pool space's decor is modern, but its bohemian flare radiates cool. End your day with a bike ride — with rental bikes included in your day pass — to the Santa Monica Pier for a scenic sunset Ferris wheel ride.
Day pass:
$25
More Info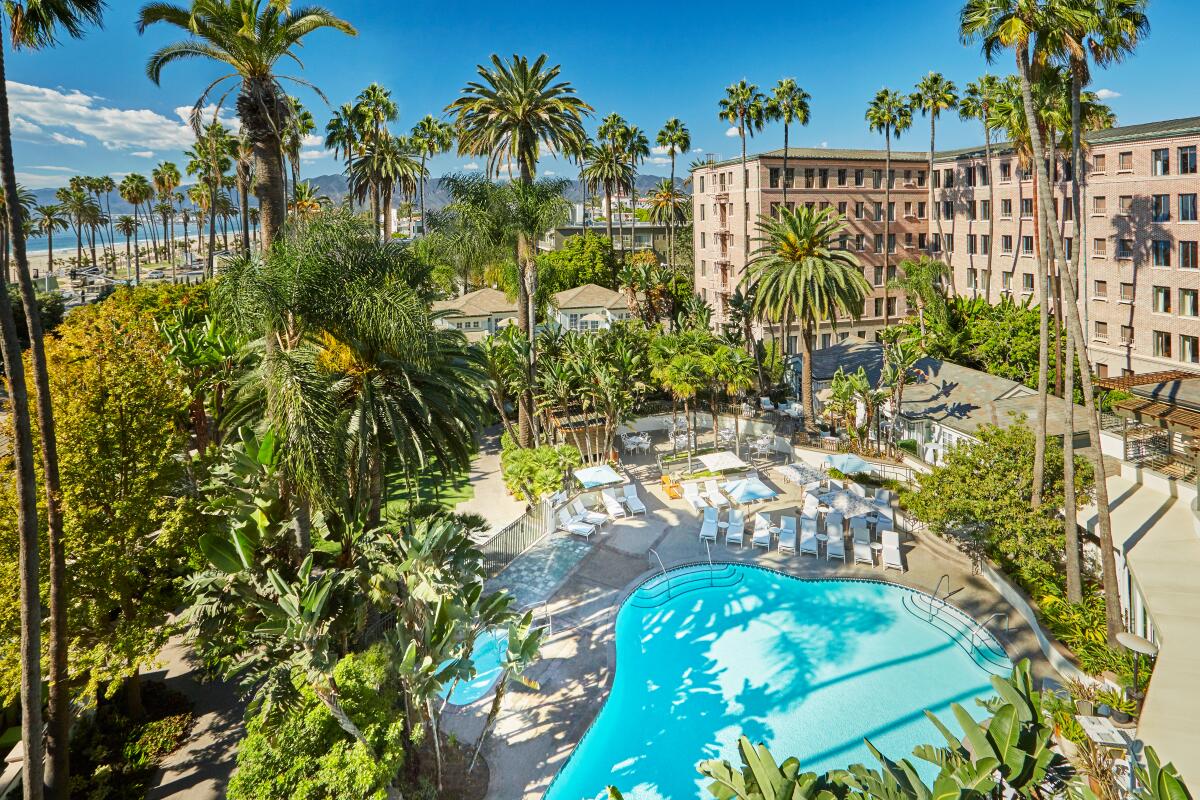 Fairmont Miramar Hotel & Bungalows
Is the ocean calling you? The 5-acre Fairmont Miramar, at the edge of Santa Monica's bluff-top Palisades Park, overlooks the Pacific and is within walking distance of the pier. It's also close to 3rd Street Promenade's shops and restaurants, but you likely won't want to leave after you settle in to the park-like grounds surrounding the pool. The vibe is pure luxury.
Day pass
: adults $45; kids $20
More Info
Westdrift Manhattan Beach, Autograph Collection
Imagine being able to hop off your plane at Los Angeles International Airport and dive straight into a luxurious outdoor pool. Well, you don't have to imagine because this place offers just that. Only a 12-minute drive from LAX, this South Bay hotel is both laid-back and elegant. Sit by the pool and take in the gorgeous scenery of its nine-hole golf course with a refreshing hibiscus paloma in hand.
Day pass:
$25
More Info
Subscriber Exclusive Alert
If you're an L.A. Times subscriber, you can sign up to get alerts about early or entirely exclusive content.
You may occasionally receive promotional content from the Los Angeles Times.