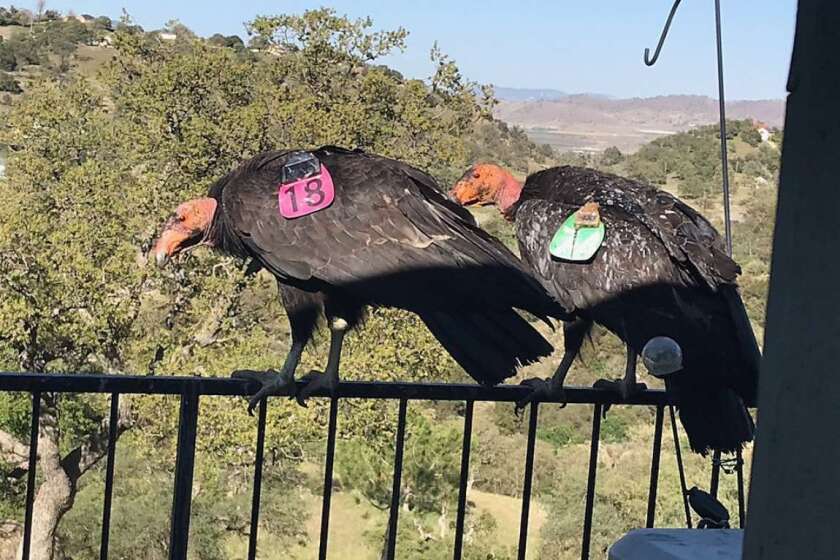 Giant California condors are rare — but not at Cinda Mickols' home, where a flock of them turned up uninvited and left a mess.
Featured
California officials will again truck millions of young salmon raised at fish hatcheries in the state's Central Valley to the Pacific Ocean.
Authorities in Bakersfield say a vehicle theft suspect fatally shot a police dog then was killed by officers

With an aerie high on a platform in Sunset Aquatic Marina in Huntington Beach, an osprey couple and their offspring are catching the eyes of visitors, including wildlife photographers.

Yosemite National Park has reopened with limited capacity. Here are some photos of visitors' return and a few shots of the time when animals reigned one year ago.

The die-off has reignited debate over a fence near the northern tip of Point Reyes that separates elk from cattle ranches.

British police say one of the world's biggest bunnies — more than 4 feet long at full stretch — has been stolen from its home in central England.

After a background check and a swearing-in ceremony, the tiny Chihuahua-pug mix, who suffers from cerebellar hypoplasia, has become a shelter mascot.

The vehicle's owner, Zjar Uruluzu, 57, was arrested on suspicion of non-care and cruelty to animals.

The whales spend the winter off Mexico's waters, then they head back north and stay off the coast of California in spring and summer.

When California's exceedingly rare and vulnerable black toads seek a springtime fling, Deep Springs College in Inyo County helps set the mood.
With demand for COVID-19 vaccines waning, officials are closing some mass vaccination sites while doubling down on getting the reluctant inoculated.

The authorization potentially paves the way for millions of the doses to reach needy countries through a U.N.-backed program rolling out vaccines.

In the COVID-19 era, my 12-year-old played more video games than ever. What kind of parent was I to allow this? But then I talked to experts.
Must-read stories from the L.A. Times
Get all the day's most vital news with our Today's Headlines newsletter, sent every weekday morning.
You may occasionally receive promotional content from the Los Angeles Times.