Massive strike shutters LAUSD as a sea of workers seeking higher wages rallies downtown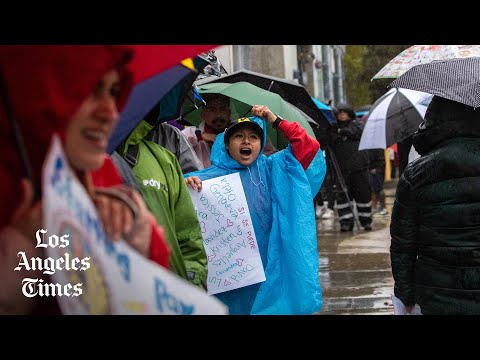 LAUSD bus drivers, custodians, teachers, classroom aides and cafeteria workers join wet, cold picket lines at shuttered schools across the district.
The start of a massive three-day strike led by the lowest paid public school workers and supported by teachers shut down Los Angeles campuses Tuesday amid a fierce morning storm, sent parents scrambling for child care and meals and brought thousands of picketers to campuses and a boisterous afternoon rally downtown.
The strike culminated a months-long build-up of labor tensions in the nation's second largest school district. Bus drivers, custodians, special education assistants, cafeteria workers — all members of Local 99 of the Service Employees International Union — have been negotiating with the district, demanding a 30% salary increase, plus $2 more per hour for the lowest paid employees.
Last ditch-efforts to avert the walkout failed late Monday, setting the stage for the strike. No new talks are scheduled. Supt. Alberto Carvalho pleaded with employees to come back to the bargaining table Tuesday.
But the resolve among frustrated union members and their leaders — and the terms of the district's latest offer — could not overcome the momentum to strike. The walkout, which is planned for three days only, is technically a protest over alleged unfair labor practices by the school district.
Max Arias, executive director of Local 99, said the decision to walk off the job was the "workers' last resort" after almost a year of bargaining for better wages. The union's goal has been to raise the average annual wage of members to $36,000.
"We've had enough of empty promises," Arias said from Robert F. Kennedy Community Schools in Koreatown. "If LAUSD truly values and is serious about reaching an agreement, they must show workers the respect they deserve."
In the 5 a.m darkness, when bus drivers typically begin their day, hundreds of district employees joined the picket line at the Los Angeles Unified School District's Van Nuys bus yard, marching in rain ponchos and balancing signs with umbrellas. Starting at 6:30 a.m., picketers converged at schools throughout the sprawling district as heavy rain soaked them.
Alejandra Sanchez, a special education assistant, joined 20 other picketers in front of Eagle Rock Junior/Senior High School. Her job isn't easy, as she works with students with often unpredictable behavioral issues.
She chanted, "Fair wages," from Yosemite Drive and La Roda Avenue while holding a "Respect Us! Pay Us!" sign.
"I love my work and the students," said Sanchez, 45. "And it's sad that I have to get up today in the rain to fight for respect because the district doesn't understand what I and so many others do."
Pay for aides who work with special education students starts at around $19 an hour, and they can earn up to about $24 an hour working six hours a day.
"We are out here speaking up for our SEIU brothers and sisters who are living below the poverty line," said Pablo Oliveros, 41, a 21-year art teacher. "This can't continue to happen."
By midafternoon, red-clad member of United Teachers Los Angeles and SEIU local members, swathed in purple clothing, surrounded L.A Unified headquarters. They flooded onto 3rd and Boylston streets and stretched onto 4th Street and Beaudry Avenue.
Banging noisemakers and ringing bells, they called on Carvalho to negotiate. Some held signs portraying the superintendent as a "Miami Vice"-type character, a reference to his past job as leader of the Miami-Dade school district.
The planned three-day walkout by support staff and teachers in L.A. Unified would shut down schools. Supt. Alberto Carvalho said he is prepared to bargain around the clock.
This weekend, the district offered a cumulative 23% raise, starting with 2% retroactive as of the 2020-21 school year and ending with 5% in 2024-25. The package would also include a one-time 3% bonus for those who have been on the job since 2020-21, along with expanded hours, more full-time positions and improved eligibility for healthcare benefits.
"This is a historic offer," Carvalho said during Tuesday's Board of Education meeting. "It recognizes that these are the employees who have made huge sacrifices. This board, myself, my team, we have incredible respect for our bus drivers, for our custodial staff, for those who prepare and distribute meals for our students or to our students."
District officials have denied wrongdoing in relation to an unfair labor practice complaint filed by Local 99; Carvalho has pledged an investigation to examine the claims of the union.
With service workers striking across LAUSD campuses, sports programs will not be able to hold practice or play games except at charter schools.
A group of about a dozen parents spoke at Tuesday's school board meeting, calling for an end to the strike. Some placed equal responsibility on the unions and the school district; others put heavier blame on the unions, while also expressing sympathy for the workers, especially the low-wage employees represented by Local 99.
"It does impact education," said Maria Nieto. "I invite the union to please respect the rights of our children, just like I ask for respect for what they are demanding. And I invite you as an executive board to sit down and negotiate as soon as possible to stop all of this."
Nieto said the pandemic and the teachers strike of 2019 set back her daughter's learning, and she has yet to recover academically. As an immigrant, she said, "I don't have the same labor rights many of you do, but I have still given to this economy, and we're all here because of our children. Education is a basic right."
Hundreds of special education assistants spoke of higher wages and smaller class sizes, but also about a lack of basic respect and an understanding of their work.
Childcare woes
Cafeteria worker Norma Leandro began picketing outside Shenandoah Elementary School in La Cienega Heights at 6:30 a.m., when she would normally begin serving free breakfast to students.
Shenandoah is one of dozens of sites where the district is providing free child care during the strike. Its students, about one-third of whom are English-language learners, live mostly nearby. Yet by 8 a.m., Leandro had yet to see a single child enter the building.
"We expected lots of kids here for care, but nobody showed up," she said.
Coordinator Christine Ferreira of United Teachers L.A. said the school had worked hard to let parents know care would be available during the strike.
"I was kind of worried about that," she said of the anticipated chaos Tuesday morning. "But I haven't seen any kids. We were anticipating we might have some kids come by saying, 'Wait, the school's closed?' But we haven't seen any of that."
In South L.A.'s Florence-Firestone neighborhood, Cynthia Salazar walked up to Parmelee Avenue Elementary to check her 8-year-old son into the site's day-care program — which also was far from busy. He was one of only three students.
"They closed the schools. For me? It's a big problem," said Salazar, who was rushing to get dressed for work at a nearby grocery store.
Other child-care sites were more crowded, including Pan Pacific Park Recreational Center in Fairfax, where volunteers steadily distributed packaged meals throughout the morning.
LAUSD teachers and staff unions plan three-day strike beginning Tuesday, shutting schools down. What you need to know.
Food distribution
Besides child care, many families and officials were worried how children would get essential meals typically provided by schools. Distribution sites were set up throughout the county, and volunteers filled bags with oranges, apples, celery and carrots. On the Eastside, a steady stream of parents arrived amid a downpour and received a pack filled with six meals to tide over their school-age children for breakfast and lunch through Thursday.
Carmen Santillan sought help at an El Sereno site shortly before 9 a.m. with her 13-year-old grandson, Mikey, in tow.
"I think it's really good that they give the kids food and they're still supplying it for the three-day strike," she said.
Santillan worked for LAUSD for 36 years as a teacher's assistant and retired last year.
She said children do lose out with the strike "and this is only going to put them behind." But she added that workers deserve more pay.
Roxana Tynan, whose daughter attends Eagle Rock, joined strikers Tuesday and said she was aware most parents didn't have the luxury of a flexible schedule to protest, but thought any short-term pain from closed campuses was worth the long-term gains.
"Of course, we want our kids in school, but it's not sustainable," said Tynan, executive director of the labor-aligned advocacy organization Los Angeles Alliance for a New Economy. "We're going to keep losing teachers and staff like special ed aides, custodians and others if we don't pay better. This is in the best interests of our children."

Sign up for Essential California for news, features and recommendations from the L.A. Times and beyond in your inbox six days a week.
You may occasionally receive promotional content from the Los Angeles Times.