'Beale Street' and 'Widows' premieres highlight Toronto film fest
The Toronto Film Festival is just about over, and I'm back in L.A., reveling in the sunshine and preparing for a three-day burrito binge.
But first we have movies to discuss. Lots and lots of good movies.
Welcome to the Gold Standard, the newsletter from the Los Angeles Times that helps guide you through the ins and outs of the awards season leading up to the Oscars.
I'm Glenn Whipp, The Times' awards columnist and your newsletter host.
'Beale Street,' 'Widows,' 'Beautiful Boy' premiere at Toronto Film Festival
We had six writers — film critic Justin Chang (who kept a festival diary), staffers Tre'vell Anderson, Amy Kaufman, Mark Olsen, Jen Yamato and myself — at the Toronto International Film Festival this past week, plus photographer Jay L. Clendenin and video maestro Mark Potts, and everyone was busy, as you can see here as you scroll through our TIFF coverage.
I attended the world premieres of three films. "Beautiful Boy" proved to be a moving portrait of familial love in the face of addiction with Steve Carell and Timothée Chalamet turning in standout performances. The stars of the premiere turned out to be father and son David and Nic Sheff, the film's real-life subjects.
Steve McQueen's smart heist-thriller "Widows" rocked the cavernous Roy Thompson Hall. It's ostensibly about a group of women, led by Viola Davis, carrying out a robbery that their husbands planned but never completed. (The film's title betrays the reason why.) But McQueen and co-screenwriter Gillian Flynn are equally interested in the societal forces that propel the women toward this desperate course of action. It's about toxic men, a broken political system and a world in which anything — and anyone — can be bought and sold and the emptiness embedded in that kind of transactional culture. It was one of my favorite films at the festival.
"If Beale Street Could Talk," Barry Jenkins' follow-up to "Moonlight," began with a backstage prayer circle and ended with a celebratory party. The film is a striking adaptation of James Baldwin's 1974 novel, focusing on Tish (newcomer Kiki Layne) and Fonny (Stephan James), lovers whose bond is ruptured when Fonny is falsely accused of raping a Puerto Rican woman.
It's a story of love between a man and a woman, between friends, between family, between community members. The first film based on Baldwin's work, "Beale Street" captures the great writer's voice and spirit.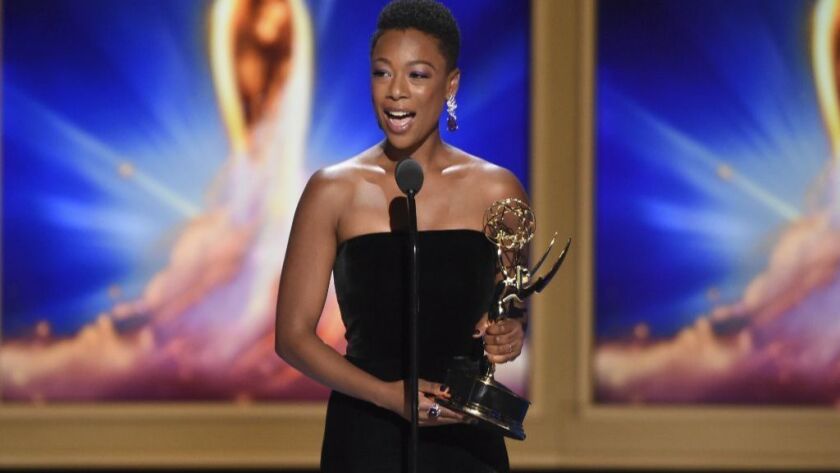 (More) Emmys coming on Monday
The Emmys move to Monday this year, primarily because they're on NBC and the network has no desire to mess with its flagship "Sunday Night Football" franchise. (NBC did this in 2014 too, the last time it televised the Emmys.)
Michael Che and Colin Jost, who anchor "Weekend Update" on "Saturday Night Live," will host. We interviewed them last month, with Jost saying awards shows were "too self-serious and focused on things that 99% of the country doesn't care about."
So, yeah, this could be fun.
The Creative Arts Emmys were held last weekend and, reading the tea leaves, it's easy to forecast a big night Monday for "Atlanta," "The Handmaid's Tale" and "Saturday Night Live." Times staff writer Sonaiya Kelley wrote about the honors, noting the historic guest actors sweep by black actors and the posthumous honors for Anthony Bourdain and Craig Zadan.
You can follow the Times' Emmy coverage Monday night here.
Go behind the scenes at the Times' TIFF photo studio
As I mentioned, Times photographer Jay L. Clendenin was at the Toronto festival, shooting dozens upon dozens of portraits and group shots of filmmakers and actors. He also went old-school, having his subjects pose for Polaroids, which they signed. Michael Shannon autographed his "Peter Lorre," because — well, he's the greatest. (Shannon, that is — though Lorre, too.)
You can see the full gallery of signed photos, including shots of Ryan Gosling, Alfonso Cuaron, Mahershala Ali and Natalie Portman here.
Feedback?
I'd love to hear from you. Email me at glenn.whipp@latimes.com.
Can't get enough about awards season? Follow me at @glennwhipp on Twitter.
Twitter: @glennwhipp
---
From the Emmys to the Oscars.
Get our revamped Envelope newsletter for exclusive awards season coverage, behind-the-scenes insights and columnist Glenn Whipp's commentary.
You may occasionally receive promotional content from the Los Angeles Times.