Two years after 'Moonlight,' Barry Jenkins has another emotional night in Toronto with 'Beale Street'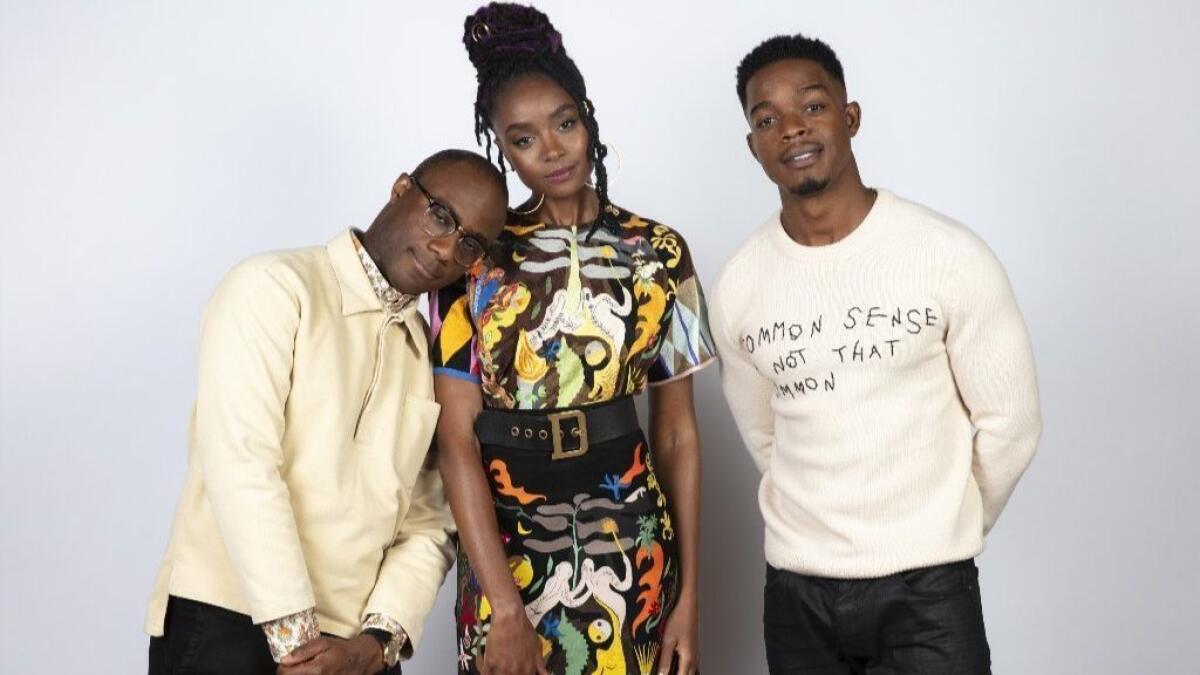 Reporting from Toronto —
Writer-director Barry Jenkins had never participated in a prayer circle before a movie. At the world premiere of "If Beale Street Could Talk," his much-anticipated follow-up to the Oscar-winning "Moonlight," he took part in two — one ahead of the Sunday screening at Toronto's Princess of Wales Theatre and another before the Q&A after the film.
Both were convened by actor Colman Domingo and both ended with the words of James Baldwin, author of the novel on which "Beale Street" is based — "Love brought you here."
Speaking at a celebratory party following the Q&A, Jenkins remembered the emotional night two years ago when "Moonlight" screened at the festival. Nobody had seen it, and tears flowed freely.
The Sunday "Beale Street" premiere came close to equaling that raw feeling. Cast members Regina King and Brian Tyree Henry were seeing the movie for the first time, and Henry, who Jenkins described as someone who "loves Baldwin more than anyone I've ever met in my life," was floored.
"Black love is … beautiful!" he said. "I don't think I've ever seen it like that. Barry Jenkins, you have no idea how badly we need this."
"Everyone was very much aware that we needed to tell the story to our fullest potential," King told me at the party, adding that if people saw "Beale Street" after discovering Baldwin through the 2016 Oscar-nominated documentary "I Am Not Your Negro," they'd be in for a lifetime of rewards.
"His essays are timeless both in terms of artistry and, unfortunately, subject matter," she said.
"If Beale Street Could Talk" is a story of love between a man and a woman, between friends, between family, between community members. Set in Harlem in the early 1970s (referred to as a "garbage dump" by Baldwin's characters), the story focuses on Tish (newcomer Kiki Layne) and Fonny (Stephan James), lovers whose bond is ruptured when Fonny is falsely accused of raping a Puerto Rican woman.
It's largely faithful to Baldwin's slender 1974 novel, shifting between moods of anger, despair and optimism. Cinematographer James Laxton, Oscar-nominated for "Moonlight," bathes the film in a warm, dreamy, lush glow. It's gorgeous to look at from the first frame, and composer Nicholas Britell (another Oscar-nominated "Moonlight" alum) delivers a rapturous, jazz-informed score.
"Beale Street" opens in limited release on Nov. 30, distributed by Megan Ellison's Annapurna Pictures. Expectations will be high following "Moonlight," but Jenkins has made a movie that's true to Baldwin's book and spirit, irrespective of any assumptions audiences might make about what an best-picture follow-up should look like. (Appropriate, because "Moonlight" upended people's ideas about what a best-picture Oscar winner could be in the first place.)
The film has innumerable scenes of impact and beauty, including several spotlighting King as Tish's supportive mother. (The two-time Emmy winner has a strong chance at her first Oscar nomination.)
The highlight might be a 10-minute conversation between Fonny and a close friend (played by Henry) just released from prison after being falsely convicted of stealing a car.
The scene was filmed in a day, Jenkins told me, and he remembered informing Henry: "You're about to go on a journey."
That journey ends with a kitchen-table conversation about the corrosive, crippling effects of incarceration and a life controlled by oppressors and not one's own self-determination.
"I'd make the movie for that scene alone," Jenkins told me. "We gotta tell these damn stories."
Get our L.A. Goes Out newsletter, with the week's best events, to help you explore and experience our city.
You may occasionally receive promotional content from the Los Angeles Times.