Elle Women in Hollywood Awards 2014 honors Garner, Fey, Banks, Bening, Lange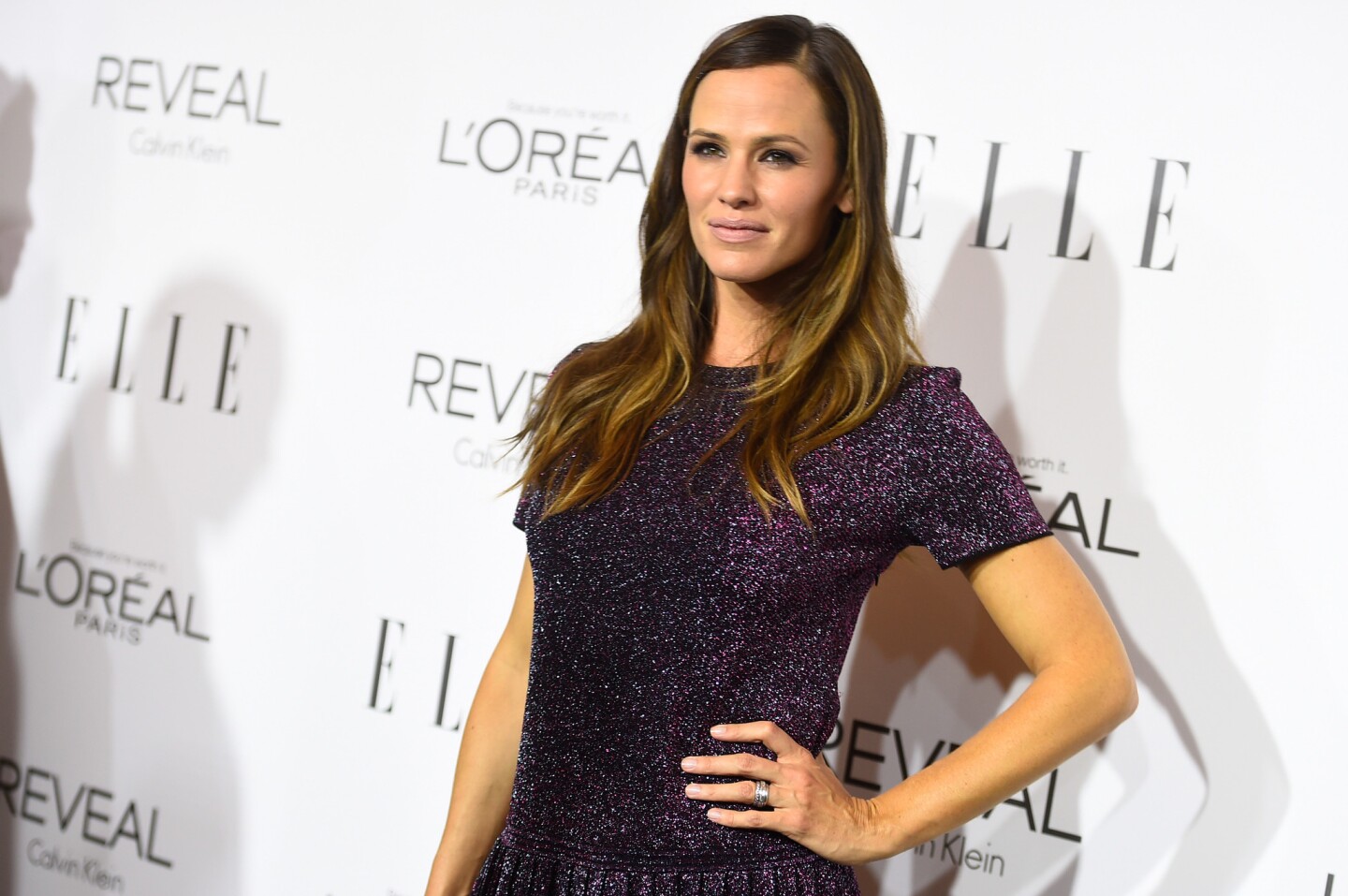 Actress Jennifer Garner
(Frazer Harrison / Getty Images)
Lizzy Caplan and Sarah Paulson; Tessa Thompson and Kerry Washington; Bellamy Young and Tony Goldwyn
(Frazer Harrison, Jason Merritt / Getty Images for ELLE)
Actress Ashley Madekwe
(Frazer Harrison / Getty Images)
Gugu Mbatha-Raw, Michelle Monaghan and Kaley Cuoco-Sweeting
(Frazer Harrison / Getty Images)
Actress Renee Zellweger
(Jeff Vespa / Getty Images for ELLE)
Bella Thorne, Emmy Rossum and Katie Lowes
(Frazer Harrison / Getty Images)
Actress Nikki Reed
(Jeff Vespa / Getty Images for ELLE)
Actress Molly Sims, singer Lykke Li and chief creative officer for BCBG Max Azria Group Lubov Azria
(Frazer Harrison / Getty Images)
Actor Joel McHale, Sarah Williams, Elle Editor-in-Chief Robbie Myers and Kevin C. O'Malley, Elle senior vice president, publisher and chief revenue officer
(Jeff Vespa / Getty Images for ELLE)
Tina Fey, left, and Amy Poehler
(John Shearer / Invision / Associated Press)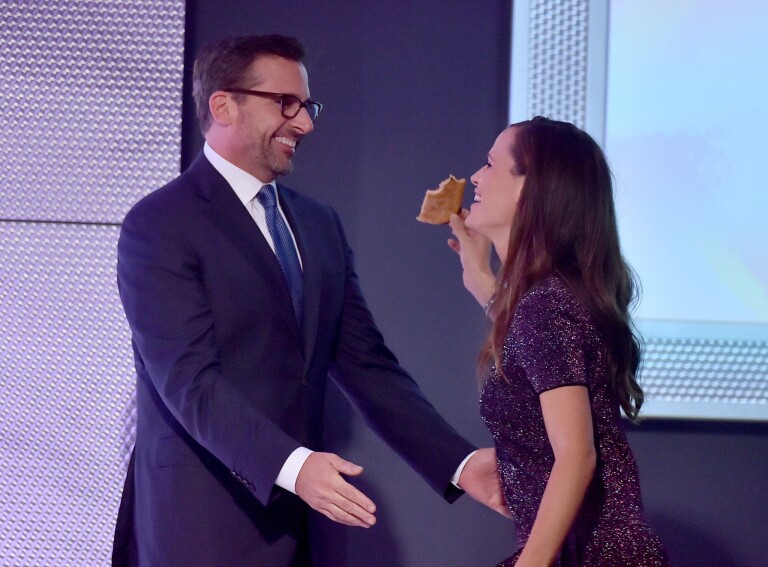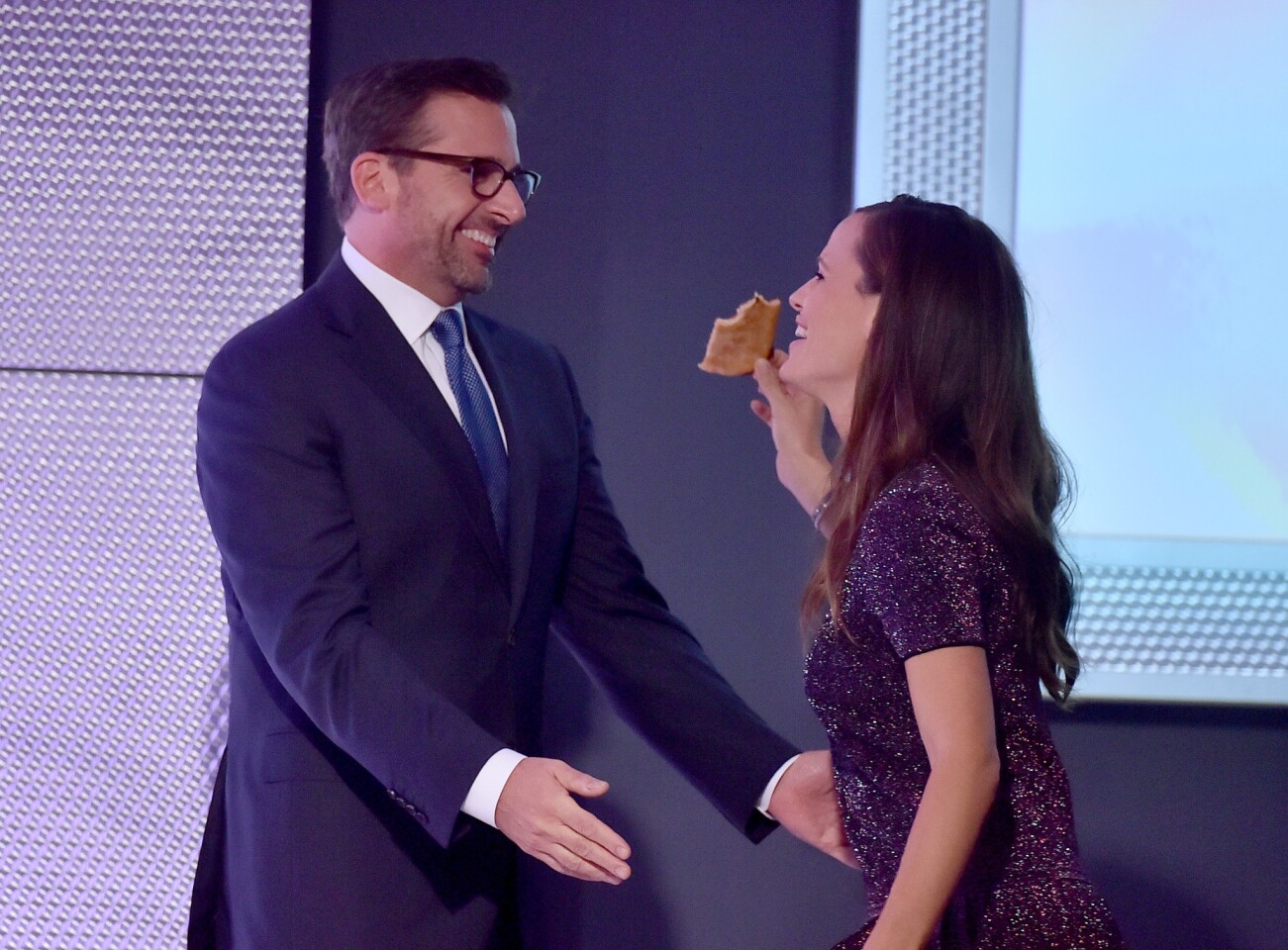 Steve Carell and honoree Jennifer Garner speak onstage
(Michael Buckner / Getty Images for ELLE)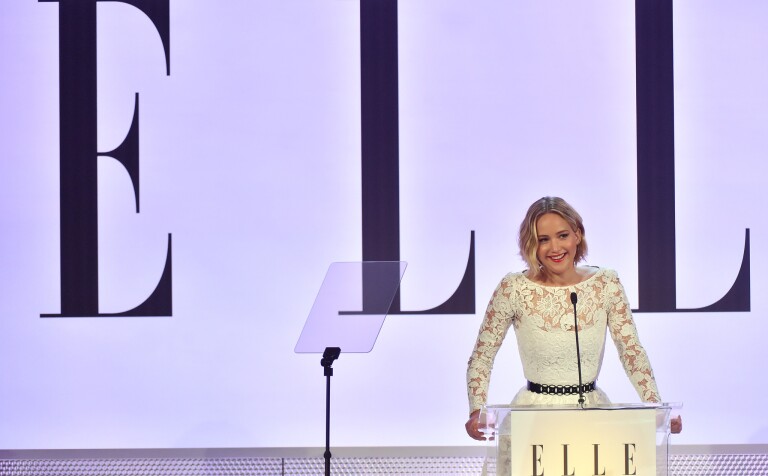 Actress Jennifer Lawrence
(Michael Buckner / Getty Images for ELLE)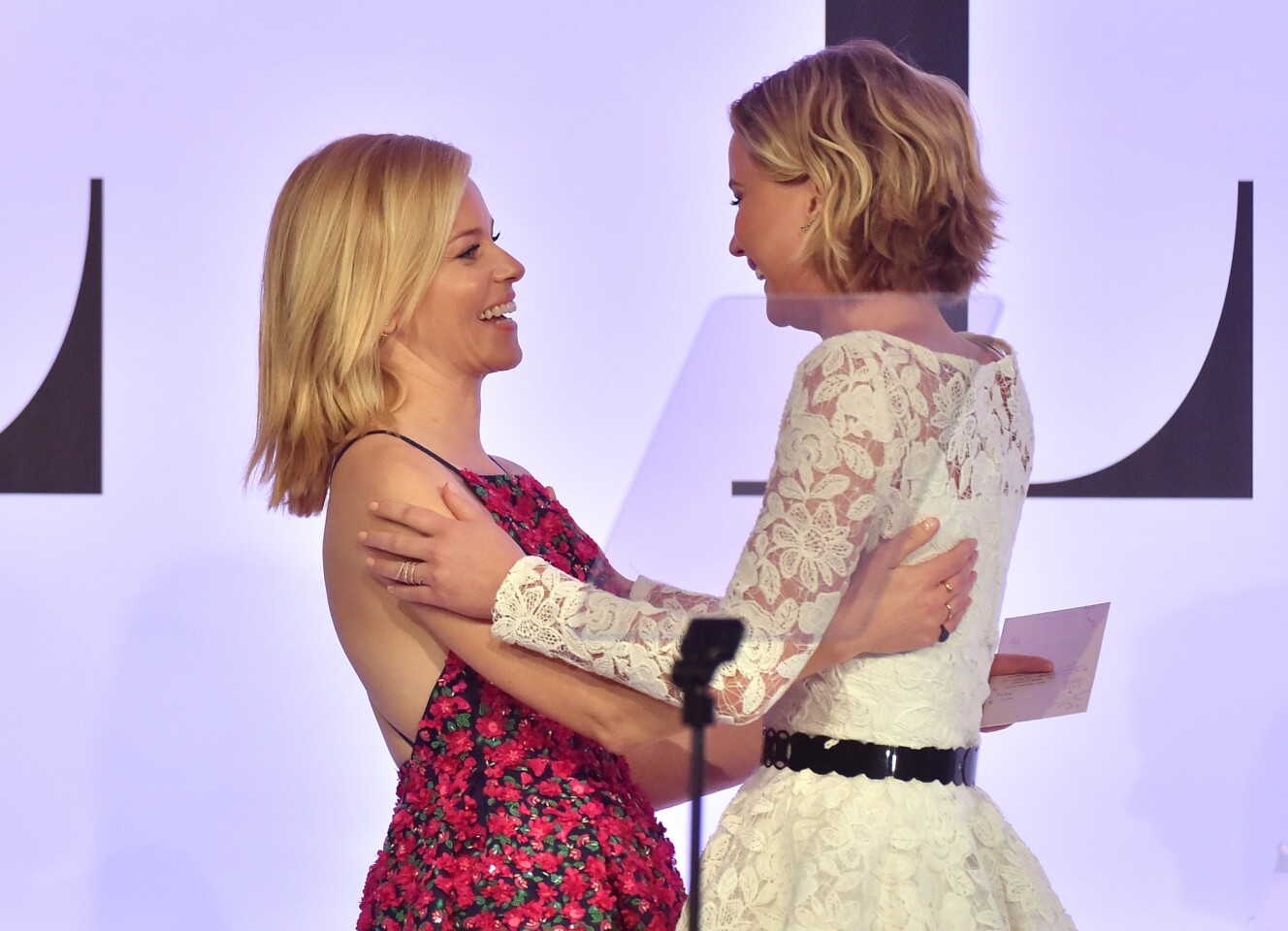 Honoree Elizabeth Banks, left, and actress Jennifer Lawrence embrace.
(Michael Buckner / Getty Images for ELLE)
Actress Amy Poehler
(Michael Buckner / Getty Images for ELLE)
Actress Shirley MacLaine
(Michael Buckner / Getty Images for ELLE)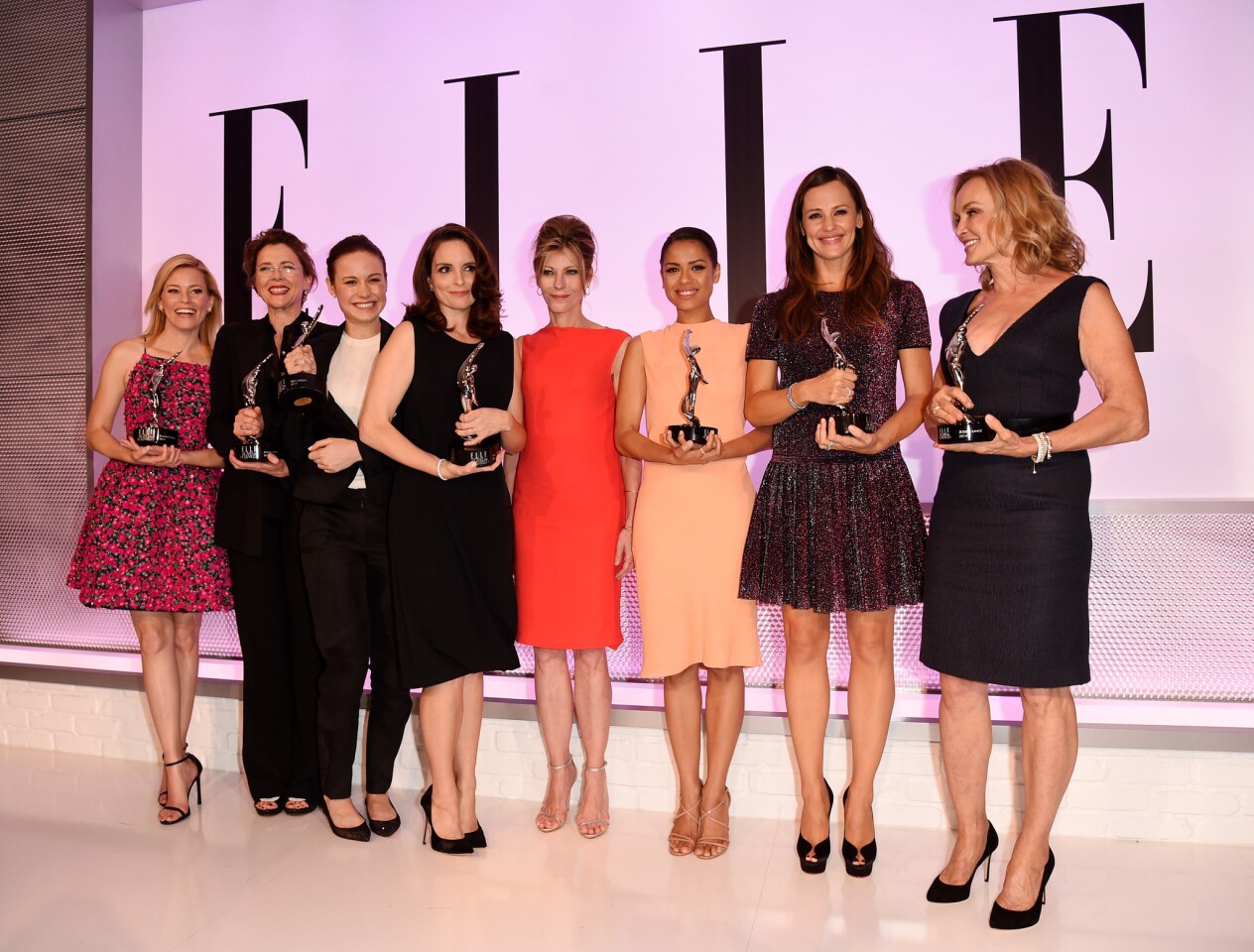 From left: Elizabeth Banks, Annette Bening, Brie Larson (holding the Calvin Klein Emerging Star Award), Tina Fey, Elle Editor Robbie Myers, Gugu Mbatha-Raw, Jennifer Garner and Jessica Lange (holding the L'Oreal Paris Legend Award)
(Jason Merritt / Getty Images for ELLE)
Honoree Jessica Lange accepts the L'Oreal Paris Legend Award.
(Michael Buckner / Getty Images for ELLE)
Jennifer Garner, Elizabeth Banks and a slew of Hollywood heavyweights in heels told it how it is at the 21st Elle Women in Hollywood Awards on Monday night.
The magazine honored the "Men, Women & Children" and "The Hunger Games" stars along with "30 Rock's" Tina Fey, "Guardians of the Galaxy's" Zoe Saldana, "American Hororr Story's" Jessica Lange, "American Beauty's" Annette Bening, "Community's" Brie Larson and "Doctor Who's" Gugu Mbatha-Raw.
The awards, emceed by "Community's" Joel McHale, drew A-listers to the Four Seasons Los Angeles in Beverly Hills to celebrate the honorees' contributions in front of and behind the camera. The eight women in the spotlight were also featured on the cover of the magazine's November Women in Hollywood issue.
"The Office" alum Steve Carell, Renee Zellweger, "Scandal's" Kerry Washington, Oscar winner Jennifer Lawrence, "Saturday Night Live" alum Bill Hader, "Parks and Recreation" star Amy Poehler and Shirley MacLaine presented the honors with heartfelt speeches about their costars and longtime friends.
Carell, who was seated for dinner next to his "Alexander" costar, went over the top as he introduced the "really nice" Garner, calling her "a peach" and "a good egg" before sweetly presenting her and the rest of the ballroom with her favorite pizza from Barone's. (Fey and Poehler later quipped that he could pull off a move like that because he made "five times more" than any woman in the room, highlighting a theme of pay disparity that ran throughout the evening).
Garner made her way to the stage munching on the snack, saying that she was grateful she's no longer the lingerie-wearing spy she was in "Alias" because all the mom roles she's being offered these days allow her to actually eat some pizza. The 42-year-old mother of three also joked that she was pleasantly surprised she could arouse Carell during one of their sex scenes -- a jape that led to him walking out of the ballroom.
Garner said that she looked forward to the whole notion of "Women in Hollywood" "being put out of business."
"Because the fact that there even needs to be a Women in Hollywood event is a little bit sad," she explained. "I mean, the 'Men in Hollywood' event is every day -- it's called Hollywood. Fifty-one percent of the population should not have to have to schedule a special event to celebrate the fact that in an art that tells the story of what it means to be human and alive, we get to play a part."
The Golden Globe winner compared her work to that of husband Ben Affleck and said that he's never questioned on red carpets about handling his work-life balance, yet she always is.
Zellweger, 45, introduced Mbatha-Raw, her "The Whole Truth" costar who has appeared in "Doctor Who," "Touch" and "Jupiter Ascending." Mbatha-Raw, 31, said she was honored by the award and thanked her adoptive family, who cheered her on at their table.
A "super pregnant" Saldana couldn't make it to the event but sent her regards via video message, thanking Elle November issue photographer Paola Kudacki for making her feel like she's still "got it" even when she's carrying twins.
"Community" star Larson was introduced by Heder as the recipient of Calvin Klein's Emerging Star Award. When she took the stage, she acknowledged her nascent spot among the honorees.
"I'm new," the 25-year-old said. "I'm totally freshly in the world of women. Flaw was never something I could handle seeing in myself and I spent a lot of time apologizing for my flaws -- apologizing for having an appetite."
Larson said that she is "so proud to be a woman" and thanked everyone at her table by name as well as sponsors Elle and Calvin Klein.
"I finally understand what Chaka Khan said when she said that 'I am every woman,'" she joked.
"Scandal" star Washington introduced her "Mother and Child" costar Bening, saying that "when Annette is working, she's doing the soul's work."
On a personal level, Washington told Bening that her "courage to bring truth into the world is such a service to women and audiences."
Bening, 56, briefly took the stage and took a moment to say hello to her sister-in-law MacLaine, noting it had been too long since they last saw each other.
The most moving and comedic speeches came from costars who've known each other for a long time. Lawrence introduced Banks and riffed, "She's this generation's Kevin Bacon because she's been in every movie since 2001," so people could effectively play Six Degrees of Elizabeth Banks now.
Working without a prepared speech -- she noted that her publicist was likely losing it at that moment -- the "Pitch Perfect 2" director took aim at her own career and the less tasteful roles she's taken along the way, as seen in the personalized movie montage that was played before each honoree took the stage.
"I think that I'm proud of my career and then I see the highlight reel," she joked, saying she wanted to call "a little bit" of bull on being a woman in Hollywood. "Like, I think it's really hard actually to be a woman in Hollywood. I think it requires a lot of encouragement along the way."
The 40-year-old star said that she was encouraged along the way by Bening, Garner and Fey, who got her two Emmy nominations for "30 Rock." She also thanked her husband, Max Handelman, for encouraging her to go into acting rather than becoming a cheerleader.
"I just want to say that being on the cover of Elle magazine is really amazing and I've dreamed about it for a really long time and I'm old now. Thank you Elle, for letting me know that even though I'm old now I can still be a cover girl and I can be in this room with all these amazing people like Annette Bening, who I looked up to, and I'm still here. So thank you."
When introducing her bestie and tablemate Fey, "Parks and Recreation's" Poehler took note of the number of women in the room and called the event the "open casting call" for the all-female "Ghostbusters 3" reboot. The wise-cracking Golden Globes co-host then got sincere about her "SNL" compatriot.
"Tina is so Hollywood that she doesn't even live here. She lives in New York City," she said. "She can do so many things well ... she knows how to light up a room. Literally. She's also a gaffer ...
"It's harder to be funny than be serious," Poehler emphasized.
She shared that Fey, who's "the real deal" and "a real person in the real world," had gifted her a portrait of her sons Archie and Abel made out of Legos as a wrap gift for completing "The Nest" over the summer.
"I cried because I knew that my gift to Tina was a heart-shaped pillow with the word 'butts' on it," she said.
"You're unapologetically the boss. You're always the funniest person in the room," she added, speaking directly to Fey. Poehler also noted that it was no coincidence that their buddy comedy would be hitting theaters the same weekend as the next episode of "Star Wars."
"Tina is the only one who can beat 'Star Wars,' you guys!" she exclaimed. "She's my Han Solo and I'm her Chewbacca, because she's the only one who can understand me sometimes, and I will destroy anyone who tries to hurt her."
Fey, 44, whose introductory video montage earned her applause for saying that she does everything men do but she does it in heels, thanked Poehler and "SNL" alum Rachel Dratch and teased the audience about their dirty, unpublished "SNL" moms text chain. (She joked that she'd publish it when she turned 50.)
The actress-writer-director said that when she started at "SNL" in 1996, she knew she was brought there to write for the women in the cast, to try to help get them onto the show.
"I guess what I'm trying to say is that I want points on [Kristen Wiig and Maya Rudolph's] 'Bridesmaids' even though it had nothing to do with me."
She also shared her "deep sadness" over the loss of "SNL" alumna Jan Hooks earlier this month.
"Jan deserved a big movie career, a bigger one. Certainly a bigger one than ... Rob Schneider," she said, earning the room's laughter before she recalled how glad she was to have cast Hooks on "30 Rock" in 2010 to play Jenna Maroney's mother.
MacLaine, 80, was the last to present on a rather long night. Saucily stating that it was her "task to bring meaning to this ... evening," she went on to talk about several memories she shared with Lange and how they'd just made a movie together "with no money."
"If I ever got the urge again, she would probably be the man I'd like to marry," she quipped.
Lange, 65, was the recipient of the magazine's L'Oreal Paris Legend Award. The only honoree to receive a standing ovation, she recalled long conversations she'd had with her costar to pick her brain about the business.
"Acting for me has always been an escape," she said, touting the importance of imagination. "What I've always noticed about actors is the greater the imagination, the greater the work."
Also attending were Warren Beatty, "Scandal's" Tony Goldwyn, Bellamy Young and Katie Lowes, "Masters of Sex" star Lizzy Caplan, "American Horror Story's" Ryan Murphy and Sarah Paulson, "Twilight" alum Nikki Reed, Emmy Rossum, "The Big Bang Theory's" Kaley Cuoco-Sweeting and husband Ryan Sweeting, Ari Graynor, Molly Sims, model Doutzen Kroes, Liberty Ross, Bella Thorne, "Dancing With the Stars" judge Julianne Hough and "True Detective's" Michelle Monaghan.
Follow me on Twitter @NardineSaad.
---
The complete guide to home viewing
Get Screen Gab for weekly recommendations, analysis, interviews and irreverent discussion of the TV and streaming movies everyone's talking about.
You may occasionally receive promotional content from the Los Angeles Times.