Jan Hooks dies at 57; gifted comedy actress on 'SNL'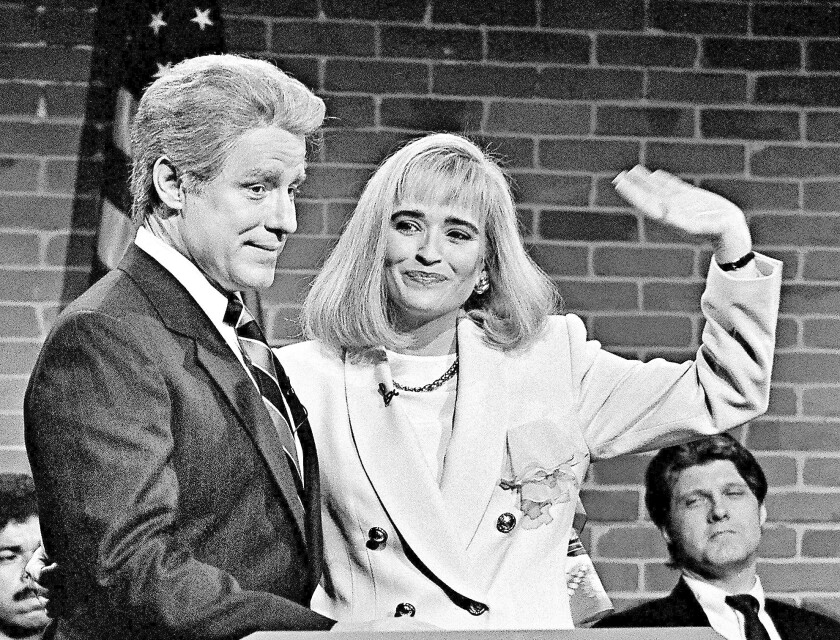 Jan Hooks, a comedic actress whose gift for impersonation led to memorable scenes spoofing Tammy Faye Bakker, Hillary Rodham Clinton, Nancy Reagan and others on "Saturday Night Live," died Thursday. She was 57.
A spokeswoman for Innovative Artists, the agency that represented Hooks, confirmed her death but provided no other details.
Hooks joined "SNL" in 1986 and was a part of the late-night NBC-TV cast that included Dana Carvey, Nora Dunn, Phil Hartman, Victoria Jackson, Jon Lovitz, Dennis Miller, Kevin Nealon and A. Whitney Brown. She stayed through 1991.
Often paired on screen with Hartman, she was known for her spot-on impressions. Besides Clinton, Reagan and Bakker, she also played Kitty Dukakis, Diane Sawyer, Ivana Trump, Sinead O'Connor and created the part of lounge singer Candy Sweeney of the Sweeney sisters. (Hartman was killed in 1998 by his wife, who then killed herself.)
After leaving the show, Hooks joined the CBS sitcom "Designing Women," replacing Jean Smart at the same time Julia Duffy arrived to replace Delta Burke. Hooks played Carlene Frazier Dobber from 1991 until the series ended in 1993.
She also had regular TV roles on "Third Rock From the Sun," "The Simpsons" and "30 Rock" and a part in the 1992 blockbuster film "Batman Returns."
Born April 23, 1957, in Decatur, Ga., Hooks grew up there and in Florida. She studied for a time at the University of West Florida in Pensacola before leaving to begin her acting career.
"I was an Indian princess in an outdoor drama in Livingston, Texas," she told the Associated Press in 1991. "I got $115 a week. I couldn't believe it."
After that summer, she worked in dinner theaters and comedy shows — on stage and, later, on television — before getting her big break with a role in "Pee-wee's Big Adventure" (1985).
"SNL" soon came calling.
Unlike several other female veterans of the show, she thrived in the male-dominated environment.
"If you're talented, if you're good, you'll get work," she told the Philadelphia Inquirer in 1994. "It's a waste of energy to complain you're not getting this or that because you're a woman. On 'SNL,' I found that the more you complained, the more you pigeonholed yourself."
But unlike stand-up comedians who were used to the pressures of performing live on stage, Hooks said she suffered from stage fright and preferred acting in other venues.
"I am a comic actor. I've never done stand-up. I can't even watch it," she told USA Today in 1992. "I liked dressing up and putting on wigs and being different people."
Information on surviving family members was unavailable.
Follow @theryanparker and @raablauren on Twitter for breaking news.
---
Must-read stories from the L.A. Times
Get all the day's most vital news with our Today's Headlines newsletter, sent every weekday morning.
You may occasionally receive promotional content from the Los Angeles Times.