Tim McGraw swats one fan, serenades another in Atlanta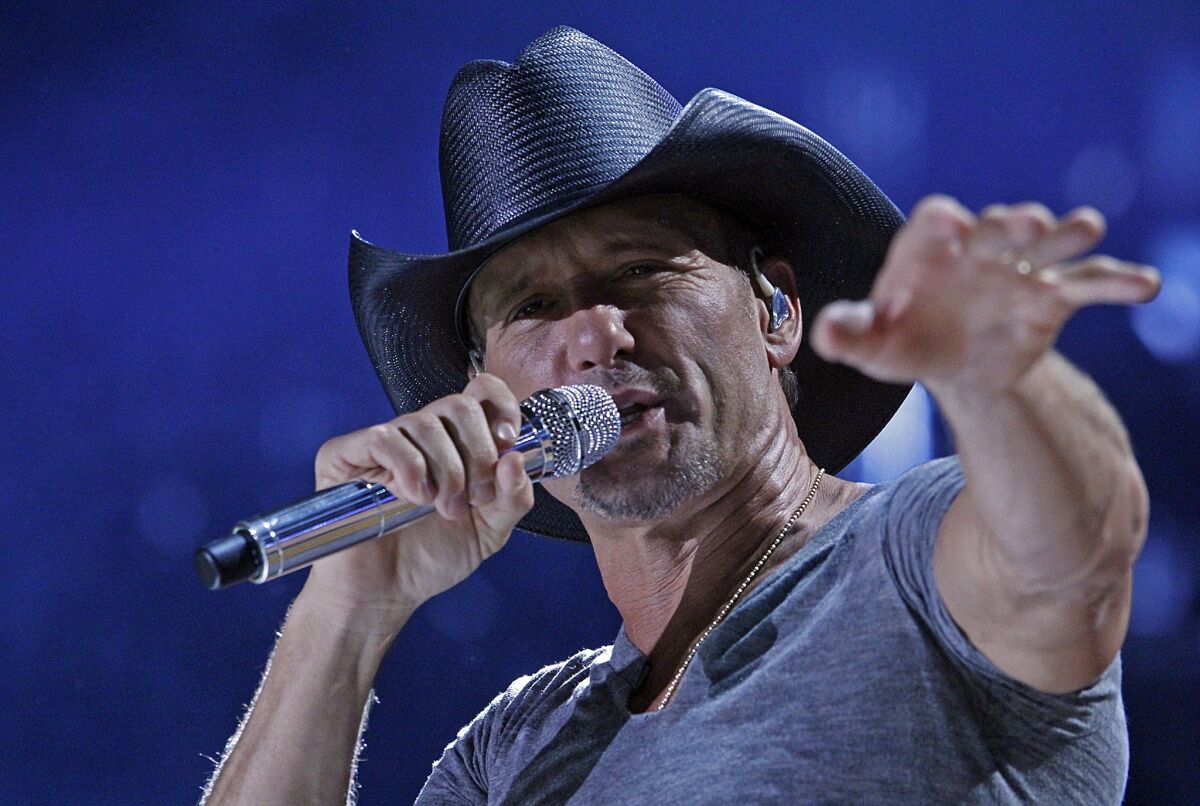 Tim McGraw's Sunday concert in Atlanta was an eventful one, it seems, with one fan getting handsy -- and earning a smack for her efforts -- while another enjoyed a personal, sit-down serenade from the country star.
The "slap" heard 'round the gossip world happened during an encore as McGraw dished out "Truck Yeah" from a part of the stage that extended out into the audience.
Rough cellphone video posted by TMZ on Thursday afternoon showed an interaction with a fan that happened so fast it had to be pointed out by an arrow superimposed on the footage. By Friday morning, a better recording from a different angle had surfaced.
In the newer video, a woman can be seen reaching up from the crowd and tearing at McGraw's already fashionably torn jeans as he starts walking away. Held up by the grab, he takes a swipe back at her and apparently connects with her face, following up with an arms-wide gesture that seems to say something along the lines of, "What the what, lady?"
Atlanta law-enforcement sources told TMZ on Friday that McGraw's move was a "common reaction" in that sort of situation and wasn't going to get any attention from them unless the woman complained, which she hadn't so far.
The first video showed a man who appeared to be with security immediately removing the woman from the vicinity of the stage.
"Tim was singing out in the audience and someone firmly grabbed onto his leg and wouldn't let go as he was moving through the crowd," McGraw's touring team said through his rep Friday. "He instinctively swatted to try and keep them from ripping his jeans (which they succeeded at doing!), and so he could get to more fans who were trying to slap hands with him before the end of the show.
"He didn't know who had grabbed him and was trying to keep his pants from being torn."
McGraw had a much different interaction, also captured on video, with another fan at that same Atlanta show. While sitting down on the edge of the stage and performing Joe Cocker's "You Are So Beautiful," dedicated to his wife Faith Hill and his three daughters, the singer noticed a special fan in the crowd and invited her up on stage with him.
Through the end of the song, the girl clearly delighted sings along, sways, smiles and covers her face with disbelief before getting a hug at the end.
McGraw capped it off by autographing the guitar he'd been playing and giving it to the girl.
That's definitely a better souvenir than a pricey concert T-shirt -- and infinitely better than a slap in the face.
Follow Christie D'Zurilla on Twitter @theCDZ and Google+. Follow the Ministry of Gossip on Twitter @LATcelebs.
Get our L.A. Goes Out newsletter, with the week's best events, to help you explore and experience our city.
You may occasionally receive promotional content from the Los Angeles Times.