Review: The emotion of plants and wild landscapes in 'Five Seasons: The Gardens of Piet Oudolf'
Film Critic
Think of Piet Oudolf as the plant whisperer, a man who makes things that grow interact in ways people hadn't really thought of before.
A hugely influential landscape designer, responsible for New York's High Line, Chicago's Lurie Gardens and numerous sites around the world, Oudolf was a pioneer in the notion of working hard to having gardens look as natural as possible.
"Plants are a medium to bring out emotions," he says in the documentary "Five Seasons: The Gardens of Piet Oudolf," adding with a nod to the work required, "it may look wild but it shouldn't be wild."
As directed by Thomas Piper, a filmmaker who specializes in arts-related docs, "Five Seasons" does two things with grace and skill, starting with immersing us in what Oudolf's work looks like.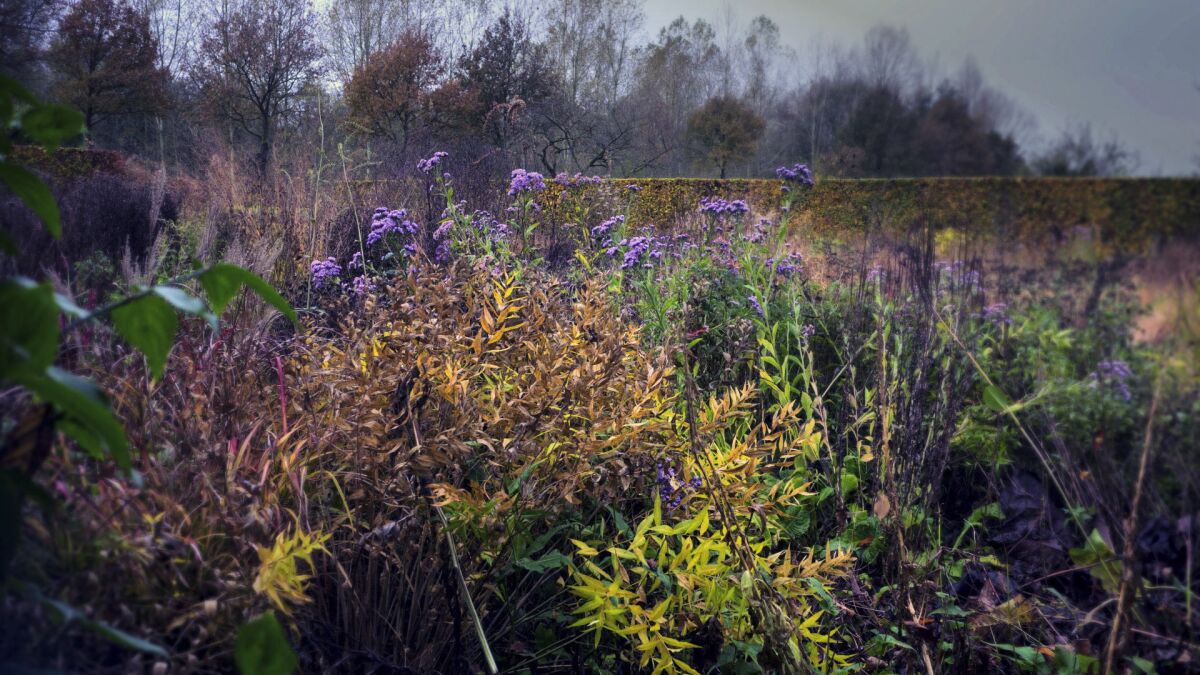 No conferences, no picture books. Just many, many years of observation.

— Piet Oudolf on how he developed his landscape philosophy
With the director doing the cinematography, "Five Seasons" reveals gardens you'd look forward to getting lost in, gardens that brilliantly use the interplay of form and color to do wonderful things to your soul.
We also get to spend time with Oudolf himself, a 70-something native of the Netherlands with a craggy face and a shock of white hair whose tart, candid comments do not reveal even a trace of false modesty.
"It's amazing what you can create in your life," Oudolf says in a self-reflective moment. And when a clerk in a supermarket points to the camera-toting Piper and asks, "Is he following you," Oudolf immediately replies, "No, I am leading him."
For someone so gifted at what he does, Oudolf took quite some time to find his vocation. His parents owned and operated a small hotel, and he worked behind the bar until he was 25.
Then came stints in fisheries and factories before he took a job at a garden center almost by accident and it all clicked.
Encouraged and aided by his wife Anja, he bought a nursery in the remote town of Hummelo, where he still lives, because "I had no clients, I needed a way to make money."
Oudolf was also figuring out what plants do. "No conferences, no picture books," he says dismissively. "Just many, many years of observation."
What this led to was a movement against gardens being only about flowers and color. Oudolf was interested in shape as well as hue, and he wanted gardens to look good all year round, in bad light as well as good.
"What we do in a whole life happens to plants in a year," he explains. A fan of perennials, he notes that while "I won't come back, they will. It's like seeing good friends after a year."
"Five Seasons," as its title indicates, follows Oudolf around the world in all weathers looking at landscapes that excite him, his way of "loading up the batteries for the new season."
These include the White Clay Creek Preserve in Pennsylvania, Council Bluffs, Iowa, and the West Texas hill country, where he calls a riot of wild flowers in a highway median "almost a miracle."
The film visits Oudolf's classics, like the High Line, but spends its most fascinating time watching one of his newest projects, the landscape surrounding a Hauser & Wirth gallery and artist's center in Somerset in southwest England, take shape.
"Plants were characters I could compose with, put on stage," Oudolf sums up at one point. "This is what I do: I let them perform."
Five Seasons: The Gardens of Piet Oudolf
Running time: 1 hour, 15 minutes
Playing: Laemmle's Royal, West Los Angeles, Playhouse, Pasadena
Get our L.A. Goes Out newsletter, with the week's best events, to help you explore and experience our city.
You may occasionally receive promotional content from the Los Angeles Times.