Review: 'Won't You Be My Neighbor?': The documentary that shows how Mister Rogers made goodness desirable
The trailer for the Mr. Rogers documentary "Won't You Be My Neighbor."
Film Critic
It had a simple set and minimal production values. As a host, it employed an ordained Presbyterian minister whose flashiest move was changing into a cardigan sweater. A likely candidate for legendary television success "Mister Rogers' Neighborhood" was not.
Yet for more than 30 years, Fred Rogers' Pittsburgh-based public television half-hour was a small-screen powerhouse, entrancing generations of wee fans and even influencing public policy. Not bad for a man who believed "love is at the root of everything ... love or the lack of it."
Although Rogers died in 2003 at age 74, the excellent "Won't You Be My Neighbor?" is the first documentary on him, and Morgan Neville is the ideal filmmaker to do the job.
A documentary veteran who won the Oscar for the entrancing "Twenty Feet From Stardom," Neville is an experienced professional who knows what questions to ask and, working with editors Jeff Malmberg and Aaron Wickenden, how to assemble the answers.
Neville's goal here is not so much to tell the story of Rogers' personal life, though that does get some play, but rather to detail the how and why of his success, to show the way someone whose formidable task was, in his own words, "to make goodness attractive" was able to make it happen.
Neville has interviewed Rogers' widow, sister and two sons as well as key players behind and in front of the camera, in the process telling us things about the show we may have forgotten or never knew in the first place.
But the key to the documentary's success is, paradoxically, the same thing that made "Neighborhood" a hit in the first place, and that is the man himself.
For it turns out that a glimpse of Fred Rogers working his magic has the same persuasive effect on today's adults as it had on children aged 2 to 5 back in the day.
Quite simply, Rogers' palpable goodness and caring, the purity of his respect for children and ability to meet them on their own terms, as well as a determination to provide understanding and safety, are all apparent within a minute of seeing him on camera.
"His inner child," explains son Jim Rogers, "never really went away," and that made being one with tiny tots considerably easier.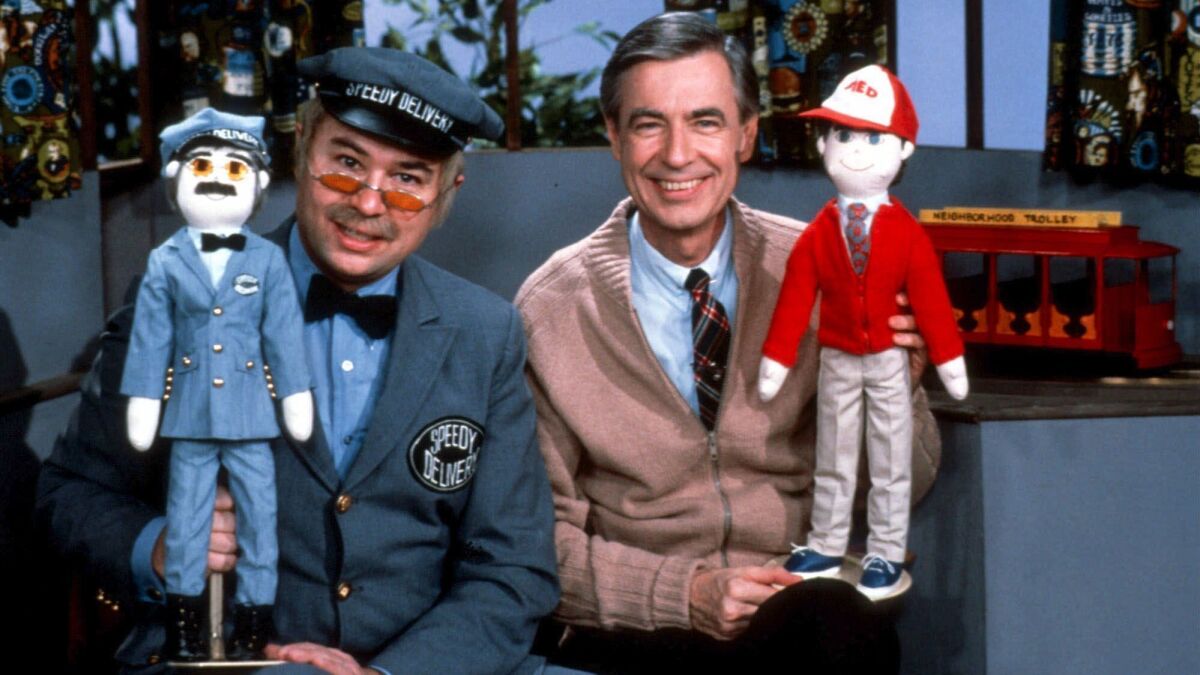 Yet, as "Won't You Be My Neighbor" makes clear, Rogers' success didn't just happen. In fact, in addition to his personality, Rogers' combined some very specific attributes — a sense of ministry and a child development background, as well as television experience — to create his successful program.
Not surprisingly for someone so sensitive, Rogers did not have a particularly happy childhood. He was scathingly teased by his peers as "Fat Freddy" and ended up having to "make up a lot of my own fun."
Rogers was all set for divinity school, wife Joanne says, when he was attracted by the potential of television and appalled by the crass nature of programming for kids. "Why," she remembers him asking, "is a wonderful tool being used this way?"
Being in Pittsburgh gave Rogers access to the University of Pittsburgh's well-regarded program for child development and child care, which also attracted luminaries like Erik Erikson and Dr. Benjamin Spock.
Rogers returned to television after his ordination, and his program was such an early success for PBS that he was asked to testify before Congress when the network's funding was threatened with elimination.
Seeing Rogers win over crusty Rhode Island Sen. John Pastore with his 1969 testimony is one of this film's highlights.
Another interesting aspect of "Won't You Be My Neighbor?" is that it reminds us that Rogers never hesitated to take on tough material, even putting on a show that dealt with the concept of assassination after Robert F. Kennedy was shot.
And though it is unquestionably an admiring film, "Neighbor" finds time to show clips from savage Rogers parodies by the likes of Eddie Murphy and Johnny Carson, and listen in when son Jim talks about what it was like having a father who was viewed by the public as "a second Christ."
Among the Mr. Rogers shows excerpted, probably none has more power than his time with 10-year-old quadriplegic Jeff Erlanger, especially their duet of one of the show's standards, "It's You I Like." That is definitely a moment to remember.
'Won't You Be My Neighbor?'
Rating: PG-13, for some thematic elements and language
Running time: 1 hour, 34 minutes
Playing: ArcLight, Hollywood; Landmark, West Los Angeles
ALSO
Ruth Bader Ginsburg and Fred Rogers documentaries hail soft voices behind powerful messages
From the Archives: It's a sad day in this neighborhood as Fred Rogers dies at 74
Film critic Kenneth Turan remembers Josh Greenfeld, an Oscar-nominated screenwriter who taught him about life
---
Get our L.A. Goes Out newsletter, with the week's best events, to help you explore and experience our city.
You may occasionally receive promotional content from the Los Angeles Times.