With Sundance 2018, a festival reaches to meet the moment
Yes, there are still movies at the Sundance Film Festival.
But the 2018 edition of the preeminent indie film showcase, which kicks off Thursday night in Park City, Utah, also will be dealing with a moment of tumultuous upheaval and uncertainty in the culture. Multiple moments, to be more exact.
The mechanics of the entertainment industry are in a state of flux; traditional distributors continue to grapple with streaming services such as Netflix, which last year won the festival's top prize, and they are all trying to figure out the best ways to deliver movies to audiences without going broke.
Last year, Sundance was concurrent with the presidential inauguration and unfolded within a politically charged atmosphere that included a highly publicized women's march. This year will likely be marked by an air of continued defiance and resistance — including the Respect Rally Park City march scheduled for Saturday morning — as the world enters Trump Year Two.
But mostly, this festival will be tinged by the ongoing fallout of sexual harassment and abuse scandals that have rocked the world of entertainment and sent shock waves across other industries. Harvey Weinstein was at that Sundance women's march last year.
Festival organizers remain upbeat that a single film festival in a small mountain town in Utah can nevertheless take in all that is coming its way.
"It's the mood of change," said festival director John Cooper. "It's not frightening, it's not down, it's a little bit of chaos, but it's sort of inspiring at the same time. Things are actually changing in the world around us — where the feeling before was that we know what's wrong and nothing changes. It's kind of nice that a lot of the movies we're showing are fitting into that chaos."
In a tangible response to concerns over sexual harassment and abuse, the festival has created a new code of conduct for attendees, available on the Sundance website and app, and, in partnership with the Utah attorney general's office, established a 24-hour live hotline to report any violations.
"We have a responsibility to our community and we want our community to feel as comfortable as possible at the festival," Cooper said. "We're not taking safety for granted and we're taking a real responsibility around it."
Filmmakers feel it too, and many seem prepared for the complicated, perhaps conflicting moods of the festival.
Playing in the Documentary Premieres section of the festival is "RBG" directed by Betsy West and Julie Cohen. The film looks at Supreme Court Justice Ruth Bader Ginsburg from her groundbreaking work in defining gender discrimination law through the recent surge in visibility that earned her the nickname "Notorious RBG." (Ginsburg is scheduled to attend the festival.)
"I cannot imagine the stars aligning in any better way than this film about this woman by a team of women filmmakers playing this year," Cohen said. "Having it emerge at a time when the country at large and the film industry in particular is giving serous and well deserved thought to the need for women to speak out and stand up for their rights, it's pretty awesome."
"This is a turning point moment for women in this country," said West, "and I think her story provides a great context to all of this."
"For many years the stories of women, even influential women, have not been told."
Betsy West, co-director with Julie Cohen of the documentary "RBG"
The festival slate boasts a strong showing of non-fiction portraits of women, including actress and activist Jane Fonda, attorney Gloria Allred, artist Yayoi Kusama, musician Joan Jett, fashion designer Vivienne Westwood and singer M.I.A. The documentary "Half the Picture," directed by Amy Adrion, examines the lack of female film directors in Hollywood.
"For many years the stories of women, even influential women, have not been told," West said. "So it's not surprising that we have a lot of films at the festival this year that are telling the stories of women."
Actress Andrea Riseborough has four films in the festival, appearing in "Nancy," "Burden," "Mandy" and "The Death of Stalin." (She is a producer on "Nancy" and executive producer on "Burden" as well.) Riseborough was also among those who signed the initial letter announcing the Time's Up legal defense fund. She doesn't see the momentum of the moment slowing down anytime soon.
"A door's been opened and it's not going to close. The only people who can close it are us," she said. "Equality in the workplace is a huge human rights issue. It's not like, 'Oh, it's going to be an exciting Sundance.' This is serious. And there's too many women in industries across the board, not just mine, and this is why a lot of us have wanted to step up. This is so much bigger than just us."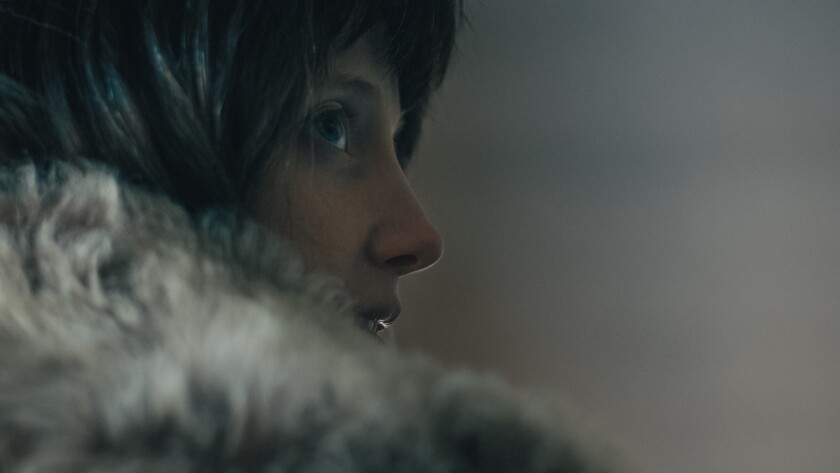 Even though a lot of my stories have some social or political bent to them, I think the reason why I am a filmmaker is to try to connect with the audience.
Christina Choe, director of "Nancy"
In "Nancy," Riseborough plays a woman who becomes increasingly convinced she is the daughter who went missing from a couple 30 years earlier. Writer-director Christina Choe — who notes with pride that the film had an 80% female crew with 50% people of color — is excited to be premiering a film with a female antiheroine about the slippery nature of truth.
"On the one hand I think all of the things we're talking about are important things to be talking about," Choe said. "On the other hand I want the film to be received for the film and the filmmaking, for Andrea's amazing performance. Even though a lot of my stories have some social or political bent to them, I think the reason why I am a filmmaker is to try to connect with the audience."
That audience connection remains at the heart of the festival's mission, but also raises some tough questions about a challenged marketplace for specialized titles. Last year, Fox Searchlight acquired the festival favorite "Patti Cakes" for a reported $9.5 million. The film went on to gross just over $800,000 in its summer theatrical release.
That kind of worst-case scenario is further exacerbated by the ongoing sexual misconduct scandals. Just two years ago Fox Searchlight acquired worldwide rights to Nate Parker's Sundance prize-winner "The Birth of a Nation" for a reported $17.5 million only to see the commercial run and a presumed awards campaign both critically damaged when allegations of rape resurfaced from the filmmaker's past.
Then, last fall, the smaller New York-based company the Orchard acquired Louis C.K.'s "I Love You, Daddy" out of the Toronto International Film Festival but was forced to scrap a November theatrical release, one week before it was set to open, following reports of C.K.'s sexual misconduct.
(Sundance was in fact already hit by the scandal when Morgan Spurlock's "Super Size Me 2: Holy Chicken," which premiered in Toronto last year, was pulled from the 2018 lineup by producers after Spurlock publicly acknowledged his own misconduct.)
Kenneth Turan previews the Sundance 2018 lineup »
Some fear that commercial uncertainty combined with an unpredictable climate may make buyers more skittish this year. But one silver lining for filmmakers is that several titles launched at Sundance 2017 — including "The Big Sick," "Mudbound," "Get Out" and "Call Me by Your Name" — remain in the thick of the current awards season conversation
And even without The Weinstein Co. — which had already greatly diminished in Sundance stature before the Harvey debacle — there are plenty of outlets still on the hunt for product. Deep-pocketed streaming platforms Netflix and Amazon Studios now compete for titles and attention against relatively new companies such as A24, Neon and Annapurna Pictures, as well as more established entities such as Sony Pictures Classics, Focus Features, Magnolia Pictures and Fox Searchlight.
Producer Aaron L. Gilbert and Bron Studios, the company he co-owns with his wife, Brenda Gilbert, have three films in the festival in three separate sections, all seeking distribution — Debra Granik's "Leave No Trace" in Premieres, Anthony Mandler's "Monster" in U.S. Dramatic Competition and Sam Levinson's "Assassination Nation" in Midnight. He feels each can find a suitable partner to best get them out to the world, but also recognizes the challenges ahead.
"The distribution landscape has changed so dramatically over the last few years," Gilbert said. "You talk to agencies and partners and friends and colleagues in the business, everyone is trying to figure it out right now because the world is changing."
SIGN UP for the free Indie Focus movies newsletter »
Follow on Twitter: @IndieFocus
---
From the Emmys to the Oscars.
Get our revamped Envelope newsletter, sent twice a week, for exclusive awards season coverage, behind-the-scenes insights and columnist Glenn Whipp's commentary.
You may occasionally receive promotional content from the Los Angeles Times.