A look at Sundance Film Festival's stronger than usual 2018 lineup
Film Critic
"Obsession. Unfetter. Unravel. Unleash. Fantasy. Nightmare." What does it all add up to? Would you believe Sundance 2018?
Though already first among leaders in the domestic film festival universe, Sundance has seen fit to rebrand itself with an enigmatic ad campaign featuring all those words and more.
But for those who regularly attend the festival, which starts Thursday night in wintry Park City, Utah, the most appropriate words might be "game of chance."
For more than at most festivals, Sundance's independently made, often out-of-nowhere movies are huge unknowns for audiences. Will the film you've signed up for turn out to be a monster hit such as last year's "The Big Sick" or something so lamentable you can't remember its name a week later? You pay your money and you take your chance.
Lots of people, as it turns out, do exactly that. According to the Sundance Institute, last year's festival attracted visitors from 46 states and 18 foreign countries, generating an economic impact of $151.5 million.
Among the visitors this year will be a variety of celebrities of varying stripes, from RuPaul and Joan Jett to Ruth Bader Ginsburg and the Kronos Quartet, either as subjects of films or participants in the festival's wide variety of panels.
FULL COVERAGE: Sundance Film Festival 2018 »
Sundance constantly tinkers with what it presents and how it presents it, and 2018 will see the inauguration of a new best-of-fest audience award to be called Festival Favorite.
Also, because so much episodic television is now screened, that kind of programming is getting its own official section, titled indie episodic and featuring, among many other shows, a glimpse of "America to Me," documentarian Steve James' 10-part look at a year in the life of a vibrant Chicago public high school.
But the core of the festival, the reason audiences arrive in those large numbers, remain the two sides of its Mason-Dixon line, the sections that showcase dramatic as well as documentary work.
This year, the best of the dramatic films were stronger than usual, including the following:
— "Juliet, Naked." Irresistibly played by Ethan Hawke, Rose Byrne and Chris O'Dowd, this warm, smart and funny adaptation of the Nick Hornby novel features an obsessive rock fan, his long-standing girlfriend and the mysterious rocker he idolizes.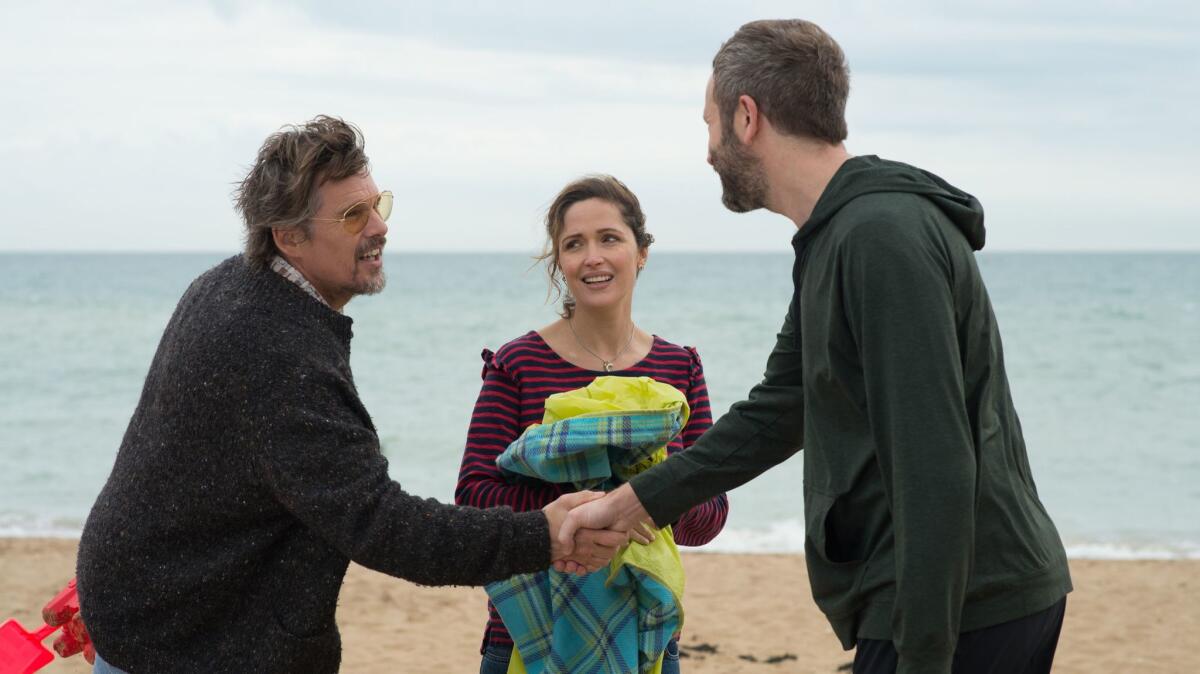 — "Wildlife." An exceptionally sensitive portrait of a marriage headed off the rails, beautifully acted by Carey Mulligan and Jake Gyllenhaal and impeccably directed by actor Paul Dano.
— "Leave No Trace." Debra Granik's intense imagined drama is her first narrative film since "Winter's Bone." Uncompromising and insightful, it compellingly pairs Ben Foster and breakthrough actress Thomasin Harcourt McKenzie as a father and daughter who wrestle with the consequences of being homeless by choice.
— "Puzzle." The protean Kelly Macdonald gets a rare starring role in a deft, feelingly done character drama about an ordinary housewife and mother who discovers an exceptional gift for jigsaw puzzles.
— "Hearts Beat Loud." Director Brett Haley is back at Sundance (this time without Sam Elliott) with a film about the songwriting connection between a cranky Brooklyn record store owner and his bound-for-college daughter starring Nick Offerman and Kiersey Clemons.
— "The Catcher Was a Spy." Based on the true story of major leaguer Moe Berg, this indie version of an old-fashioned World War II Hollywood star vehicle features Paul Rudd, Mark Strong, Sienna Miller, Jeff Daniels and Guy Pearce.
— "The Guilty." Lean, top-notch Danish thriller about a dispatcher who tries, using only his skills on the phone, to stop a terrible crime from unfolding.
Sundance documentaries are always at least a match for the dramas, if not their superior, and this year the selections are exceptionally impressive. For instance, in alphabetical order:
— "Akicita: The Battle of Standing Rock." Less a traditional documentary than a gripping video diary of the struggle to stop the Dakota Access Pipeline, culled from over 2,000 hours of footage shot over eight months by a participant.
— "The Cleaners." Disturbing on several levels, a behind-the-scenes look at the anonymous toilers who do digital cleaning, policing the internet for violence, child pornography and more.
— "Dark Money." How the citizen legislators of Montana are attempting to stop the flow of anonymous big money into elections. As heartening a political story as you are going to get these days.
— "Inventing Tomorrow"/"Science Fair." Two wonderful docs with the same subject: the marvelous kids who compete in the Intel International Science and Engineering Fair.
— "The Last Race." A surprisingly beautiful and immersive examination of the dying world of stock car racing on Long Island, evocative enough to be a kind of stock car symphony all by itself.
— "The Oslo Diaries." A gripping account by the Israeli and Palestinian participants of the three years of secret, illegal meetings that led to the Oslo Accords.
— "Our New President." You may think you know about fake news, but nothing compares to the coverage of our election on Russian TV. It starts with Hillary Clinton's exposure to a cursed Siberian mummy princess and gets even more head-spinningly bizarre.
— "Shirkers." Filmmaker Sandi Tan made Singapore's first road movie 25 years ago, then it disappeared. Literally. How and why the footage reappeared makes for a smart, idiosyncratic, one of a kind examination of the vicissitudes of cinema, and of life.
— "Three Identical Strangers." The way stranger than fiction story of the reunion as adults of three identical triplets who were separated at birth. As someone says, "it went from amazing to incredible."
Documentaries can be especially good at illuminating celebrated personalities, and some of Sundance's best this year do just that:
— "Hal." A feeling tribute to the unusual sensibility and sad end of director Hal Ashby, who was gifted at capturing emotion on the fly.
— "Chef Flynn." Precocious is a mild word for teenager Flynn McGarry, who knew he wanted to be a chef when he was ten and is shown navigating the pressures of the New York restaurant scene and an anxious mother.
— "Matangi/Maya/M.I.A." A pop star with a social conscience, the Sri Lankan musician reveals unexpected sides to a committed personality.
— "RBG." Speaking of committed, this admiring portrait of Ruth Bader Ginsburg talks to friends and family as well as the celebrated justice to show the forces that formed and informed her.
— "Robin Williams: Come Inside My Mind." Veteran documentarian Marina Zenovich tracks the life and career of one of the most dazzling comedians ever.
— "Won't You Be My Neighbor?" No one on TV has ever understood the smallest of children like the host of "Mister Rogers' Neighborhood," and director Morgan Neville explores the cause and effect of that exquisite caring.
Political documentaries are always a staple at Sundance, and this year many of the best also use individual stories and personalities to explore issues:
— "Crime + Punishment." A verité, muckraking documentary that goes behind the scenes with New York policemen who fight the illegal policy of ticket writing quotas.
— "Kailash." Follow a fearless Indian crusader as he risks physical attacks in his attempt to end child slavery in his country.
— "On Her Shoulders." The emotional story of the pressures, both expected and not, on a Yazidi survivor of ISIS sexual slavery as she attempts to bring her people's story to the world.
— "Quiet Heroes." There was once only one doctor who would treat AIDS sufferers in Utah. A low key, moving portrait.
— "The Sentence." An intimate look at how mandatory minimum sentencing can wreak havoc on lives, told via ten years of footage shot by the brother of an incarcerated mother of three.
— "This Is Home." The clock is ticking on Syrian refugees relocated to Baltimore: They have eight months to become self-sufficient in an alien land.
Sundance in fact has so many fine films banging down its doors that some of the best ones don't fit in the more celebrated sections.
The Kids section, which hosted "The Eagle Huntress" in 2016, this year presents "White Fang," a gorgeous computer animated version of the Jack London novel. If you think you are too old for this man/beast tale, think again.
Get our L.A. Goes Out newsletter, with the week's best events, to help you explore and experience our city.
You may occasionally receive promotional content from the Los Angeles Times.