California Sounds: Listen to new tracks from L.A.-area artists playing Coachella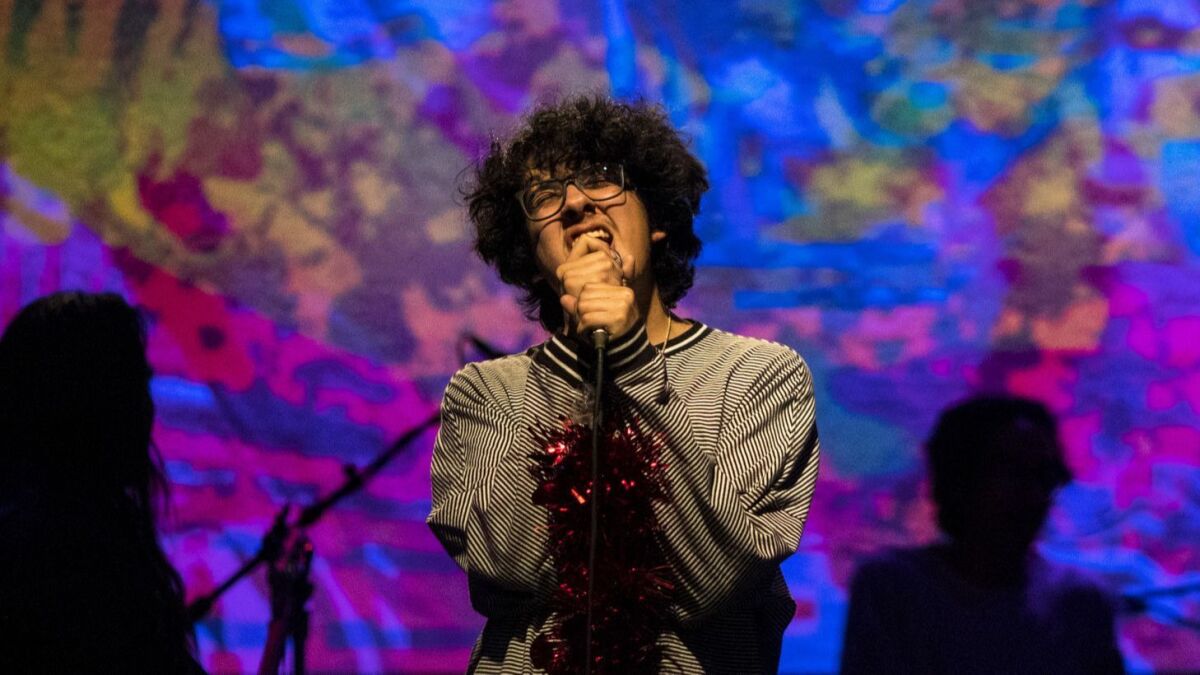 Of the dozens of national and international acts performing at this year's Coachella Valley Music and Arts Festival are many who create their work in Southern California. Ranging from Soundcloud rappers and solo crooners to retro surf bands and jumbo jazz ensembles, the roster of area musicians illuminates the range of area talent journeying to the desert.
Below are 10 tracks by L.A.-based artists, many of whom have just issued new songs, who will be performing across two weekends in Indio. Included is a Spotify playlist.
Cuco, "CR-V" (self-released). The new song from Hawthorne's rising soul-wave singer is an ode to a car. Unlike Prince's "Little Red Corvette," Frank Ocean's "White Ferrari" or Rush's "Red Barchetta," however, our hero celebrates a less fancy ride: the humble Honda CR-V. Weaving modest lyrics through a catchy, wobbly synth melody, Cuco boasts as though he's King of the Losers, seeming to revel in his decidedly square ride.
Sudan Archives, "Nont for Sale" (Stones Throw). For her part, the artist who records as Sudan Archives plucks out her own beguiling melody on a violin for her new song, "Nont for Sale." Born Brittney Denise Parks, the multi-instrumentalist draws inspiration from northeast African tunings when composing for violin, and echoes of those vibes drift through her new beat-based song, the first since her 2017 debut EP.
Moses Sumney, "Doomed" (Jagjaguar). With an immediately identifiable voice and a muse that resists easy solutions, Sumney's gentle, layered soul music has earned deserved acclaim. "Doomed," from his 2017 debut album "Aromanticism," typifies his approach.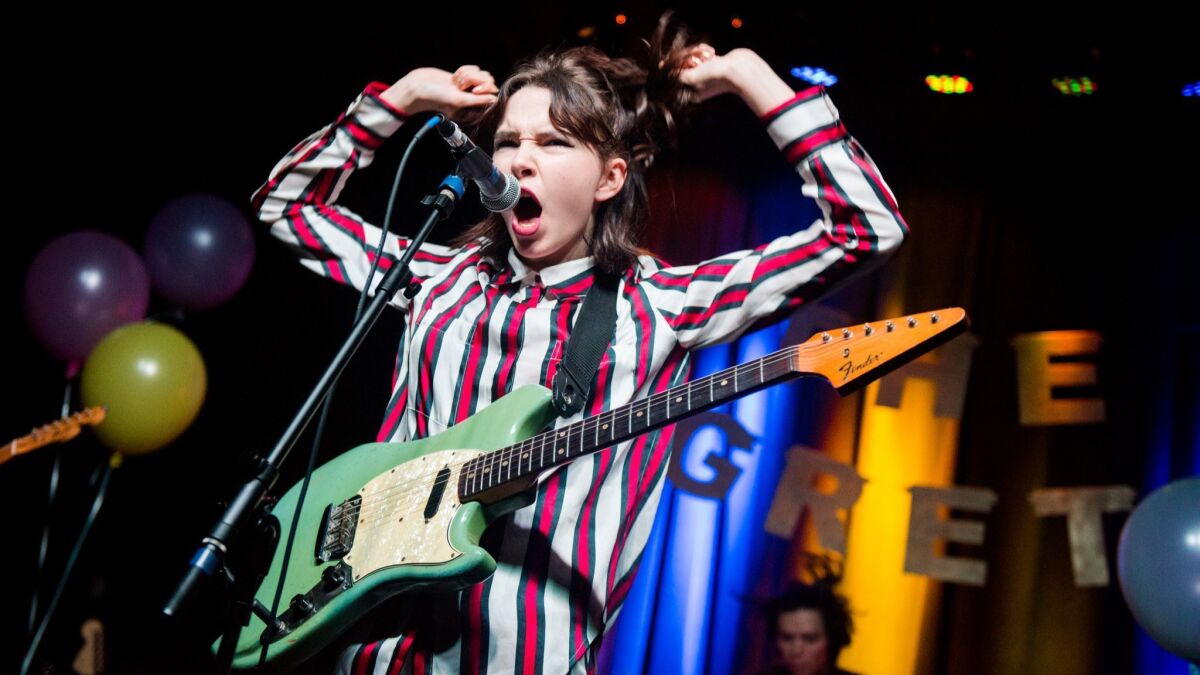 The Regrettes, "A Teenager in Love" (Warner Bros.). For their new cover of a song made famous by Dion and the Belmonts, teenage guitar band the Regrettes opted to open slowly. As lead Regrette Lydia Night sings the first verse, the song rolls within a soulful groove, but when she and the band hit the second line of the chorus, though, all hell breaks loose. The band hits the accelerator and turns up the volume as she bemoans her lovelorn fate.
Blackbear, "Thunder" (BL/Blackbear). You might not know his name, but pop fans know his work: The L.A.-based, Florida-born producer and songwriter has contributed to songs by Justin Bieber, G-Eazy and Linkin Park. "Thunder" is the first track from his forthcoming album "Love," and is a mostly instrumental work that mixes a gentle piano loop with a trap-style rhythm, sibilant high-hats and a mid-range hum that mimics a vibrating phone.
The Buttertones, "Baby C4" (Innovative Leisure). A frantic, sax-screaming burner that mixes post-punk, rockabilly and garage rock, the just-released song from the Hollywood-born Buttertones accomplishes in two-plus minutes what many bands can't do over a whole album: offer evidence of both musical range and the imagination to carve a unique sound from those skills.
Oh Sees, "Cooling Tower" (Castle Face). The Eagle Rock psych-rockers are one of the best live bands on the planet, and last year's "Orc" captured that energy. One highlight? "Cooling Tower," a double-drummed trip-out in which a cosmic synth line trades a melodic conversation with a hollow-toned guitar.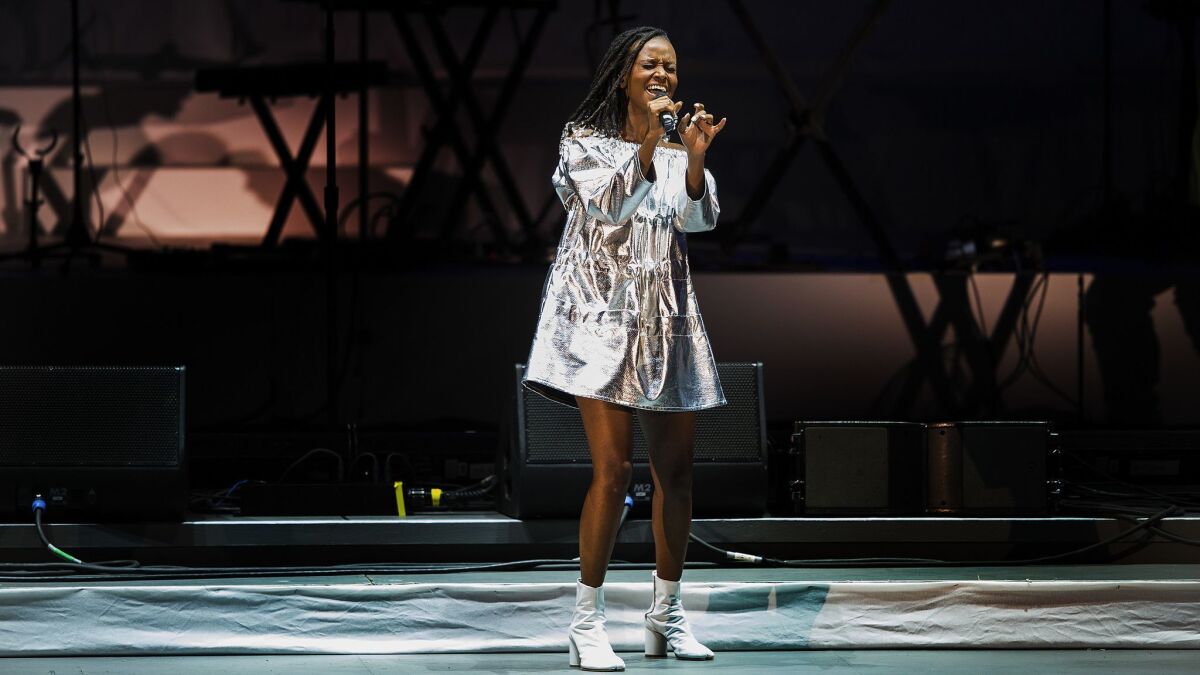 Kamasi Washington, "Fists of Fury" (Shoto Mas/Young Turks). The title track from Washington's forthcoming album runs nearly 10 minutes and opens with brass and a deep conga and shaker rhythm. When the choir comes in, the work takes flight. Just beyond the six-minute mark and after a series of eloquent solos, the music pauses for a brief measure as if to take a breath. Resuming with a relentless percussive groove and a bed of strings, two of those chorus of voices declare, and then repeat, "Our time as victims is over. We will no longer ask for justice. Instead, we will take our retribution." Doubters, beware.
Banes World, "You Say I'm in Love" (616455 Records). A woozy, lo-fidelity ballad from young Long Beach singer and songwriter Shane Blanchard, who records as Banes World, "You Say I'm in Love" draws on a pre-rock-n-roll doo-wop vibe in which aggression takes a backseat to romance.
Kelela, "Altadena" (Warp). The experimental R&B artist born Kelela Mizanekristos has divided her time between Los Angeles and London, but for these purposes we're claiming her as our own. The song, taken from her album "Take Me Apart," is called "Altadena," after all, and though it doesn't mention the township by name, it's easy to geolocate it: "Nothing to be sad or down/ There's a place for everyone." Where else could that be but Altadena?
For tips, records, snapshots and stories on Los Angeles music culture, follow Randall Roberts on Twitter and Instagram: @liledit. Email: randall.roberts@latimes.com.
ALSO
California Sounds: Five must-hear spring releases from L.A.-area artists
California Sounds: E Ruscha V video premiere, and new songs by Alice Bag, the Marías and Lord Huron
California Sounds: A new video from Jonathan Wilson, DJDS remixes St. Vincent and SSION teams with Ariel Pink
---
Your essential guide to the arts in L.A.
Get Carolina A. Miranda's weekly newsletter for what's happening, plus openings, critics' picks and more.
You may occasionally receive promotional content from the Los Angeles Times.