Never say never? 20 years later, L.A.'s That Dog revisits 'Retreat from the Sun'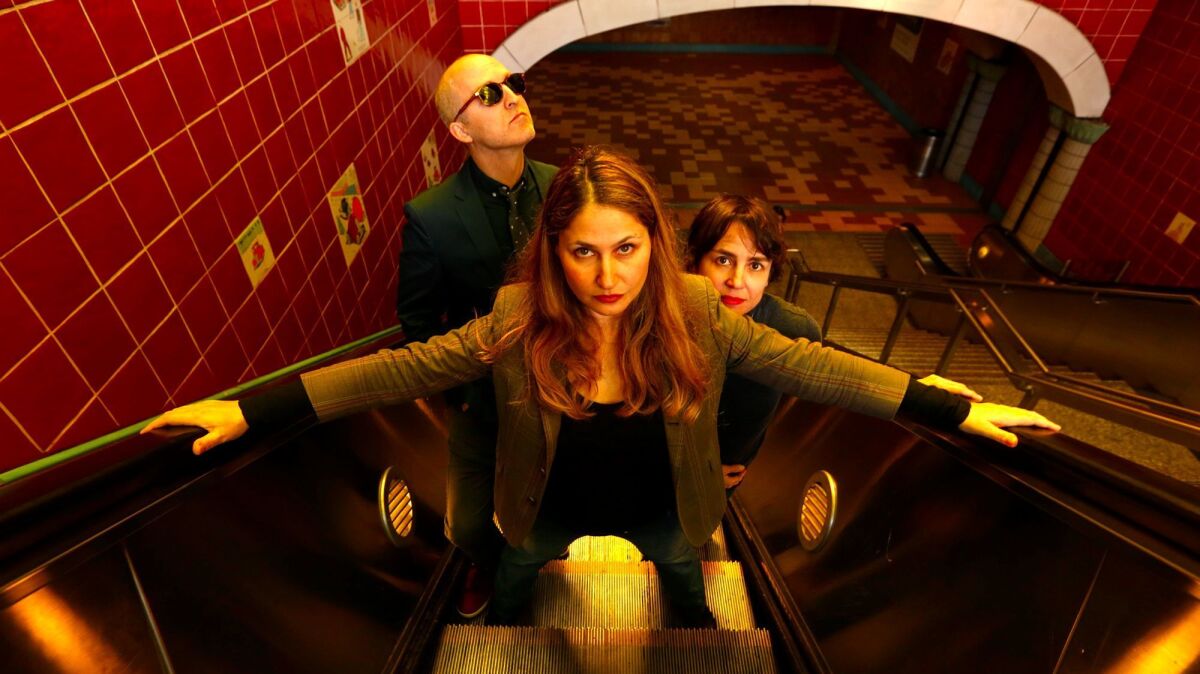 Pop Music Critic
On April 8, 1997, the Los Angeles band That Dog released its third studio album, "Retreat from the Sun."
A polished set of hooky, synthed-up guitar pop, the record was supposed to open an exciting new chapter for these quirky but well connected Westside kids, who'd come up in L.A.'s underground rock scene but were finally ready to follow their friends Beck and Weezer toward the bright lights of MTV.
Instead, "Retreat from the Sun" closed the book on That Dog.
By the end of that year, following a grueling promotional run, the band had broken up, a casualty of fraying personal relationships and disappointment in the meager commercial returns on its work.
"Maybe if we'd hit a certain level, we could've kept it going," singer Anna Waronker recalled recently. "But it just felt like everything was falling apart."
On Saturday night, exactly 20 years after the album came out, Waronker and her band mates will pick up That Dog's story with a one-off performance of "Retreat from the Sun" in its entirety at the El Rey Theatre.
The concert, Waronker says, was motivated in part by her recognition of the record's quiet influence — the way its precisely articulated thoughts about romance and depression have connected over the last two decades with successive generations of young listeners.
Yet That Dog is doing more than looking back. Later this year the group — which includes bassist Rachel Haden and drummer Tony Maxwell — plans to release its first album since 1997, a collection that Waronker said honors the band's vintage sound while also showing off the members' growth as both people and players.
"The new stuff has the musical signatures we were known for — the dissonance and everything," Maxwell said, referring to the off-kilter vocal harmonies of songs like "Never Say Never" and "He's Kissing Christian."
"Only back then we didn't know it was called dissonance," Waronker added as she, Maxwell and Haden sat on a ratty couch in a North Hollywood rehearsal studio. The place was on loan from Tenacious D, the comedy-rock duo led by actor Jack Black, who's married to Haden's sister, Tanya; a third Haden sister, violinist Petra — the women's father was the late jazz bassist Charlie Haden — helped form That Dog in 1991.
Petra played a handful of reunion gigs with the band in 2011 and 2012, shows that Waronker said she was certain wouldn't lead to anything else when she booked them.
But doing the group's old material reawakened the singer's love of those harmonies and the unconventional guitar tunings she'd abandoned in the years after That Dog, as she made a solo album and composed music for television.
So when Waronker started writing new songs, she said, she heard them in her head the way That Dog might play them. Rachel and Maxwell were on board; Petra, with whom Waronker said she "had a lot of conflict," declined. (In an email, Petra said she enjoyed the reunion shows but "decided not to continue.")
At the El Rey, Inara George of the Bird and the Bee will take over Petra's vocal parts. And there are plenty of other cameos in store for the new That Dog album, which features Tanya Haden, Waronker's brother Joey and actor Maya Rudolph, a friend of the singer's since their days at Crossroads School in Santa Monica.
"We talked a lot about whether the spirit of the original thing still exists with just the three of us," Maxwell said. "It was like, 'What's the essence of That Dog?'"
"I think it's family," said Waronker, whose father is Lenny Waronker, the veteran record producer known for his work with Randy Newman and Ry Cooder. Added Maxwell: "We wanted to go deeper into that well."
Twenty years ago, the members of That Dog were sensitive about those familial links.
"We were accused of horrible nepotism," Waronker said. Rachel admitted she still remembers the headline L.A. Weekly ran with an early article about the band.
"It was called 'That Dad,'" she said with a mock shudder.
To a group of 19- and 20-year-olds "with something to prove," Waronker said, "it was a real thorn in our side. People were begging to tear us down, and it made us defensive."
Yet now she views That Dog as part of a valuable musical legacy, one she wanted to address in a new song called "Old LP."
She got the idea for it at a memorial for Charlie Haden, who died in 2014. A recording of Haden's rendition of the traditional folk tune "Shenandoah" was played, which set Waronker thinking about how a musical recording can capture a personality in such fine detail.
Later, she was struggling to finish a string arrangement for the tune when her dad suggested she ask Newman for help.
"So I went over to his house and we jammed out some ideas," she said. "It was amazing."
"I wish I got to meet him," Haden said wistfully.
"He's still alive!" Waronker replied with a laugh. "You can totally meet him."
Twitter: @mikaelwood
ALSO
L.A.'s next great singer-songwriter? It might be Ethan Gruska
How Eric Church turned Staples Center into L.A.'s biggest bar
At home with Father John Misty: 'I'm basically a meme at this point'
---
Get our L.A. Goes Out newsletter, with the week's best events, to help you explore and experience our city.
You may occasionally receive promotional content from the Los Angeles Times.