L.A.'s next great singer-songwriter? It might be Ethan Gruska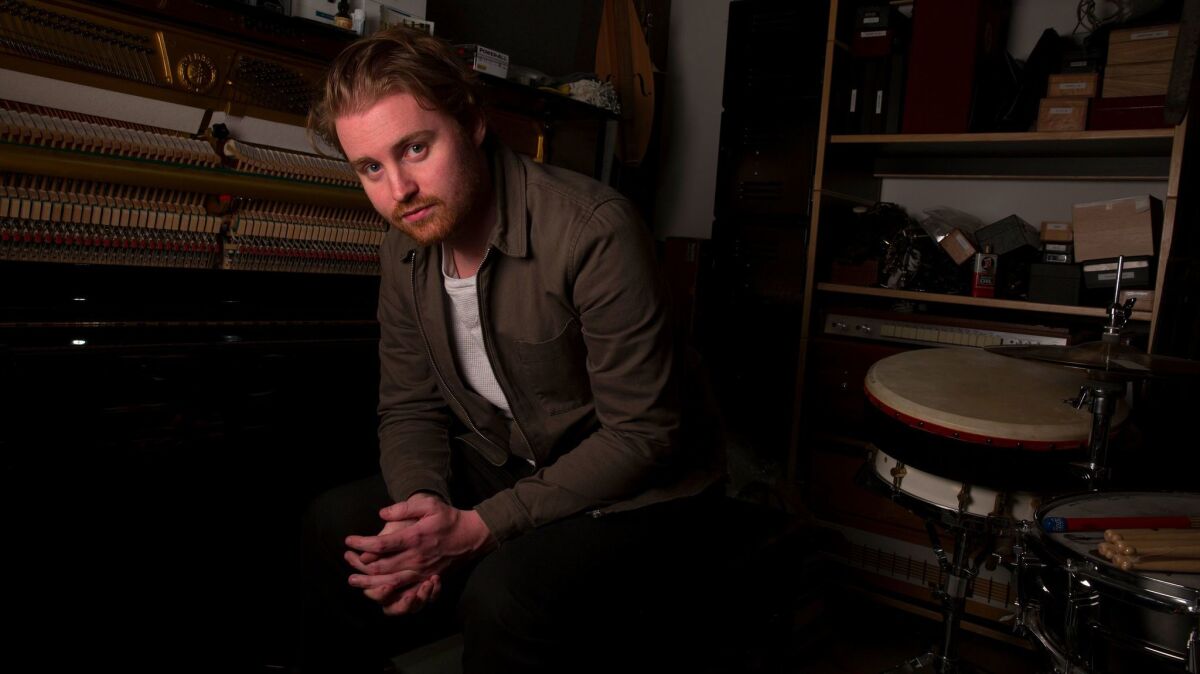 Pop Music Critic
Vintage keyboards. Motorized percussion gizmos. A gleaming guitar once played by Glen Campbell.
These treasured musical instruments, along with many others, fill nearly every square inch of the small, gear-choked Brentwood studio where Ethan Gruska recorded his debut solo album.
Yet the young singer-songwriter used hardly any of them.
As half of the acclaimed sibling duo the Belle Brigade, Gruska turned heads a few years ago with a glossy, highly detailed sound that earned him and his sister, Barbara, admiring comparisons to the Beach Boys and the Eagles. Their approach seemed to suit two children of show business whose father, Jay Gruska, writes music for television, and whose maternal grandfather is the famous film composer John Williams.
But for "Slowmotionary," due Friday on Sire Records, Ethan Gruska was after a different vibe. So rather than pull each instrument from the wall — as he and Barbara did when they made 2014's busy "Just Because" in the same room — Gruska largely limited himself to a single upright piano.
"Polish and precision — that's all I knew growing up," he said on a recent morning at the studio, which belongs to the veteran record producer Tony Berg. "Steely Dan was like the band of my household. But seeing the response to the Belle Brigade — kind of telepathically gauging how people viewed me and it — made me want to discover the next thing." He laughed.
"Rawness isn't a revelation for most people, but it was for me. And this record was about being as raw as I can be."
Raw, but not unformed.
Though it's much more sparingly presented than the Belle Brigade's two albums, "Slowmotionary," which Berg produced, showcases an assured songwriter with an inventive melodic flair and some heavy things to say about love and family. If the Belle Brigade relied on clever arrangements to hold record nerds' attention — "This sounds like Ry Cooder jamming with Fleetwood Mac!" — Gruska draws the listener in with his close-to-the-bone performances.
"I'm driving through the Valley / My whole childhood was here," he sings in the album's stripped-down opener. Then he zooms in slowly to ponder his parents' divorce before pulling back and offering a bit of philosophy: "If childhood defines you, can it ever be behind you?" The sound of his foot on the piano's pedals only adds to the feeling that he's imparting an essential truth.
Berg, who's known for his work with a long line of Los Angeles artists including Aimee Mann and Michael Penn, sees Gruska as part of a vital tradition.
"Whether it was Joni Mitchell 50 years ago or Elliott Smith 15 years ago or Bon Iver five years ago, there's always an appetite for literate, challenging songwriting that resonates," the producer said. "And I think Ethan's the first guy in four or five years to show up with that equipment."
His talent was clearly taking shape with the Belle Brigade, in a song like "Punch Line," from the duo's 2011 debut, in which the singer narrates a road trip to visit his ailing mother in Arizona. (Lots of scenes in cars for this proud L.A. native.)
But with "Slowmotionary," Gruska, 27, wanted to write more impressionistically — less on the nose, as though the words were coming straight out of a diary.
The album began when the Belle Brigade "naturally came to a halt," as Gruska put it, after touring behind "Just Because." He was listening to lots of classical music and noodling on the piano; his first thought was maybe to notate the short pieces he was composing and put out a little book.
But Berg, whom Gruska's known since he was a kid (when his dad and the producer worked together), convinced him he had the start of a solo record. The job was then to adapt those compositions into pop songs.
"What I'm doing, it's not Debussy," the singer said, sitting behind Berg's piano. "That stuff is the deepest harmonic thing you could do. But it was me hearing that and being like, 'How do I take this classical piano part' " — to demonstrate, he played a long, florid figure full of quick chromatic movement — "'and put a Stevie Wonder melody on top of it?'"
"Slowmotionary" isn't a true solo effort; Berg and Gruska called in a handful of players (including Barbara Gruska and the guitarist Blake Mills) to embellish the songs ever so slightly. And there are several numbers Ethan Gruska performs on guitar, his primary instrument in the Belle Brigade. Yet the overall sensation is of sharing a bench with the singer as he sorts through the complicated ideas in his head.
"I'm trying to show people something personal," he said.
At a moment when pop is defined by grander, more immediate gestures, it won't be easy for Gruska to get people to listen — especially given that, by his own admission, "Slowmotionary" is best experienced as a whole.
But Jay Gruska looks at his son's album as consistent with a view he tried to foster as a parent.
"Stardom was never a big topic in our house," he said. "It had much more to do with being a lifer — with doing music seriously and thoughtfully" over the long arc of a career.
"What I'm proud of," the elder Gruska added, "is that he's a man being true to his art."
That lifer's commitment has led Ethan Gruska to seek out opportunities beyond his own work. Last year he co-wrote a song for John Legend's latest album, and with Berg he's co-producing records by two L.A.-based singers, Phoebe Bridgers and Berg's daughter Z.
Sire chief Seymour Stein, who helped shepherd the careers of Madonna and Morrissey, said that based on the sensitivity of Gruska's writing, he "can see other artists — especially female artists — recording his songs in the future."
For now, though, Gruska will be the one performing them, as he's set to do this month on a tour with the Danish singer Agnes Obel. (They'll stop at L.A.'s El Rey Theatre on March 21.)
Gruska admitted he's worried about how his new material, with its low volume and delicate textures, will play onstage.
"You can do this in here," he said, murmuring softly, "and the microphone will pick it up. But that's not going to happen in a loud club."
It makes you wish there were room amid Berg's unused instruments for more than half a dozen folks.
Twitter: @mikaelwood
ALSO
Why Little Big Town went 'hillbilly Sade' to follow up 'Girl Crush'
'La La Land' seriously misunderstands music. So why are its songs pretty great?
With topical 'Darkness and Light,' John Legend wants to 'contribute to the conversation'
---
Get our L.A. Goes Out newsletter, with the week's best events, to help you explore and experience our city.
You may occasionally receive promotional content from the Los Angeles Times.