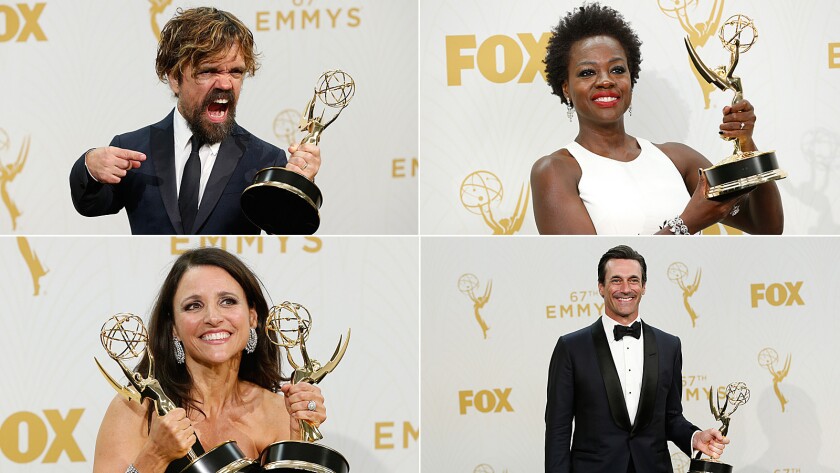 Winter is over for "Game of Thrones."
HBO's fantasy-based epic had four consecutive nominations for TV's top drama prize but came up short again and again, a snub that some had blamed on a bias against genre programming. But that changed at the 67th Primetime Emmy Awards on Sunday evening when it won four Emmys, including for drama series.
The series had gone into the ceremony at the Microsoft Theater in downtown Los Angeles with the most nominations for any program — 24. Last week it picked up eight wins at the Emmy Awards' sister ceremony, the Creative Arts Emmys, and on Sunday also earned wins for directing and writing in a drama series and supporting actor for Peter Dinklage.
It was also a history-making night as Viola Davis won for lead actress in a drama for her performance in "How to Get Away with Murder" — marking the first time an African American actress has won in this category.
EMMY AWARDS: Live updates | Complete list
"The only thing that separates women of color from anyone else is opportunity," Davis said in an emotional and impassioned acceptance speech. "Here's to all the writers," she said, "... people who have redefined what it means to be beautiful, to be sexy, to be a beautiful woman, to be black."
Moments earlier, Jon Hamm finally got his win.
Hamm earned a standing ovation and his first Emmy for lead actor in a drama series for playing the tormented advertising executive Don Draper in the acclaimed series "Mad Men," which ended its run in May. He had earned nominations for the role seven times but had never won — until now.
The big comedy winner of the night was "Veep."
It nabbed four trophies, including comedy series and lead actress in a comedy for Julia Louis-Dreyfus, who plays now-President Selina Meyer. (It was her fourth consecutive win.) The wordsmiths behind HBO's political satire also won for writing for a comedy, and Tony Hale picked up his second honor for supporting actor in a comedy for his role as the president's doting assistant.
Meanwhile, Jon Stewart and his "Daily Show" were given a golden farewell on TV's biggest night.
The beloved faux TV news show, which went off the air last month, took three trophies, for variety talk series as well as for writing and directing.
"Comedy Central blessed me with this," Stewart said in his acceptance speech. "I'll never have another experience like this."
But the big winner so far at the Microsoft Theatre in downtown Los Angeles? "Olive Kitteridge."
The HBO-limited series based on the Pulitzer Prize-winning novel by Elizabeth Strout, a contemplative examination of a sharp-edged school teacher and her relationships dominated the awards Sunday night, winning six trophies in the limited series, movie or dramatic special categories.
It won for best limited series, best actress for Frances McDormand, best actor for Richard Jenkins and best supporting actor for Bill Murray. Lisa Cholodenko won for best director in the category, and Jane Anderson won for writing.
"We're all here by the power of a story well-told," McDormand said as she accepted the trophy. Sometimes, she added, that's enough.
PHOTOS: Emmys 2015 Top nominees and winners | Red carpet | Show highlights | Fashion | Winners' Room
Earlier, "Transparent" — the streaming series about a divorced father who comes out to his family as transgender — took back-to-back honors.
Its star, Jeffrey Tambor, took lead actor in a comedy series, playing a woman. In a stirring acceptance speech, Tambor dedicated his award to the transgender community: "Thank you for your courage, thank you for your stories, thank you for your inspiration, thank you for letting us be part of the change." Moments earlier, the series creator, Jill Soloway, received honors for director of a comedy series.
The victories were symbols of this country's growing recognition and acceptance of the transgender community. But as Soloway said, more needs to be done, noting that in 32 states transgenders can still be rejected as potential renters: "We have a trans civil rights problem," she said, urging the passage of a trans equality bill.
The wins were also a sign of the changing TV landscape: "Transparent" streams on Amazon.
And Uzo Aduba won for supporting actress in a drama series for her role as "Crazy Eyes" in "Orange Is the New Black." (Weird factoid: Last year, she won for the same role — but in a comedy category.)
Variety sketch series went to comedy's It Girl, Amy Schumer, and her "Inside Amy Schumer." Supporting actress in a limited series, movie or dramatic special went to Regina King for "American Crime." Allison Janney picked up her seventh Emmy, for supporting actress in a comedy series for "Mom." "The Voice" won for reality competition, the second time it's taken this trophy.
The night also included a fond farewell to shows that went off the air, including "Mad Men," "Parks and Recreation" and comedic game changers "Late Show With David Letterman," which signed off after nearly 22 years on CBS, "The Colbert Report" and, of course, "The Daily Show With Jon Stewart."
We are live blogging all the wins and more at latimes.com/emmys. We'll also be tweeting @latimesent and Snapchatting; find us by searching the username LosAngelesTimes.
MORE ON THE EMMYS
'Game of Thrones' finally wins for drama series
Jackie Collins overlooked in 'In Memoriam' tribute
Emmy Awards: Andy Samberg weighs in on 'peak TV' in opening number
---