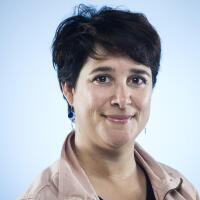 Rene Lynch is a former writer and editor with the Saturday section, where she worked across a variety of coverage areas, including wellness, design and food. She also edited the weekly L.A. Affairs column.
Latest From This Author
We've curated 14 of our favorite stories about love, culled from the archives of L.A. Affairs, the column dedicated to the ups and downs of the search for love in Southern California.

We've curated some of our favorite L.A. Affairs columns set against the backdrop of the year-end holidays. We guarantee they will give you all the feels.

This list has been curated to identify items that pamper and pleasure those on your holiday gift list, and give us all the gift of looking inward, instead of outward.

As summer comes to its unoffical end with Labor Day, we're hanging on for as long as we can: Here are 13 summer stories about love, loss and everything in between.

The secret to making the first move? Realizing that we're all afraid to make the first move.

For many of us, last year was spent indoors, or masked, anxiously awaiting news of vaccines. This year? We want outside, right now. So here's your guide to creating the ultimate summer fun playlist.

Fatherhood means stepping up. That's one of the many lessons shared over the years in L.A. Affairs columns that tackled issues of fatherhood, and family. In honor of Father's Day, here are 11 of our favorites:

We asked readers for their secrets to a happy marriage — and avoiding becoming a divorce statistic. Here are some of our favorite replies.

We collected some of our favorite L.A. Affairs columns — which run weekly in the Los Angeles Times, and chronicle the ups and downs of dating in Los Angeles and the search for love — into a new book. Here's a sneak peek at a few of the columns you'll find inside. Hint: The book would make a fab V-Day gift!

Share self-care this 2020 holiday season with our health and wellness gift guide featuring body products, CBD items, games, and more.