Review: Jonathan Gold: Indian has flipped to Italian at AR Cucina and it's time to order a negroni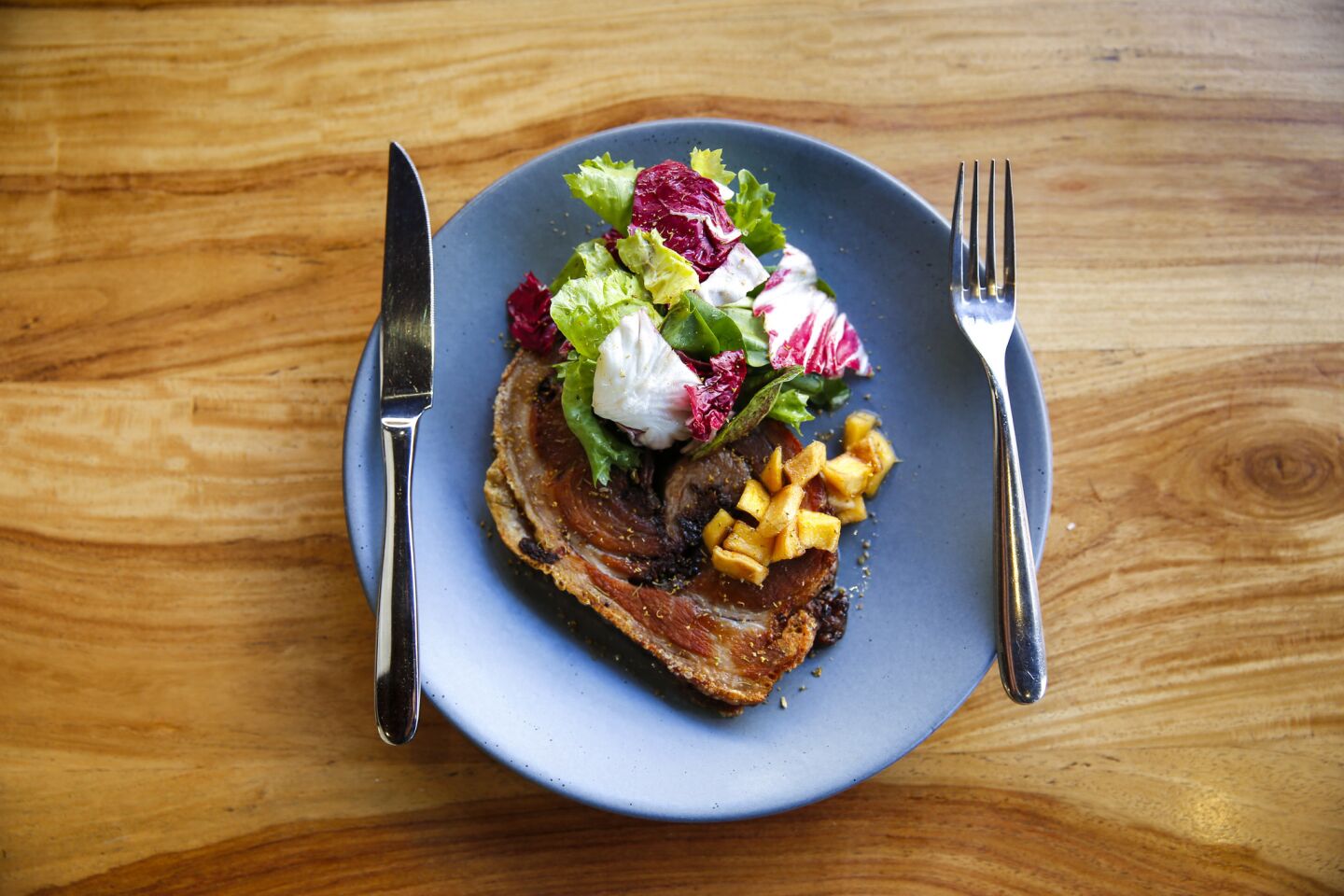 Among the main courses offered at chef Akasha Richmond's AR Cucina in Culver City is Kirk's porchetta, with herb roasted pork shoulder, Dario's herb salt, fennel pollen, apple mostarda and bitter greens.
(Jay L. Clendenin / Los Angeles Times)
Orecchiette pasta, with house pork sausage, escarole, Fresno chile, olive oil and Ricotta Salata.
(Jay L. Clendenin / Los Angeles Times)
Rutiz Farms rainbow chard, with golden raisins, shallots and pine nuts.
(Jay L. Clendenin / Los Angeles Times)
Fritto misto, with rice flour-dusted squid, laughing bird shrimp, red onions, peppers, fennel, Tuscan chile and tomato sauce.
(Jay L. Clendenin / Los Angeles Times)
Thao Farms' broccolini and mushroom pizza, with Fresno chiles, pecorino fresco and pecorino Romano.
(Jay L. Clendenin / Los Angeles Times)
Owner and chef Akasha Richmond puts the final touches on the Thao Farms broccolini and mushroom pizza.
(Jay L. Clendenin / Los Angeles Times)
The main dining room at AR Cucina Italian restaurant in Culver City.
(Jay L. Clendenin / Los Angeles Times)
Restaurant Critic
Cooking is an important skill to have if you are running a restaurant — it is ostensibly why everyone is there. So is a generous spirit, supplemented perhaps by a spot of design sense, a feel for your community and the ability to lead by force of example. What tends to get mentioned less often is an aptitude for math — your quenelles might be the best in the world, but if the numbers don't add up, your restaurant won't last long.
So nobody in the trade was especially surprised when Akasha Richmond, whose flagship restaurant Akasha helped pioneer downtown Culver City's restaurant row, abruptly closed her Indian restaurant Sambar in the fall and changed it overnight into the Italian restaurant AR Cucina. Everybody had more or less liked Sambar — the cocktails were good, the slightly hippie-ish Indian food was tasty, and prime-time reservations were reasonably hard to come by — but apparently, people don't tend to spend that much money in Westside Indian restaurants, especially ones mere blocks from some of L.A.'s better established Indian restaurants.
Now there is late-afternoon aperitivo hour on the patio, and a cheerful wine list, and clever cocktails called things like La Dolce Vita and Tuscan Sunrise. Clare Ward, famous for unusual cocktails tinged with vegetable infusions and Indian herbs, has here applied her keen palate to Negronis, some based on rum, rye whiskey and mescal; all of them nudged with obscure bitters and the barest hint of citrus.
You can nibble on crisp, bubbly flatbreads baked in a wood-fired oven and sprinkled with black pepper and finely grated pecorino cheese. The delicate fritto misto of calamari, slivered onion and tiny shrimp isn't bad, and while you could probably put the salumi plate together yourself after a quick trip to Whole Foods, the prosciutto di San Daniele, the mortadella from Utah's Creminelli and the Olympia Provisions salami are first rate.
When I reviewed Sambar a couple years ago, I mentioned that a lot of Richmond's Indian dishes came pretty close to Italian food. The pork vindaloo was in the form of a roasted rolled pork shoulder that differed from porchetta mostly in its spicing, and the naan seemed closer to pizza than anything that came out of a tandoor. The zucchini balls called kofta, the sautéed greens and the plum salad with pistachios would not have been out of place at any of the neo-Tuscan restaurants in Brentwood.
Before Richmond became a guru of conscious cookery, before she opened her restaurant Akasha just around the corner from Sambar, there were years when she may have spent more time in Sardinia than California. She is not a stranger to grilled octopus with puréed chickpeas. She knows as well as any seasoned chef that burrata tastes good with almond pesto and cherry tomatoes or that great broccolini becomes even better when you wilt it in a hot pan with chile flakes and a pinch of lemon zest. And you will forgive her the occasional over-fried Roman artichoke or hazelnut-slugged kale salad — it's coming from the right place.
Is the sauce for her bucatini all'Amatriciana too close to a standard issue, over-reduced tomato purée? (Perhaps it is — the unique pig-cheek funk of well-cured guanciale was scarcely detectable.) Is the texture of the chunky strozzapreti pasta with mushrooms a bit stodgy? Do the tortelli lack the suppleness of the stuffed pasta at places like Alimento and Angelini Osteria? They do. But the thin, wiry spaghetti cacio e pepe is lovely, a smidge overbuttered but tossed with a properly stinging, fragrant shot of pepper and pungent cheese, and the almost tomato-less Bolognese sauce on the fragile, handmade tagliatelle pasta had the animal cured meat pong you tend to find more in Italy than Los Angeles. If risotto thickened with pureed nettles pops up on the specials menu, you should probably get it — the gentle springtime creaminess is just right.
The porchetta here, zapped with fennel pollen and sluiced with a too-sweet, underseasoned apple mostarda, may well make you a bit nostalgic for Sambar's porchetta vindaloo, and the chicken is nicely roasted in precisely the manner of the dozens of other roast chickens in town. But by the time the meat shows up at the table, you may have already been sated by the crisply fried fingerlings, the tomatoe-y eggplant parmigiana and the roast cauliflower that has been baked into a semblance of rich mac 'n' cheese under a blanket of toasted breadcrumbs and melted whatever.
It's not fair that the perceived value of a rack of lamb drops when that lamb is rubbed with spices and cooked in a tandoor. There is no reason why celebrity-farmer spinach should be worth more when it is sautéed with pine nuts and raisins than when it was cooked with homemade paneer. But it can be hard to argue about issues of intersectionality when the rent comes due. Richmond confessed to a trade magazine that the average check at AR Cucina was several dollars higher than it was at the Indian place. And AR Cucina is worth having around.
::
AR Cucina
One of Akasha Richmond's Culver City restaurants switches to Italian cuisine
LOCATION
9531 Culver Blvd., Culver City, (310) 558-8800, arcucina.com.
PRICES
Antipasti $4-$18; salads $9-$13; pastas $12-$18; main courses $23-$26; vegetables $6-$9.
DETAILS
Lunch 11:30 a.m. to 2:30 p.m. Tuesday to Friday; dinner 5:30 to 9:30 p.m. Tuesday through Thursday and Sunday, and 5:30 to 10:30 p.m. Friday and Saturday; brunch 10:30 a.m. to 2:30 p.m. Sunday. Credit cards accepted. Full bar. Nearby city lot parking.
RECOMMENDED DISHES
Spaghetti cacio e pepe; risotto verde; cauliflower al forno.
MORE FROM JONATHAN GOLD
Jonathan Gold tastes transcendent Mexican seafood tostadas at Holbox, a sister stand to Chichen Itza
Jonathan Gold follows the 'Snook Whisperer' legend to four restaurants
At Manuela in DTLA, Jonathan Gold enjoys a 'Redneck' platter surrounded by fine art
Get our L.A. Goes Out newsletter, with the week's best events, to help you explore and experience our city.
You may occasionally receive promotional content from the Los Angeles Times.