Jonathan Gold follows the 'Snook Whisperer' legend to four restaurants
Food Critic
Pescado zarandeado is one of the wonders of the seafood world, a broad, thin fish sliced neatly in half on the vertical axis, roasted slowly over a smoky fire and served on a platter the size of a skimboard — half an acre of smoking, char-edged flesh.
The fish, usually a Pacific robalo, or snook, is dabbed with some mixture of citrus, spices and mayonnaise before it hits the fire, although it is usually all but greaseless when it hits the table. You tear off pieces and wrap them in fresh tortillas with a strand or two of well-caramelized onion. You drink a michelada or two. Your afternoon stretches ahead.
The cult of pescado zarandeado in Los Angeles is generally associated with Sergio Peñuelas, a Sinaloa-born cook who has mastered the art of slow-grilling snook. If you follow the confluence of food and social media, Peñuelas may have been bubbling through your feeds for more than a decade by now. Some of my friends call him the Snook Whisperer.
He first popped up in a Chowhound post in 2008, where the blogger Bill Esparza raved about the Sinaloa/Nayarit-style fish and shrimp dishes that Peñuelas made at the first Mariscos Chente in Inglewood, just east of LAX, and then the crowd followed him to a new Mariscos Chente on Centinela Avenue. (The chef took the occasional day off, Chowhounders warned. "Where's Sergio?" became a catchphrase on the site.)
Then Peñuelas moved to Connie Cossio's Coni'Seafood in Inglewood (a regular on The Times' 101 Best Restaurants list), where he stayed for a couple of years before moving to Cheko El Rey del Sarandeado in Long Beach. Esparza popped up in Los Angeles magazine saying that it didn't really matter where Peñuelas was; that the master chef had been Vicente "Chente" Cossio at the original Mariscos Chente all along. By then, Peñuelas had already left Cheko (run by another Cossio relative) to return to the Mariscos Chente on Centinela.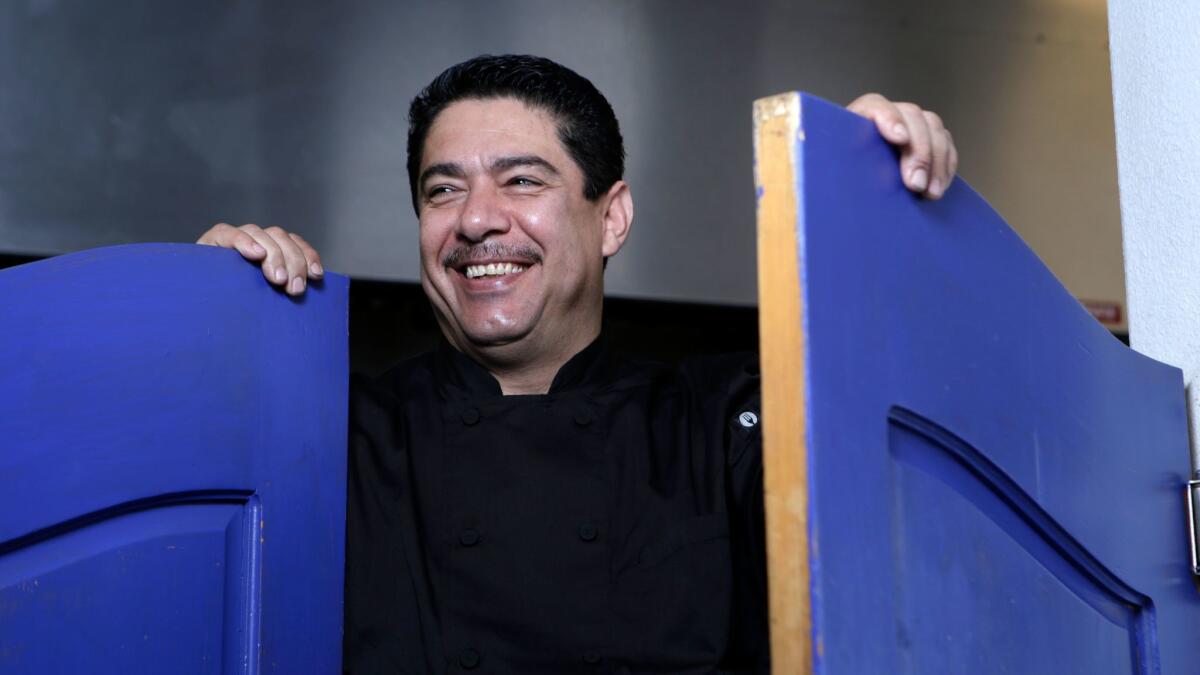 At the moment I write this Peñuelas is still there, although you never know. The art of making pescado zarandeado, trapping it in a wire cage and flipping it over the fire, is an exacting one. It makes demands. It is apparently as difficult to cook as it is to catch, and it is known as one of the most challenging of gamefish, adept at severing even stout fishing lines with its razor-sharp gill plates. We are fortunate to have the Snook Whisperer in our midst.
But Coni'Seafood has always been great. I've never quite known whether Peñuelas or Connie Cossio was in the kitchen on the evenings I happened to show up. And I've just had a spectacular ceviche at the original Mariscos Chente in Inglewood. And I realized that I really had no idea where the recipes really originated — that dishes like camarones a la cucaracha, shrimp fried until they were as crunchy and brown as insects, camarones a la diabla, shrimp in a spicy sauce, and aguachile, raw shrimp marinated with hot green chile, were squarely from Vicente Cossio's birthplace of Nayarit, while the camarones a la Culichi, shrimp in a cheesy chile sauce, and perhaps the pescado zarandeado may have been from Sinaloa.
I felt a sudden need to visit all of the Cossio/Peñuelas-related restaurants to discover whether Peñuelas' actual presence was demanded or whether his influence was enough, whether he was the Snook Whisperer or merely the Johnny Appleseed of Snook — and also whether the restaurants, whose shrimp-intensive menus are nearly interchangeable, can be thought of as more or less a chain. There are worse ways to spend a week.
The restaurants, all four of them, had splendid aguachile, big, head-on shrimp arranged like an Esther Williams troupe inside a ring of sliced cucumbers and onions, sharp and tangy and very hot. Were the shrimp at Inglewood's Mariscos Chente perhaps both firmer and creamier, and the ones at Coni'Seafood more elegantly presented? Perhaps. I liked the creamy chile-cheese sauce on the camarones a la Culichi at Cheko better than I did the slightly grainier versions at the other restaurants, although the shrimp at Coni'Seafood and the Inglewood Chente were slightly more plump and crisp. Chicharron de pescado, fried chunks of marinated fish, were irresistibly crisp-edged at the Centinela Chente and pleasingly chewy and oversalted at the Inglewood Chente. The composed ceviches of clams, abalone and crab at Coni'Seafood were delicious and elegant, as were the crunchy, terrific tacos stuffed with smoked marlin and cheese. (The marlin was a bit mealier at the Centinela Chente.) I liked them all.
But we are here for the snook, brought up from Mexico's Pacific coast.
You will dig around the frame for bits of sweet flesh, prying hidden slivers from beneath membranes, working a spoon into the head for the cheeks and scraping along the spine. You will probably try a bite of the blackened skin and discover that it is not quite as edible as you would prefer. You will develop a preference for onions dosed with more or less Maggi seasoning — it can be overpowering — and wish that the tortillas were perhaps more plentiful. You may develop a liking for Modelo Especial, a beer that tastes best very, very cold.
I am prepared to tell you that the snook at Cheko was excellent, crisp-edged and full-flavored if a little dry, the one at the Centinela Chente restaurant was perhaps better but a bit chewy, and that the juicy snook at Coni'Seafood is best of all.
The Inglewood Chente no longer sells snook. You will have to console yourself with extra shrimp.
It may be worth mentioning here that while the snook that thrives among the Florida mangroves is a protected species, the almost identical snook found along the Pacific coast from Mexico to Peru is listed by the International Union for Conservation of Nature as a species of "least concern." So eat away.
::
Cheko El Rey del Sarandeado, 343 E. Market St., Long Beach, (562) 422-4888. Open 11 a.m. to 8 p.m. Wed.-Mon. Credit cards accepted. Beer and wine. Street parking
Mariscos Chente, 10020 S. Inglewood Ave., Inglewood, (310) 672-0226. Open 10 a.m. to 7 p.m. Wed.-Sun. Credit cards accepted. No alcohol. Lot parking.
Mariscos Chente, 4532 S. Centinela Ave., Los Angeles, (310) 390-9241. Open 10 a.m. to 9 p.m. Mon., Wed. and Thurs.; 10 a.m. to 11 p.m. Fri.-Sun. Cash only. Beer and wine. Street parking.
Coni'Seafood, 3544 W. Imperial Highway, Inglewood, (310) 672-2339. Open 10 a.m. to 8 p.m. Sun.-Thurs.; 10 a.m. to 9 p.m. Fri.-Sat. Credit cards accepted. Beer and wine. Limited lot parking.
MORE FROM JONATHAN GOLD
At Manuela in DTLA, Jonathan Gold enjoys a 'Redneck' platter surrounded by fine art
Jonathan Gold finds a spot that takes regional Mexican cooking on an adventure
At Kismet, your culinary destiny may come in the form of rabbit kebabs
Get our weekly Tasting Notes newsletter for reviews, news and more.
You may occasionally receive promotional content from the Los Angeles Times.