Review: Sambar brings an enlightened plane of Indian cuisine to Culver City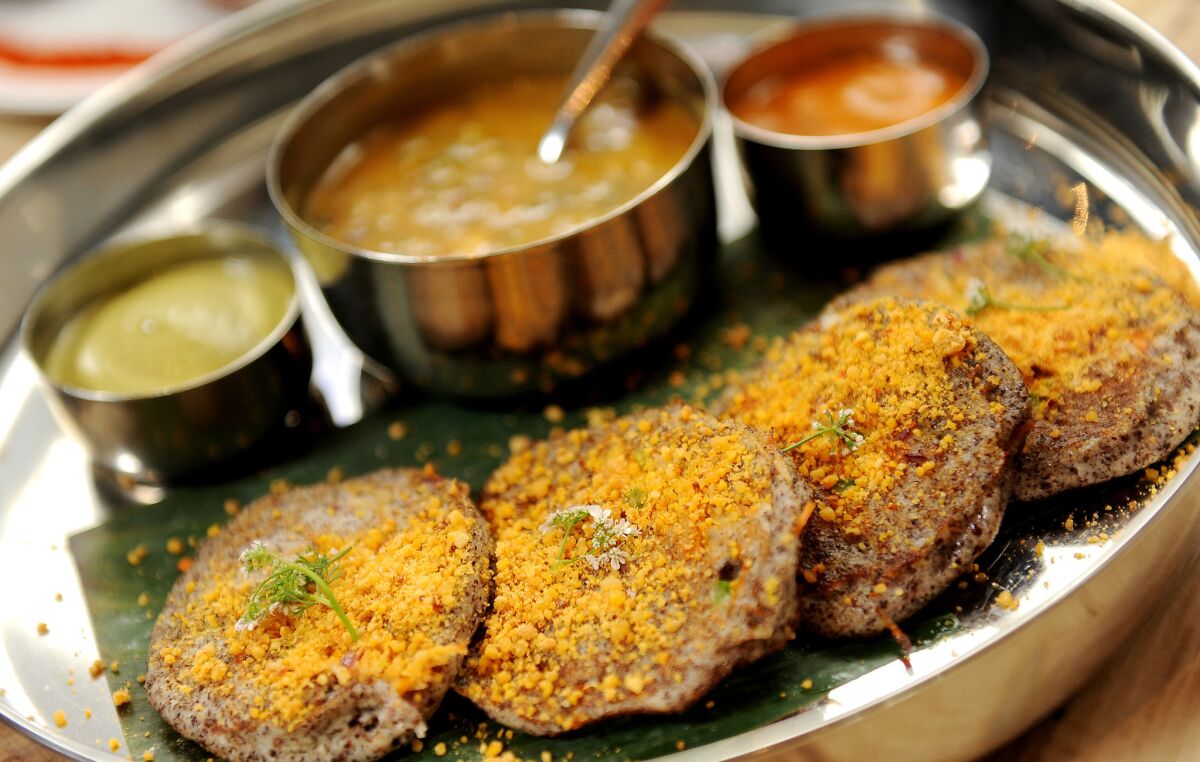 Los Angeles Times restaurant critic
Your ideas about porchetta may have been formed in the hills east of Rome or at a truck parked in Umbria, or perhaps with the fennel-scented suckling pig they sometimes serve at Sotto, the stuffed roasts in the case at McCall's Meat & Fish Co. or the sandwiches from Mozza2Go. You can find a lot of decent porchetta in Los Angeles now.
But I am guessing you have never tried anything like the vindaloo at the new Sambar in Culver City — a shoulder rolled around fiery Indian spices instead of rosemary and fennel, plunked into a hot oven and roasted until the meat becomes tender enough to slice with a pinkie nail and the skin hardens to a crunch that could shatter your teeth. Where a guy in Arezzo might toss you some green sauce, at Sambar it's served with a fresh mango chutney; a handful of pickled okra; and soft, turmeric-stained naan instead of hard-crusted bread. But it is distinctly porchetta. Can there be anything that screams of the new Culver City more than Tuscan-Indian fusion? I'm kind of thinking not.
If you know Akasha Richmond from her past as a cooking show personality or Michael Jackson's tour chef, Sambar, however ambitious, may not seem like much of a stretch. She studied cooking many years ago in India and brought back a repertoire of Ayurvedic dishes to the Golden Temple of Conscious Cookery near CBS. Her restaurant Akasha, right down the street, has always served things like bowls of mung beans and rice and tandoor-spiced chicken wings as part of its modern grill cooking.
Counter Intelligence: Sign up for Jonathan Gold's weekly newsletter
If Sambar's pizza-like naan bread with stewed spinach and goat cheese, chickpea salad with avocado and hemp, or beets with mustard seeds and yogurt cheese showed up at Akasha on a list of daily specials, nobody would have thought it odd in the least. Some of Sambar's best dishes — a delicious salad made with Little Gem lettuce, ripe plums, toasted pistachios and chunks of vindaloo-spiced bacon; or a juicy lamb burger with tomato chutney — would probably have been among the most popular menu items down the block.
Still, the Culver City area is not without its Indian restaurants. The Kerala-style kitchen at Mayura is among the best in Southern California, and the southern Indian vegetarian food at Annapurna occasionally verges on the first-rate. The simple vegetarian cooking at Samosa House and India Sweets and Spices draws customers from the Westside and beyond, Shalimar and Bawarchi have their fans, Jasmine puts a halal spin on Burmese-Indian food and everybody misses the biryani at the late Zam Zam, down by the mosque. This is not a neighborhood lacking in Indian food.
But they come to Sambar, drawn by the pounding music; the grilled corn smeared with cheese and cumin, and the pistachio-crusted lamb kebabs; the pleasant patio and the spiced chicken burgers; the crunchy lentil fritters and the soft quinoa uttapam with hemp seed chutney. Sambar may represent a kind of Westside Indian cooking filtered through Whole Foods, but the cooking is no less tasty for that. Does the cheese thali, with naan, smears of yogurt cheese and goat cheese, and an assortment of pickles, resemble a modern cheese plate more than it does anything you may have seen in an Indian restaurant? Does the shredded-zucchini kofta meatballs seem more like something out of an Ottolenghi cookbook than out of a Gujarat kitchen? Could the sautéed Punjabi Mama greens with paneer pass muster as a contorno in a Brentwood Italian restaurant? Probably. But if you want authenticity, you can find it right down the street.
The cocktail program features classics inflected by the Indian spice cabinet, like the Maharaja, which is more or less a whiskey sour with beets and carrot syrup, or the Bloody Mary-like Vegetable Wallah with cilantro and cherry tomatoes, or the Road to Rishikesh, which tastes a little like a martini tinged with holy basil bitters. There are a few wines, but you're more likely to end up with a glass of Dogfish Head Namaste White or an insanely hoppy Lost Coast Indica ale.
::
Sambar
Akasha Richmond moves down the block door, cooks (more) Indian cuisine.
LOCATION
9531 Culver Blvd., Culver City, (310) 558-8800, sambarcc.com
PRICES
Snacks, $3-$8; tandoori-style meats and vegetables, $10-$18; starters, $5-$12; curries, $8-$15; rice and dal, $3-$8; desserts, $7-$8.
DETAILS
Lunch, 11:30 a.m. to 2:30 p.m. Mondays to Fridays; dinner, 5:30 to 9:30 p.m. Sundays to Thursdays, 5:30 to 10:30 p.m. Fridays and Saturdays. Credit cards accepted. Full bar. City lot parking nearby.
RECOMMENDED DISHES
Saag and goat paneer naan, stone fruit salad, goat curry, zucchini kofta, pork shoulder vindaloo.
Get our L.A. Goes Out newsletter, with the week's best events, to help you explore and experience our city.
You may occasionally receive promotional content from the Los Angeles Times.