Review: Jonathan Gold tastes transcendent Mexican seafood tostadas at Holbox, a sister stand to Chichen Itza
The Yucatán-style seafood menu at Gilberto Cetina Jr.'s Holbox in Mercado La Paloma includes octopus tacos.
(Myung J. Chun / Los Angeles Times)
The ceviches on offer may include this one made of opah.
(Myung J. Chun / Los Angeles Times)
The cocktel mixto, or seafood cocktail, is a recommended dish.
(Myung J. Chun / Los Angeles Times)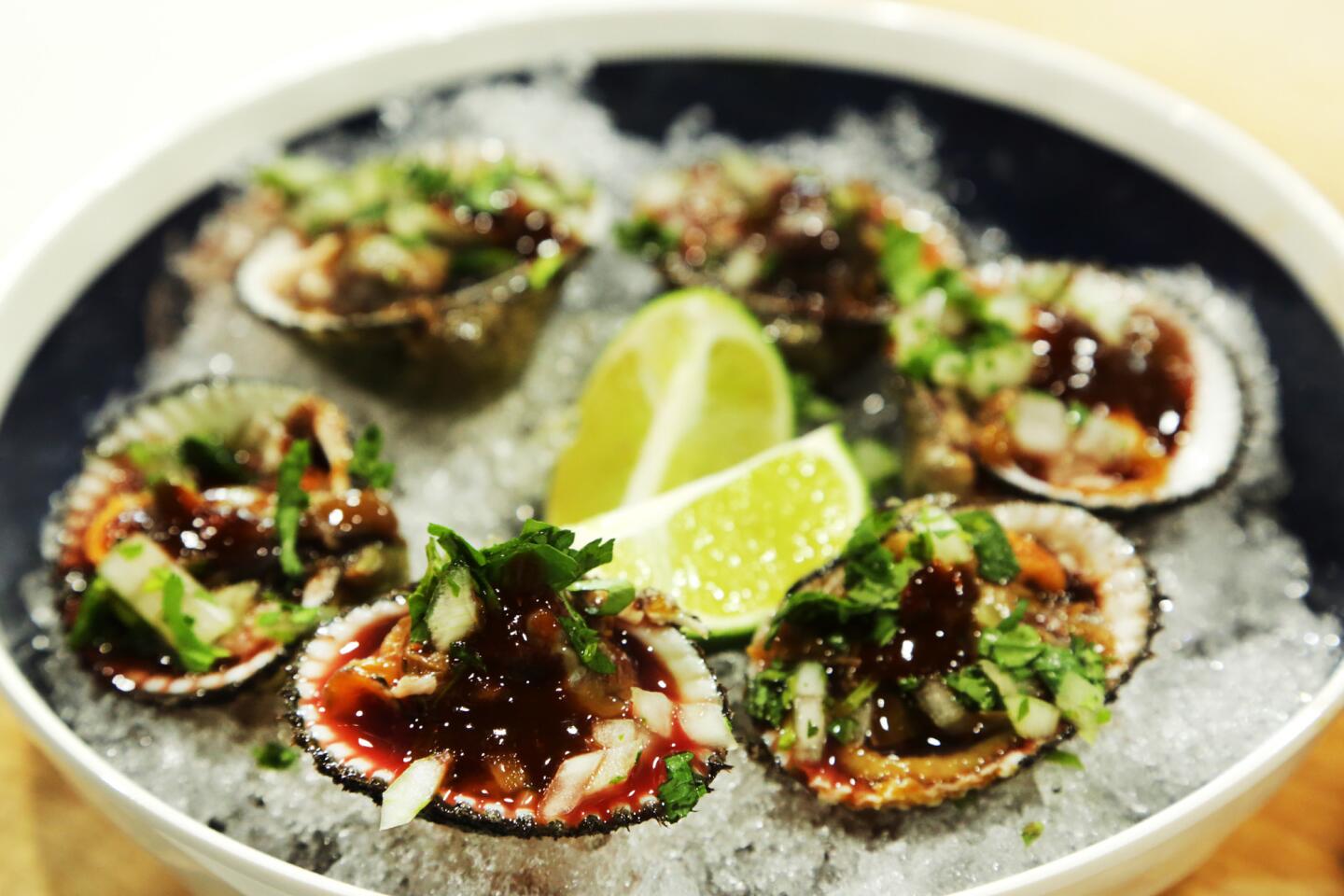 Blood clams are a recommended dish.
(Myung J. Chun / Los Angeles Times)
Chiles rellenos de pescado are among the menu's hot appetizer selections.
(Myung J. Chun / Los Angeles Times)
Taco selections may include these made with ono.
(Myung J. Chun / Los Angeles Times)
Octopus tentacles are grilled at Holbox. Jonathan Gold recommends enjoying them in tacos.
(Myung J. Chun / Los Angeles Times)
Chef Gilberto Cetina Jr. assembles a cocktail at Holbox.
(Myung J. Chun / Los Angeles Times)
Chef Gilberto Cetina Jr. of Chichen Itza has opened a neighboring seafood stall in Mercado La Paloma and named it Holbox after an island off the Yucatán peninsula.
(Myung J. Chun / Los Angeles Times)
Restaurant Critic
Holbox's Gilberto Cetina will demonstrate how to buy and butcher fresh fish at the restaurant May 18 as part of the Los Angeles Times Food Bowl. For a full schedule of the month-long festival's events, click here. Below is The Times restaurant critic's reviews of the Yucatán-style restaurant.
Are we talking about Mexican seafood again? We're talking about Mexican seafood again. Because I'm guessing that at least some of you won't want to go another week without tasting the yellowtail ceviche with uni at Holbox.
Holbox, travelers tell you, is the next Tulum, a sleepy, bird-rich island off the Yucatán Peninsula, where the threat of golf courses and high-rise resorts seems to loom just past every promontory. It is probably known for its concentrations of whale sharks, eco-tourists and locals who claim to be descended from pirates. In Mayan, Holbox means "black hole," which may explain its gravitational force. You are advised to visit before Starbucks sets up camp.
In Los Angeles, Holbox is the new Yucatán-style seafood restaurant from Gilberto Cetina Jr., whom you may know from Chichen Itza, which he founded with his father. (Gilberto Sr. is back in the Yucatán at the moment, building his own island dream house.) Like Chichen Itza, Holbox occupies a corner of the Mercado La Paloma complex near USC, sharing tables with a vegan Ethiopian restaurant and a Oaxacan juice bar.
As at Chichen Itza, you stand in line to order and take a number to put on your table. As at Chichen Itza, you commandeer as many kinds of chile sauce as you are allowed to – you are going to want to taste the lovely, fragrant sauce made with peanuts and chiles de árbol. As at Chichen Itza, you will wind up with twice as much food as you thought you might, and it will be fine.
The last time I was in, a passerby tweeted at a friend, asking what she'd ordered. "And that would be ... everything,'' my friend replied. The brevity of the menu, the short supply of some of the shellfish and the general Fear of Missing Out means that most of what is on the menu board may well make it onto your table – plus maybe panuchos and guanabana agua fresca from the Chichen Itza counter. The only thing that could make the experience better would be a few bottles of the cold beer that Mercado La Paloma neither permits nor condones. Your specific thirsts will have to wait.
But there are huge surf clams, cut into thin ribbons and marinated in bitter orange juice, spilling in swirls from their shells; huge, fresh oysters from Oregon served on the half shell with chile and lime; and one of the best shrimp cocktails in the city – plump, crisp bits in a sundae glass filled with a thick, well-spiced tomato purée, crowned with a juicy lime wedge and a single, impossibly red steamed shell-on prawn.
Even if you've had the patas de mula at the famous Baja street stands, the preparation here is a revelation, the clams' blood-colored juices flavored with chiles and finely minced onion, extreme savoriness slashed with a few drops of citrus.
The freshly made tortillas are nice, but the tacos can occasionally seem like pretexts for slabs of wood-grilled yellowtail with chopped tomatoes and a little cabbage, or curls of crisp-edged grilled octopus tentacle stained black with a squid-ink-intensive purée. (The grilled lobster tacos have been less successful.) The tortas, butter-crisped French rolls stuffed with avocado and breaded shrimp, are predictably spectacular.
Crisp little empanadas stuffed with cazon, dogfish, striped with sauce, are fishy in the way that a first taste of cooked fresh albacore can seem fishy when you've only had the stuff in the can, but modestly delicious. Still, I'm not sure what to tell you about cazon. Your last plate of fish and chips in London was very likely to have been made with dogfish. Trawled West Coast dogfish is listed as a Best Choice on the Monterey Bay Aquarium watchlist, although dogfish from other areas fall into less desirable categories. Dogfish is by far the most common species of shark in the ocean, but it is still a shark, if you have feelings on the subject.
And the yellowtail-uni ceviche is magnificent. The fish is cut small but not too small, melting into the sharp chile-lime snap of its marinade but still husbanding a bit of chew, a bit of the funky mellowness that made so many of us fall in love with sushi for the first time. There is avocado but not too much; the fruitiness of chile morita but not too much; but a glorious excess of rich, fresh sea urchin roe, five tongues radiating out from the center, that is to the ceviche what the spirit is to the body; the essence that gives purpose to the whole.
Is transcendence too much to ask from a seafood tostada? That, I'll leave up to you.
::
Holbox
Chichen Itza's chef Gilberto Cetina opens a seafood stand
LOCATION
3655 S. Grand Ave. (inside the Mercado La Paloma complex), Los Angeles, www.holboxla.com
PRICES
Seafood $6-$15.
DETAILS
Open Tues.-Sun., 11:30 a.m. to 8 p.m. Credit cards accepted. No alcohol. Lot parking.
RECOMMENDED DISHES
Uni and yellowtail ceviche; blood clams; seafood cocktail; surf clam; octopus tacos.
MORE FROM JONATHAN GOLD
Jonathan Gold follows the 'Snook Whisperer' legend to four restaurants
At Manuela in DTLA, Jonathan Gold enjoys a 'Redneck' platter surrounded by fine art
Jonathan Gold finds a spot that takes regional Mexican cooking on an adventure
Get our L.A. Goes Out newsletter, with the week's best events, to help you explore and experience our city.
You may occasionally receive promotional content from the Los Angeles Times.