Howard Bingham, Muhammad Ali's personal photographer, dies at 77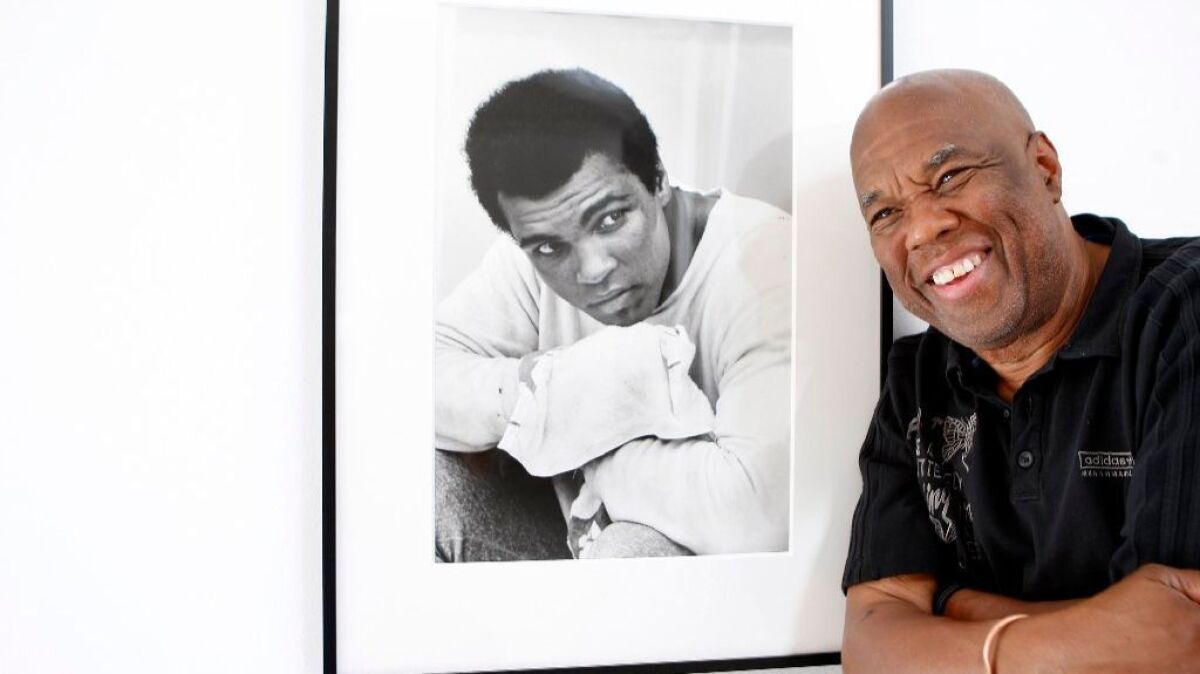 Howard Bingham, a close friend and longtime photographer of Muhammad Ali who was also known for his community activism, died Thursday afternoon. He was 77.
Bingham died in a Los Angeles hospital. No cause of death was given by his agent, Harlan Werner.
The renowned photographer, who grew up in Compton, had a low-key, affable personality that opened many doors. He worked for numerous magazines such as Life and Sports Illustrated. He photographed world leaders and movie stars, and chronicled the rise of the Black Panther Party and the day-to-day life of African Americans. He also interviewed James Earl Ray, the man who killed Martin Luther King Jr.
Bingham met Cassius Marcellus Clay on a newspaper assignment, when he was a rookie photographer and "The Greatest of All Time" was a young fighter. The two had an instant rapport that lasted a lifetime.
"He was there for my father when my father had no one," said Muhammad Ali, the boxing champion's oldest son. "When he lost all his money, his titles, Howard was the friend who was always in his corner."
The two men were like teenagers when they were together, said Werner, who knew them for about 30 years.
"It didn't matter who was in the room," he said. "They had a love and respect for each other that you can't put into words."
Bingham photographed the fighter's rise in the 1960s and followed him around the globe, while also covering ongoing social unrest in many American cities.
Despite his success, Bingham remained a humble man. He lived most of his life in a small house crammed with memories and commendations in Southeast Los Angeles.
That didn't surprise those who knew him best, according to a 1994 Los Angeles Times profile.
"The average person who has achieved what Howard has achieved would normally not be living in his neighborhood," longtime Los Angeles Sentinel columnist A.S. "Doc" Young told the newspaper at the time. "They'd be in the Hollywood Hills or Beverly Hills somewhere."
Not Bingham. He stuck around, constantly photographing community life and raising money for local organizations. He liked to check on the neighborhood's old folks and visit his mother.
He lived in that modest bungalow until his health began to fail and had to move into a care facility, Werner said. He was divorced and had two sons.
Community organizers in the area knew him for his unflinching support of underrepresented people.
"He wasn't just one of Ali's closest friends," activist Najee Ali said. "He was a warrior for social justice."
Ali remembers joining Bingham at a racial profiling rally in Sacramento in 2000. He said as Bingham spoke he became overwhelmed with emotion and his eyes filled with tears.
In 1978, the photographer took an unfamiliar leap and decided to run for Congress to help the community with his many connections.
But Bingham was not savvy about the political world. According to the 1994 profile, he organized a fund-raiser with an all-star roster (friends like Marvin Gaye, Richard Pryor, Barry White and Sammy Davis Jr. came to help), but he neglected to publicize the event.
"Nobody came," Bingham said. "Instead of financing my campaign, I went deep into the hole — but the party afterward was fantastic!"
Bingham, the son of a minister, grew up in a strict household. He said he never learned to dance because his parents didn't allow it.
As a youth, he thought he wanted a career in music, but lost interest after trying the piano and violin.
He became curious about photography through a few neighbors and thought a camera could attract girls.
Bingham got his first gig at the Los Angeles Sentinel after he begged for work. It was there that he met Ali while driving down Broadway near 5th Street, a few hours after a fight.
That day, Bingham took Ali around Los Angeles: to his photo lab, to a Compton bowling alley and, finally, to his mother's house for a meal.
After that, whenever the boxer was in town, Bingham would tag along.
Werner remembers a trip the three took to Dublin to meet Nelson Mandela. Ali and Bingham knew the anti-apartheid revolutionary well.
Mandela greeted and welcomed them with hugs. He then looked at Ali and told him, "Do you know how lucky you are to have a friend like Howard Bingham?"
The men broke into laughter.
On the way home, Bingham asked Werner to tell the story over and over again.
"He got a kick out of it each time," he said.
For the next month, he called him each morning and asked him to repeat it.
Every time, apparently, the photographer had a new person listening on the line.
Werner was his proof that the tale, in fact, was true.
esmeralda.bermudez@latimes.com
Twitter: @LATBermudez
MORE OBITUARIES
Jockey Garrett Gomez found dead at 44
Alan Thicke, actor and dad on '80s sitcom 'Growing Pains,' dies at 69
Basketball broadcaster Craig Sager dies at 65 after long battle with cancer
---
The stories shaping California
Get up to speed with our Essential California newsletter, sent six days a week.
You may occasionally receive promotional content from the Los Angeles Times.