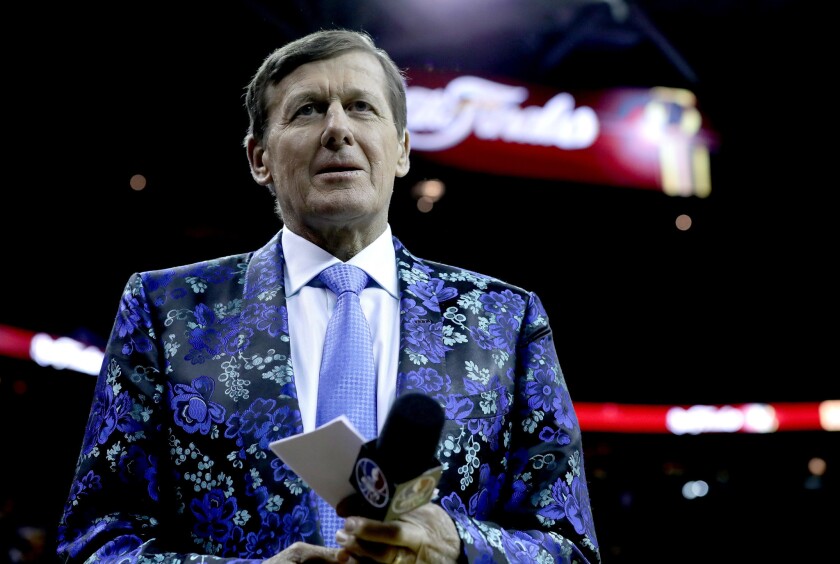 Craig Sager, a broadcaster whose sartorial tastes mimicked his equally bold personality, died Thursday after a much-chronicled 2½-year battle with cancer. He was 65.
Sager was best known for his sideline reporting on NBA games for TNT. He had a comfortable rapport with players and coaches partly because of the ease with which he asked questions. Players never felt ambushed and Sager rarely pushed them into uncomfortable positions.
"Craig is like a staple for the NBA," said the Lakers' Metta World Peace. "Definitely from a player's point of view he was a key factor for the entertainment. We play to have fun and he made it fun."
Born on June 29, 1951, the Illinois native will also be remembered for his kaleidoscope style of outlandish sport coats and pants that would have even brightened an old black-and-white television.
He admitted to having about 135 suits in his closet.
"He's such a part of our game and even though he wasn't out there playing," said Lakers Coach Luke Walton, "you turn on the TV on a Tuesday night and part of the fun … was seeing Craig in his crazy suits. He was phenomenal at his job and he brought something every night he was on TV."
Upon learning of his death, a veritable who's who of NBA players and coaches tweeted out their condolences.
But the message from his son, Craig Jr., was especially memorable. "Time is how you live your life. We packed a lifetime and then some into these 28 years together. Pay it forward time!"
Sager first learned he had acute myeloid leukemia just before the NBA playoffs in 2014. He underwent chemotherapy and a bone marrow transplant from Craig Jr. and was able to return to the sidelines in March 2015.
In March of this year the cancer returned. He underwent another bone marrow transplant.
Sager is also remembered for one baseball game he covered for a radio station in Sarasota, Fla. He convinced his boss that he needed to be in Atlanta for the possibility of Hank Aaron's then-record-setting 715th home run. When Aaron hit the historic shot, Sager was there waiting for him as he was running between third base and home. The interview truly was on the run, and that bit of tape of the first interview with Aaron is now in the Baseball Hall of Fame.
Sager is survived by his wife, Stacy, and children Riley and Ryan. He has three children from a previous marriage, including Craig Jr.
john.cherwa@latimes.com
Tania Ganguli contributed to this story
---