Japanese firm plans to build light-rail cars in L.A. area after all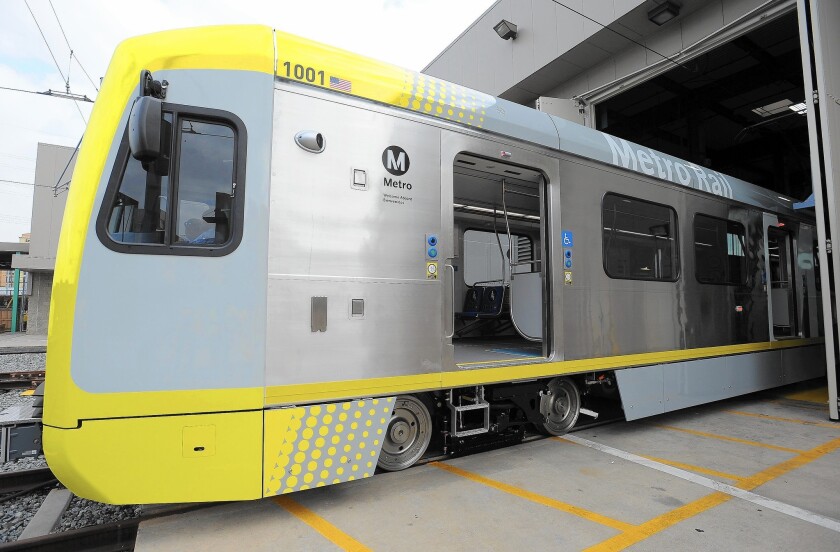 A month after threatening to avoid California when talks with organized labor groups derailed, a Japanese company said it would follow through with much-touted plans to open a light-rail manufacturing facility in Los Angeles County after all.
Rather than build a new factory, Kinkisharyo International of Osaka will retrofit an existing space in Palmdale to build light-rail vehicles for the Metropolitan Transportation Authority. The company will also recognize a labor union if a majority of employees request one.
The agreement marks the apparent end of a multi-year battle between Los Angeles County's powerful organized labor movement and a company that has not traditionally had unions in its factories. Both sides credited Los Angeles Mayor and Metro Chairman Eric Garcetti with brokering the deal.
Two years ago, Kinkisharyo won an $890-million contract to build 175 rail cars for Metro and said it would move some manufacturing from Japan to a new facility in Palmdale. The company rejected a request for a union card-check agreement, an optional process favored by labor leaders because it avoids the riskier alternative: holding an election on the factory floor.
This summer, local activists, including members of International Brotherhood of Electrical Workers, Local 11, presented Palmdale officials with a 588-page appeal claiming violations of state environmental law. The document said the 60-acre factory site did not have proper water rights, and that construction could kick up spores that carry valley fever.
The environmental appeal is now "moot," Garcetti's office said.
Area business leaders had criticized the appeal as a "greenmail" tactic — using California's environmental laws as leverage to make Kinkisharyo promise to allow a union. Activists and labor leaders said they were making sure that Kinkisharyo followed the laws.
Citing a delayed manufacturing schedule, Kinkisharyo officials said in October that they would consider opening a factory in Arizona, Arkansas, Idaho, Nevada, Oregon or Texas.
A Kinkisharyo spokesman said work will continue "as usual, aside from the provisions that allow IBEW to start organizing."
Over three weeks, the firm negotiated at City Hall with Jobs to Move America, a coalition of labor and community groups, aided by Garcetti and his staff.
"Sometimes, we needed an intermediary," said Madeline Janis, the coalition's director. "We ordered pizza and coffee, and had some very late nights."
Although Garcetti has traditionally been a pro-labor Democrat, his relationship with some unions soured during the 2013 mayor's race. During that campaign, the IBEW spent $2 million to elect his opponent, former Los Angeles City Controller Wendy Greuel.
"This wasn't about politics," Garcetti spokesman Yusef Robb said. "This was about jobs and expanding our manufacturing in the region. We'll work with everybody to accomplish that."
Palmdale officials were not involved in the discussions, he said.
The prolonged negotiations between Kinkisharyo, labor unions and City Hall did not set "a good precedent for Los Angeles," said Gary Toebben, president of the Los Angeles Area Chamber of Commerce.
"It was helpful in this case that Mayor Garcetti became involved, but I hope that we don't start using the power of government to force these kinds of agreements on other companies in Los Angeles," Toebben told The Times.
Metro has struggled for years to acquire enough rail cars for the county's rapidly growing transit network. A $300-million deal with the Italian firm AnsaldoBreda to build 100 light-rail vehicles fell apart in late 2009, putting Metro more than two years behind its original schedule.
The agency needs a major shipment of new vehicles for two new light-rail routes to Santa Monica and Azusa, which are scheduled to open in 2016.
For more transportation news, follow @laura_nelson on Twitter.
---
The stories shaping California
Get up to speed with our Essential California newsletter, sent six days a week.
You may occasionally receive promotional content from the Los Angeles Times.