Murrieta protesters turn back Border Patrol detainees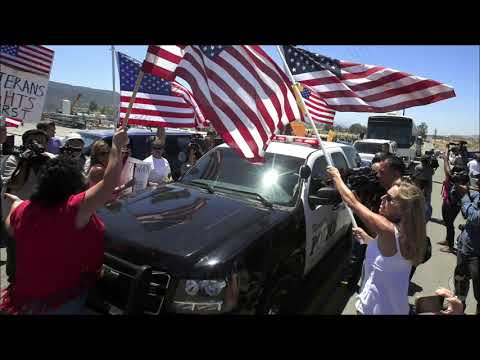 Federal officials will appear at a town hall meeting in Murrieta this evening after buses carrying immigrant detainees were blocked by a wall of angry of protesters.
Amid rising concern over a surge of young immigrants crossing the border illegally, flag-waving protesters blocked three busloads of detainees in Riverside County on Tuesday, preventing them from reaching a Border Patrol processing station in Murrieta.
The buses, carrying about 140 detainees, turned around and headed back to a San Diego-area Border Patrol facility.
------------
FOR THE RECORD
July 2, 8:07 a.m.: The online version of this article included a photo gallery that referred to "residents opposed to immigration." The reference should have been to "residents opposed to illegal immigration."
------------
Police said about 100 to 150 people met the buses a few blocks away from the Border Patrol station, chanting "Go home" and "We want to be safe."
The detainees — many of them women and children from Central America — had crossed the border in Texas recently and were flown to San Diego by the Department of Homeland Security.
They had been bused to Murrieta for processing and supervised release through a religious volunteer group pending appearances in immigration court.
Though the day had been tense and loud, the protests were nonviolent.
The verbal sparring continued Tuesday night, with about 100 marchers supporting the immigrants on one side of Madison Avenue and 50 opposing them on the other, with police in the middle of the street.
In a City Council meeting following the protests, Murrieta Mayor Alan Long thanked the crowds for refraining from violence. "The people who live here are passionate about their community, and that's what you're seeing outside today," he said.
The incident came one day after Long urged residents to protest the federal government's decision to move the recent immigrants — the first of what he said was to be a series of arrivals — to the facility in his city.
"Murrieta expects our government to enforce our laws, including the deportation of illegal immigrants caught crossing our borders, not disperse them into our local communities," Long said Monday. The city had defeated two previous attempts to send migrants to the facility, he said.
Roger Cotton, 49, said he drove up from San Diego to wave a flag outside the Border Patrol station.
"I wanted to say that I as an American citizen do not approve of this human disaster that the government has created," Cotton said. He said he believes the migrants who were supposed to be dropped off at the station would be a burden on an already strained system.
"Who's going to pay for them?" he asked. "What kind of criminality will happen?"
Cotton said he decided to go to Murrieta on his own and was surprised to find other protesters there.
He stood with a group of them on the side of the road, chanting "USA" and arguing with a group of counter-protesters who had come to support the immigrants.
Lupillo Rivera, 42, of Temecula, said he was driving by when he noticed the protest. He said somebody shouted that he was an illegal immigrant and should go home.
Rivera, a well-known Mexican banda singer who is a U.S. citizen, went home and returned with several of his friends and bandmates to confront the protesters.
"Our people cook your food," he shouted at them.
"We didn't ask for them to come here," one protester shot back.
Rivera, who is the brother of the late Mexican singer Jenni Rivera, said anybody who would turn away a busload of children was "not human."
"It doesn't matter where a child is from," he said. "He deserves respect and help because he's a child."
Local leaders were critical of the federal government's communication throughout the process, and said after Tuesday's protest that they had been given little notice about the arrivals.
"We were never given sufficient warning by the federal government," said Kim Davidson, a Murrieta city spokeswoman. "When people are scared and don't have all the information, they have a right to react."
Immigration and Customs Enforcement officials met with city officials in Murrieta and Temecula prior to the protests, said agency spokeswoman Virginia Kice, adding that ICE is aware of concerns in the region.
"We're sensitive to those issues and we're seeking to address them," she said.
At the City Council meeting, city officials and community members took turns addressing the expected arrivals.
"Murrieta is not El Paso, we're not Tucson. This is a small community. We do not have the facilities to feed and clothe people for an extended stay," Councilman Rick Gibbs said. He cited the basic accommodations at the local Border Patrol facility, which, he said, had metal benches and limited lavatories.
This year, Border Patrol agents across the Southwest have detained more than 52,000 unaccompanied minors, with a particular concentration along the Rio Grande border in Texas, according to federal records.
Because of this influx, officials are sending migrants to Border Patrol facilities in less heavily trafficked areas, such as Southern California, for processing and supervised release by ICE agents.
Riverside County Supervisor Jeff Stone said such plans were a surprise to local lawmakers.
"This caught us all by surprise locally," Stone said. "Most local governments are strained as far as providing services even to our local residents, and we're getting 140 traumatized people."
Times staff writer Mark Boster, in Murrieta, contributed to this report.
Follow @katelinthicum for news about immigration and @mtthnsn for news about Southern California

Sign up for Essential California for news, features and recommendations from the L.A. Times and beyond in your inbox six days a week.
You may occasionally receive promotional content from the Los Angeles Times.