Tom Petty, Heartbreakers frontman and beloved rock figure, dies at 66
Musician Tom Petty died Monday after being rushed to the hospital after a cardiac arrest. He was 66.
Tom Petty rode to the pinnacle of pop music stardom with his beloved and long-running rock band the Heartbreakers, born out of the ashes of a group that flopped when he brought them from Gainesville, Fla., to California in the mid-1970s. He emerged as one of the most vocal and tireless champions of artistic integrity and musical purity in the record business.
Reportedly found unconscious at his Malibu home on Sunday night, Petty was rushed to UCLA's Santa Monica hospital in full cardiac arrest and died Monday at 66. For hours, multiple media outlets reported his death only to retract those reports; his death was confirmed Monday night by his family's spokeswoman. A cause has not been announced.
"On behalf of the Tom Petty family," said Tony Dimitriades, longtime manager of Tom Petty and the Heartbreakers, "we are devastated to announce the untimely death of of our father, husband, brother, leader and friend Tom Petty. He suffered cardiac arrest at his home in Malibu in the early hours of this morning and was taken to UCLA Medical Center but could not be revived. He died peacefully at 8:40 p.m. PT surrounded by family, his bandmates and friends."
Petty had just completed an extensive tour to mark the Heartbreakers' 40th anniversary. It concluded Sept. 25 with a three-night homecoming stand that sold out at the Hollywood Bowl.
"It's shocking, crushing news," his longtime friend and collaborator Bob Dylan said. "I thought the world of Tom. He was great performer, full of the light, a friend, and I'll never forget him."
Petty and his mates distilled a signature sound that was as influenced as much by The Byrds as the Beatles, with the swagger of the Rolling Stones and some doses of Muddy Waters, B.B. King, and soul stirrings of Ray Charles and Sam Cooke thrown in.
Initially lumped in with the burgeoning punk rock scene, and later affiliated more with the singer-songwriter-focused new wave movement, Petty and the Heartbreakers rose to fame in 1977 with their first Top 40 single, the sultry, bluesy hit "Breakdown."
It was a breath of fresh air amid a rising tide of "corporate rock" bands — such as Kansas, Foreigner, Bad Company and Journey — that boasted stellar musicianship but produced often faceless music.
Petty and his cohorts rejuvenated a more stripped-down, passion-filled, elemental form of rock 'n' roll that they had soaked up in the '50s and '60s, and which manifested in nearly 30 singles that made Billboard's Hot 100 sales ranking.
Songs like "Don't Do Me Like That," "Free Fallin'," "Listen To Her Heart," "The Waiting," "Learning to Fly" and "Stop Draggin' My Heart Around," their collaboration with Fleetwood Mac singer-songwriter Stevie Nicks for her solo album "Bella Donna," quickly became staples of Top 40 and FM radio playlists.
The group churned out hit album after hit album as well. The biggest included: "Damn the Torpedoes" from 1979, "Hard Promises" in 1981, "The Last DJ" in 2002, and "Mojo" in 2010. ("Mojo" entered the chart and peaked at No. 2, 30 years into the band's career.)
Petty also recorded several successful solo albums, which often included most or all members of the Heartbreakers performing. His first, 1989's "Full Moon Fever," reached No. 3, followed by "Wildflowers" in 1994 and "Highway Companion" in 2006.
He carved out a niche as one of rock's most beloved figures, respected by both peers and fans. Far from textbook handsome rock stars like Elvis Presley, Paul McCartney or Bruce Springsteen, or an antihero such as Mick Jagger or Lou Reed, Petty had an everyman quality that he also brought to his songs, which often were collaborations with guitarist Mike Campbell, who largely wrote music, leaving the lyrics to Petty.
Though couched as a cautionary note to a romantic rival, the song "Listen to Her Heart," from the group's 1978 sophomore album "You're Gonna Get It," was also an allegory about the music industry forces Petty felt were attempting to subvert the music he loved.
"You think you're gonna take her away / with your money and you cocaine / You keep thinking that her mind is gonna change / But I know everything is OK / She's gonna listen to her heart."
Rock and roll legend Tom Petty is photographed in the studio of his L.A. area home.
(Jay L. Clendenin / Los Angeles Times)
Tom Petty performs at the Inglewood Forum on Jan. 20, 1980.
(George Rose / Los Angeles Times)
Tom Petty tries to get the crowd involved at a November 1979 performance in New York.
(George Rose / Los Angeles Times)
Tom Petty plays in Santa Monica on June 7, 1978.
(Marianna Diamos / Los Angeles Times)
Tom Petty at his home on April 28, 1985.
(Iris Schneider/Los Angeles Times)
Tom Petty on stage for a soundcheck in Burbank during a May 1987 tour.
(Ellen Jascol / Los Angeles Times)
Tom Petty in concert in July 1979 in Santa Cruz.
(George Rose / Los Angeles Times)
Tom Petty at a Santa Cruz concert in July 1979.
(George Rose / Los Angeles Times)
Tom Petty and the Heartbreakers in Irvine on Aug. 14, 2005.
(Karl Walter / Getty Images)
Tom Petty holds up the key to the city of Gainesville, Fla., he received from Mayor Pegeen Hanrahan in 2006. From left are drummer Steve Ferrone, guitarist Scott Thurston, Petty and bassist Ron Blair.
(Tracy Wilcox / Associated Press)
Tom Petty is interviewed in 1996.
(Bob Carey / Los Angeles Times)
Tom Petty, third from the left, touches the star he and his band, the Heartbreakers received on the Hollywood Walk of Fame on April 28, 1999.
(Vince Bucci / AFP/Getty Images / )
Tom Petty performs during a sold-out concert at the Inglewood Forum on Jan. 20, 1980.
(George Rose / Los Angeles Times)
Mike Campbell, left, Tom Petty, Stan Lynch, Benmont Tench and Howie Epstein of Tom Petty and the Heartbreakers on Nov. 28, 1993.
(Caroline Greyshock / Los Angeles Times)
Tom Petty and the Heartbreakers perform at Pine Knob Music Theater in Clarkston, Mich., on June 18, 1999.
(Paul Warner / Associated Press)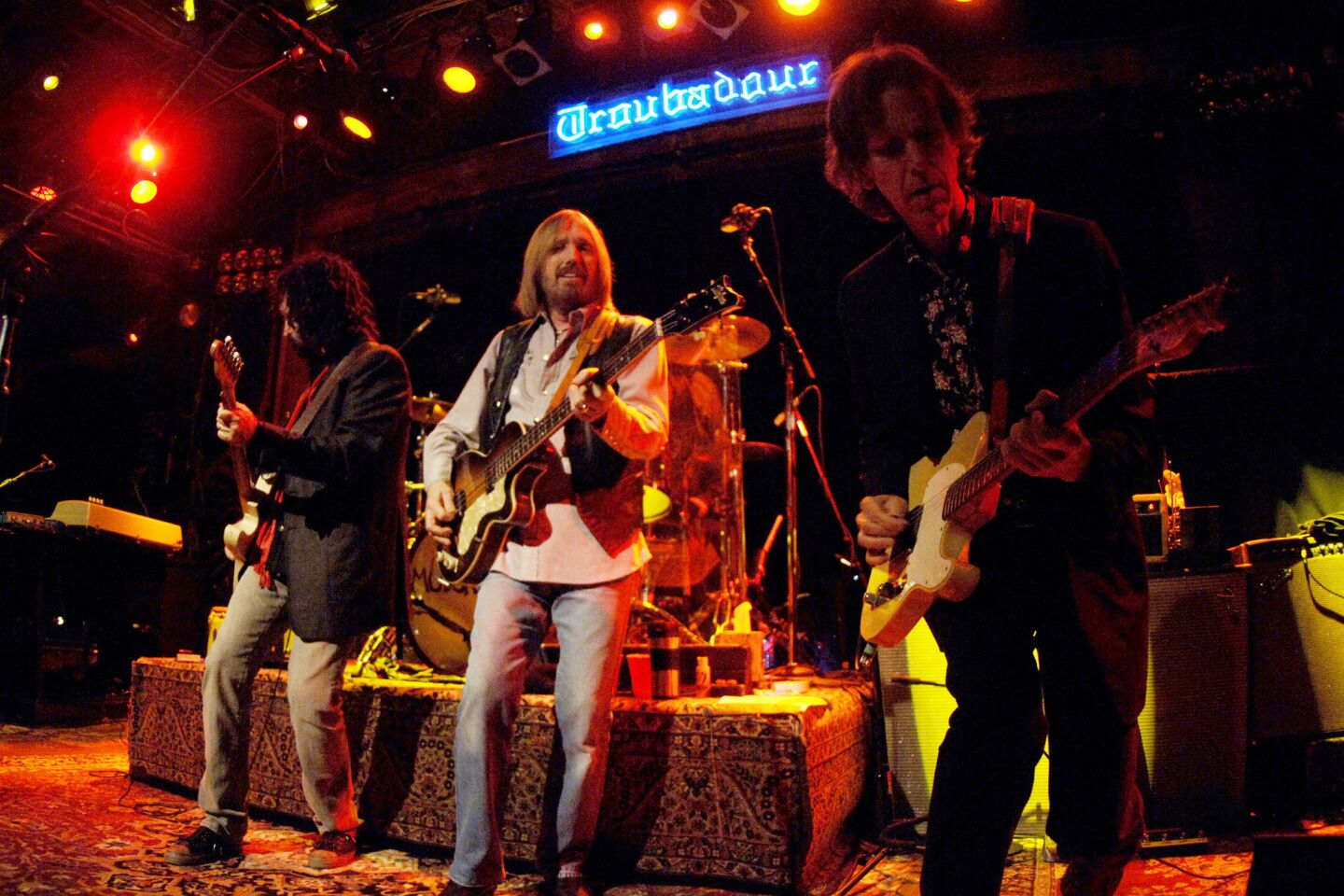 Mike Campbell, left, Tom Petty and Tom Leadon of Mudcrutch perform at the Troubadour in West Hollywood on May 1, 2008.
(Tim Mosenfelder / Getty Images)
Tom Petty performs during the Hangout Music Festival on May 18, 2013, in Gulf Shores, Ala.
(Skip Bolen / WireImage/Getty Images)
Tom Petty in the studio of his L.A.-area home on June 30, 2014.
(Jay L. Clendenin / Los Angeles Times)
Members of Mudcrutch, from left, Benmont Tench, Mike Campbell, Randall Marsh, Tom Leadon and Tom Petty at Warner Bros. Records in Burbank on April 7, 2016.
(Brian van der Brug / Los Angeles Times)
Tom Petty and the Heartbreakers play the Arroyo Seco Weekend festival in Pasadena on June 24, 2017.
(Luis Sinco / Los Angeles Times)
Tom Petty at his home in Malibu on Sept. 27, 2017.
(Genaro Molina / Los Angeles Times)
Tom Petty at his Malibu home on Sept. 27, 2017.
(Genaro Molina / Los Angeles Times)
Tom Petty and the Heartbreakers play the Hollywood Bowl on Sept. 21, 2017.
(Luis Sinco / Los Angeles Times)
Tom Petty and the Heartbreakers at the Hollywood Bowl on Sept. 21, 2017.
(Luis Sinco / Los Angeles Times)
The Florida-bred singer and songwriter became a member of rock music's elite, and in the late 1980s was central in creating one of its most revered supergroups, the Traveling Wilburys, a short-lived ensemble that featured Bob Dylan, George Harrison, Roy Orbison and Jeff Lynne.
He was inducted into the Rock and Roll Hall of Fame in 2002, along with the Heartbreakers, collecting three Grammy Awards and 18 nominations over the years.
Thomas Earl Petty was born Oct. 20, 1950, in Gainesville, Fla., the first child of Earl and Katherine "Kitty" Petty. Petty had a difficult relationship with his father, and cited a particularly brutal beating he received at age 5 that stayed with him for life.
The young Petty showed little interest in school, and was more interested in watching favorite TV westerns such as "Bonanza," "Gunsmoke" and "The Rifleman." When an uncle facilitated a film shoot in Florida, Petty's aunt invited him to the set. There, at 10 years old, he met one of his biggest musical heroes, Elvis Presley, who was starring in "Follow That Dream."
"Within days, Petty says, he traded his slingshot for a box of 45s, many of them Presley classics," musician and author Warren Zanes wrote in his 2015 book "Petty: The Biography." "Elvis became a symbol of a place Tom Petty wanted to go. In time, the Beatles would be the map to get there."
As with so many young music fans at the time, The Beatles' appearance on Feb. 9, 1964, on "The Ed Sullivan Show" had an equally galvanizing effect.
"When I was a kid, I would have loved to have been a rock-and-roll star," he told Zanes. "I just didn't understand how you got to be one. How did you suddenly have a mohair suit and an orchestra? But the minute I saw the Beatles on Ed Sullivan — and it's true for thousands of us — there was a way to do it."
One of his earliest groups was called the Sundowners, and among the first songs they learned to perform at a local dance for teens, was Sam the Sham & the Pharaohs' 1965 Tex-Mex party hit "Wooly Bully."
The first time you count four and, suddenly, rock 'n' roll is playing — it's bigger than life itself. It was the greatest moment in my experience, really
— Tom Petty
"The first time you count four and, suddenly, rock 'n' roll is playing — it's bigger than life itself," Petty told Zanes. "It was the greatest moment in my experience, really."
After the Sundowners, he played in the Epics, which evolved into Mudcrutch, a blues-R&B-rock-soul group that included guitarists Campbell and Tom Leadon, keyboardist Benmont Tench III, drummer Randall Marsh and Petty, then playing bass.
Early on, Petty on recognized the importance of writing original material, so he Campbell and other band members tried their hands at songwriting. They also took note of what happened when Leadon's older brother — multi-instrumentalist Bernie Leadon — had abandoned Gainesville for Los Angeles: After playing with the influential country-rock group the Flying Burrito Brothers, he was invited to join a new group blending country and rock elements called the Eagles.
Mudcrutch threw what little resources they had together, piled in a couple of vehicles and headed west. Along the way, they were invited to stop at the Tulsa, Okla., offices of Shelter Records, where they made a few recordings before continuing on to L.A. In 1975, Shelter released a debut single from Mudcrutch, "Depot Street," which quickly flopped.
Other labels turned down the group, which then disbanded. Tench landed some free recording studio time at the Village in west Los Angeles, and without money to hire other musicians, he invited Petty and Campbell, along with a couple of other musicians who'd made the cross-country trek from Florida, drummer Stan Lynch and bassist Ron Blair.
When Petty showed up, he often said later, he quickly determined that the revised unit had potential. They began working on new songs, and recorded what would be released in 1976 as their debut album, "Tom Petty & the Heartbreakers."
One of the earliest supporters of the act was The Times' then-pop music critic Robert Hilburn, who initially wrote a qualified endorsement of the album: "It's all in the formative stage, but promising."
After spending more time with it, and going to see the group perform in San Francisco, Hilburn took an unusual step for a major media critic — he gave it a second, much more enthusiastic review, which longtime manager Tony Dimitriades said helped to galvanize industry interest.
"Like the best of the Rolling Stones, Petty's music gains with repeated playing," Hilburn wrote. "What appeared initially to be slightly off-center and fragmented has become a strikingly seductive, expertly woven rock 'n' roll mosaic. It's the strongest dose of pure, mainstream rock by an American band since Aerosmith's 'Rocks.'"
The debut album peaked at No. 55 in Billboard. The follow-up, "You're Gonna Get It," pushed the group into the Top 30, reaching as high as No. 23 in 1978.
The big breakthrough came with the Heartbreakers' introduction to an engineer who would become one of the entertainment world's biggest movers and shakers. For their third album, "Damn the Torpedoes," Jimmy Iovine took over as their producer, and the album's creation story has become part of music industry mythology.
As the recording got underway, Shelter Records hit financial hard times and the company's assets and artist roster was transferred lock, stock and barrel to parent company MCA Records. Petty objected, saying he wasn't interested in being part of such a corporate giant.
In a risky, but ultimately successful, legal gambit, he declared bankruptcy, which nullified old contracts. Starting from scratch, he was able to negotiate a label imprint of his own, Backstreet Records. It was on this label that he eventually released "Damn the Torpedoes," which found the band at a new creative peak, bristling with vibrant songs including "Refugee," "Don't Do Me Like That," "Here Comes My Girl," "Even the Losers" and "Louisiana Rain."
His batting average remained impressively high over 40 years, and he even got a couple of victory laps for Mudcrutch, which reunited in 2008 to record a proper album. "Mudcrutch" reached No. 8 in Billboard, an honorable valedictory performance.
The reunited quintet went on a limited tour in small-scale theaters, which Petty, Campbell and Tench said was a liberating change from the large-scale facilities the Heartbreakers were used to playing, and recorded a second album last year, "Mudcrutch 2," peaking at No. 10, and another tour was organized.
But the pendulum swung back once again to the Heartbreakers, and in April, the group embarked on what the band members called the longest, most taxing, most lucrative and most rewarding of their career.
Petty's death was a shock to fans and friends alike. In August, a case of laryngitis forced him to postpone some performances on the 40th anniversary tour.
"It was scary," he told The Times last week, in one of his final interviews. "It was very scary."
But after several days of vocal rest, he was able to complete those shows, albeit a week late, then make a headline performance on Sept. 17 at the KaaBoo Music Festival in Del Mar en route to the homecoming shows at the Bowl on Sept. 21, 22 and 25.
Two days after the final performance, he rejected reports that the 40th anniversary string of shows would be the group's swan song.
"Why would we quit?" he said. "The band is playing better than ever."
Petty's survivors include his wife, Dana; two daughters, Adria and Annakim Violette; Dana's son, Dylan; Petty's younger brother, Bruce; and granddaughter Everly Petty. No services have been announced.
Less than 48 hours after capping the 40th anniversary tour with the finale at the Bowl, Petty spoke to The Times at his home in Malibu, about the band's long journey together and what most resonated with him four decades down the line.
"The thing about the Heartbreakers is: It's still holy to me," Petty said. "There's a holiness there. If that were to go away, I don't think I would be interested in it, and I don't think they would be. We're a real rock 'n' roll band — always have been. And to us, in the era we came up in, it was a religion in a way. It was more than commerce — it wasn't about that.
"It was about something much greater: It was about moving people, and changing the world, and I really believed in rock 'n' roll. I still do. I believed in it in its purest sense, its purest form. And I watched it commit suicide; I watched it really kill itself over money. That was painful, and I saw that coming, a long time before it happened. I wasn't surprised in the least. I could see what they were doing wrong.
"But I think we still feel we're on a mission for good. I'm so touched by … this year has been a wonderful year for us," he said, adding with a laugh, "This has been that big slap on the back we never got. And it's really felt good."
Twitter: @RandyLewis2
ALSO
Why losing Tom Petty feels like losing a piece of ourselves
The heartbreaking Instagram dispatches Tom Petty's daughter sent as the rock star clung to life
Musicians, creators and celebs react to the death of Tom Petty
---
UPDATES:
10:55 p.m.: This article was updated with comments from Petty to The Times in a recent interview.
This article was originally published at 9:05 p.m.
The stories shaping California
Get up to speed with our Essential California newsletter, sent six days a week.
You may occasionally receive promotional content from the Los Angeles Times.