The Exide plant in Vernon closed 3 years ago. The vast majority of lead-contaminated properties remain uncleaned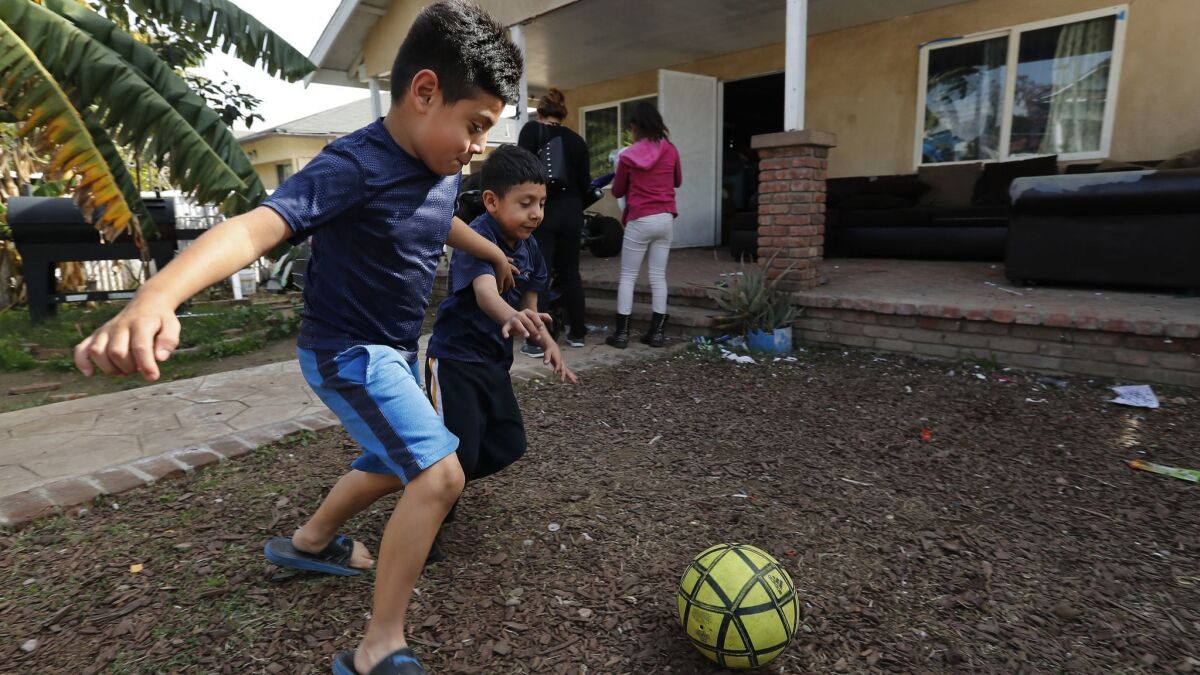 Lupe Perez knows the soil outside her Boyle Heights apartment is contaminated with lead. But it's not easy keeping her 3-year-old daughter away from a yard riddled with the brain-damaging poison.
"I try to tell her not to touch the dirt or play with the dirt, but, I mean, she's going to step on it, it's going to be all over the house," Perez said. "I can't keep her inside all day."
As part of a soil cleanup planned for thousands of properties surrounding the closed Exide Technologies battery recycling plant in Vernon, state regulators detected lead outside Perez's home at hazardous levels — above 1,000 parts per million. Nearly two years later, it hasn't been cleaned.
Such predicaments are common across a swath of southeast L.A. County, according to data released last month by California regulators undertaking the largest such cleanup in state history.
A Times analysis of newly disclosed California Department of Toxic Substances Control data shows which homes, schools, child care centers and parks are hardest hit by lead contamination and how long they have been waiting to be cleaned.
It also reveals which properties won't be touched by the state's plan to clean only the worst parcels, which will leave behind a checkerboard-like pattern of safe and contaminated properties stretching more than 1.7 miles from the shuttered plant.
Decades of air pollution from the Vernon facility deposited lead across an area spanning 10,000 properties, according to regulators. Tests show more than 7,500 properties exceed California's standard for residential soil. The state plans to remove contamination from the 2,500 that are most polluted.
But three years after the Exide plant shut down, just 270 properties have been cleaned — most of them years ago. And while families wait, delays keep mounting.
There is no start date for the cleanup that was supposed to begin by last summer using $176.6 million in taxpayer funds. Contracting problems have dealt another setback to the project. And Gov. Jerry Brown's administration has made no commitment to clean the more than 5,000 remaining properties with lead levels above what the state's own standards deem safe.
Patience is wearing thin among the area's 100,000, mostly working-class Latino residents. While some wait for the cleanups they were promised, others don't know if their lead-contaminated yards will ever qualify. So they try to keep children inside, away from bare dirt, and avoid gardening for fear of disturbing the poison-laced soil.
Lead is a potent neurotoxin with no safe level of exposure, according to the Centers for Disease Control and Prevention. Even tiny amounts can cause learning disabilities, lower IQs and other permanent developmental and behavioral problems, with young children at the greatest risk. A California health department analysis found nearly 300 children under 6 years old living near Exide had elevated blood lead levels in 2012, the last year the plant was in full operation.
Perez said she's taken her daughter to the doctor "and so far everything's okay, but I don't know in the long run how it's going to affect her health-wise."
Toxic Substances Control officials blame the delays on contractors, environmental requirements and the large scope of the project, but said they are working as quickly as possible.
"We're not sitting our our hands," department spokeswoman Rosanna Westmoreland said. "We're very anxious to get this all started."
Where lead levels are worst
The newly disclosed data include dates and addresses for soil test results and cleanups — information the state shielded from public release for years.
The highest rates of lead contamination were found in Boyle Heights and East Los Angeles, where more than a third of properties tested have lead levels high enough to qualify for cleanup, a Times analysis shows.
Within those neighborhoods, there are dozens of blocks where more than half of the homes meet the cleanup criteria, soil testing data show. The majority are located north of the shuttered Exide plant clustered on both sides of South Indiana Street, which marks the border between Boyle Heights and East L.A.
The 3500 block of Percy Street, where Perez lives, is among the hardest hit.
Testers found every property on her side of that block has soil contaminated above 80 parts per million, the level at which the state recommends further health-related evaluations.
Perez's home is one of half a dozen properties with levels above the threshold for hazardous waste. More than a quarter of properties on her side of the street don't qualify for remediation under the state's criteria, which weigh multiple soil samples from each property to select them for cleanup.
To clean a property, workers remove contaminated soil for disposal, replace it with clean dirt, then cover it with sod, decomposed granite or mulch. It takes about a week and $45,000 per yard.
Among those waiting for the soil in her yard to be trucked away is Herlinda Savarino, who marched to demand the closure of the Exide plant. Two years ago she found out her home in East Los Angeles was contaminated. It's now among 10 out of 12 properties on her side of the 1000 block of South Alma Avenue flagged for cleanup.
She has stopped planting tomatoes and peppers to keep her grandchildren from touching the soil. But she fears children elsewhere in neighborhood are being harmed by lingering pollution. If it were a wealthier area, she said, the cleanup "would have been done a long time ago. But since it's Boyle Heights, East L.A., they take their sweet time."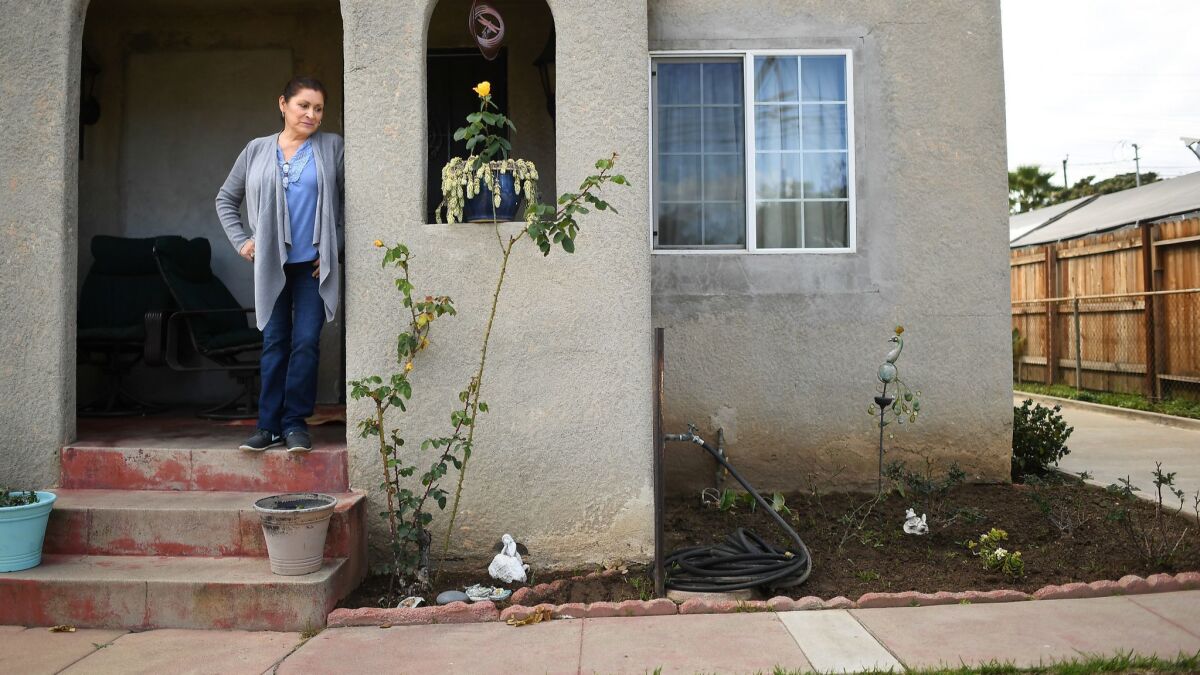 Residents of more than 5,000 other properties find themselves in a different kind of limbo. Their yards have lead levels above state standards but not high enough to qualify for cleanup under the current plan.
Without remediation, those yards will remain above California's screening level of 80 ppm — a threshold state health scientists established to protect children from losing more than one IQ point from exposure to lead in the soil.
The highest share of such properties is in Commerce and Maywood, where more than 70% of properties tested exceed 80 ppm but do not qualify for remediation, the Times analysis shows.
On the 5000 block of Kinsie Street in Commerce, every residential parcel had lead in the soil between 80 ppm and 400 ppm, so none are in line to be cleaned. "You feel powerless," said Alba Duran, who lives on the block and worries her children and others in the neighborhood are at risk.
A change in plans
Lead contamination was detected near the Exide plant more than four years ago. State regulators had allowed the facility, which melted down used lead-acid car batteries, to operate on a temporary permit for more than three decades, despite a history of air pollution and hazardous waste violations.
The initial cleanup, paid for by Exide, covered only about 200 properties closest to the facility. State regulators at that time applied a more health-protective formula for selecting properties for cleanup, approving plans that said lead levels of 80 ppm or above in residential yards required remediation.
But as tests later found polluted soil extended across a 10,000-property zone and taxpayers started footing the bill, officials shifted to a less-inclusive formula that placed only the most-contaminated, highest-risk properties on the priority list for cleanup.
Westmoreland, the department spokeswoman, said this month it would be wrong to assume "any home that has a level between 80 ppm and 400 ppm requires cleanup. It does not."
But an analysis of state data shows more than half of the Exide-area residential properties already cleaned under state oversight had lead in the soil at those levels: below the U.S. Environmental Protection Agency's 400 ppm standard for children's play areas, but above the state's 80 ppm threshold.
Under the current plan, properties with those levels of contamination do not qualify unless they are child care centers.
State officials said they had to change the criteria to place parameters around the cleanup as its size grew. They say their plan ensures properties with the highest lead levels and greatest risk of exposure are cleaned. They said they'd like to clean more yards, but that it would require additional funding beyond the $142 million that remains.
Community groups and county health officials critical of the plan want authorities to select entire blocks for cleanup rather than proceeding parcel-by-parcel, an approach they deem piecemeal and insufficient to protect residents.
Jill Johnston, a professor of preventive medicine at USC who reviewed the sampling results, said they show high levels of lead contamination so widespread "that this parcel-by-parcel approach really doesn't make sense."
"Such levels of lead pose a risk to the health of the communities, particularly to children, and will continue to cause harm until the soil is cleaned," Johnston said.
A contracting delay
The latest holdup in the project occurred in February when a $117-million contract with the firm selected to clean lead from the 2,500 worst-polluted properties fell through.
Toxic substances officials blamed Cincinnati-based Environmental Quality Management Inc., the company that submitted the winning bid for two years of cleanup work. The state awarded the firm the contract in December but terminated negotiations with the company after two months.
"We do not believe they would be able to carry out the contract and the cleanup itself in a manner that would be protective of the community," Department of Toxic Substances Control Director Barbara Lee said at a February community meeting in Huntington Park.
Environmental Quality Management declined to comment, but in a Feb. 26 letter, the company alleged the department had made "numerous and material changes to the contract documents," revisions it blamed in part on "errors and inconsistencies" in the state's bidding documents.
Westmoreland said the contract failure was "not the result of DTSC mistakes or actions by DTSC staff" and had no estimate of how long it would delay the project. The setback, she said, "doesn't alter our commitment to ensure that the properties that we have funding to clean up get cleaned up."
Still, it appears unlikely to begin before $176.6 million in funding set aside under 2016 legislation is scheduled to expire at the end of June with 80% of it unused, according to expenditure records through February. The department said it's requesting an extension to allow it to spend the remaining funds.
In the meantime, officials last month restarted an expedited program to clean the most-hazardous, high-risk properties while they find a new contractor. The department halted those "time-critical" cleanups after six months in August 2017, having completed 28 properties.
Officials stopped those cleanups because they anticipated beginning the broader cleanup of 2,500 properties shortly after selecting Environmental Quality Management in September 2017, Westmoreland said. She said six cleanups have been completed in recent weeks by contractor National Engineering and Consulting Group Inc. under the expedited program, which selects parcels on a case-by-case basis.
On Wednesday, the department announced that starting next month it would conduct expedited cleanups of another 215 high-risk properties with lead levels above 1,000 ppm under a $10.4-million contract with that firm.
Newly disclosed data
For years the toxic substances department had kept secret the addresses of homes sampled and cleaned despite years of requests from lawmakers, community members and reporters. Department lawyers argued that releasing that information would violate residents' privacy and jeopardize participation in the cleanup.
State toxics regulators then changed course, making that information public on the department's website last month. Westmoreland said that the department determined the public's interest in the release of the information outweighed confidentiality concerns and that it has received no privacy complaints about the data.
The disclosure will help the state hold Exide accountable, according to the department. While taxpayers are funding the cleanup, the state is building a case to recoup those costs from the company and any other responsible parties.
Unsettled: Exide | Video by Bethany Mollenkof and Spencer Bakalar
Georgia-based Exide, which acquired the plant in 2000 and halted operations there permanently in 2015, has said its lead emissions did not extend into residential areas and blamed the contamination on lead-based paint in older homes and past vehicle emissions.
Exide spokeswoman Melissa Floyd said the company's preliminary review of the soil sampling data "confirms our belief that the level of lead in soil at the majority of the properties has a much greater correlation to the age of houses and their proximity to major roadways than their proximity to the former facility."
The wait continues
The state's new data show Commerce and Boyle Heights residents have been waiting the longest for cleanup since tests detected lead at their homes, with a median wait time of 18 months or more.
At a lead-removal project in Omaha, Neb., the median time between soil sampling and remediation is less than six months, according to city statistics on 59 properties going back to 2015.
It was more than 18 months ago that California regulators found high lead levels outside the Boyle Heights duplex that Rosalva Rodriguez shares with relatives with young children on Esperanza Street. It's on the list for cleanup, but as time passes, she has begun to question whether it is truly a priority.
"We're still here in the same spot," Rodriguez said.
Others remain unaware of the dangers outside their homes.
Javier Ibarra, a construction worker who recently moved into a rented house one block over on Sabina Street, didn't know its soil was contaminated with lead above 400 ppm, the EPA standard for bare soil where children play.
Ibarra said his 3-year-old daughter and 6-year-old son spend a lot of time in the frontyard. It is mostly bare dirt and dotted with kids toys, including a small yellow bulldozer they push around in the soil.
The stories shaping California
Get up to speed with our Essential California newsletter, sent six days a week.
You may occasionally receive promotional content from the Los Angeles Times.