Young actor accusing Asia Argento of sex abuse as a minor will work with detectives, his lawyer says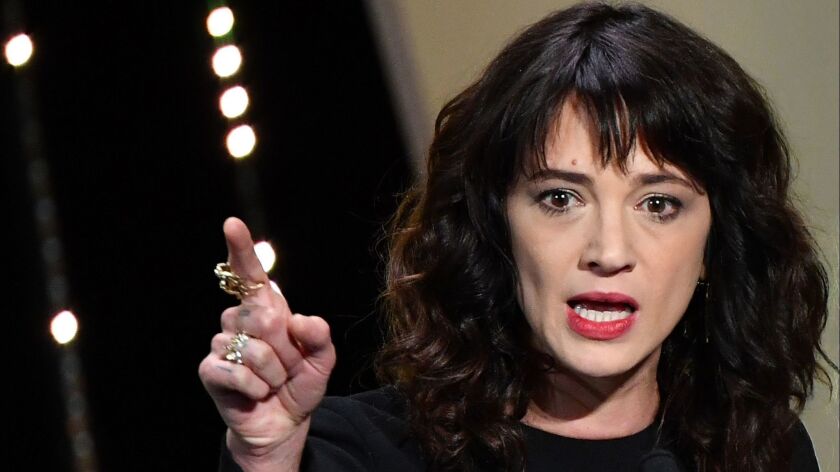 The young actor who accused Asia Argento of having sex with him while he was a minor will cooperate with a Los Angeles County sheriff's investigation into the Italian actress, his lawyer said.
Gordon Sattro, the lawyer for Jimmy Bennett, said he was "shocked, appalled, and disgusted" by Argento's new defense that the then-17-year-old Bennett was the sexual attacker.
In the wake of a New York Times story detailing that Argento had agreed to a $380,000 settlement with Bennett following his allegation that she had had sex with him in a Marina del Rey hotel in May 2013 when he was 17, the actress-director initially denied the act.
But in a statement and letter on Wednesday, Argento's new attorney, Mark Jay Heller, disputed the Bennett's allegations, labeling the young actor as the "sexual attacker" and saying Argento had opted not to contact authorities in 2013 following the incident.
Heller said in an interview that his client will now cooperate with any investigation and that she would stop the payouts to Bennett, which were made in small portions.
Sattro, however, said in a statement that he will seek to ensure all remaining money owed to Bennett is paid and that the funds will go to the #MeToo movement.
"If I were to sum up the letter from Asia and her attorney in a single word it would be 'hypocritical,' with a close second being 'nonsensical,'" Sattro said.
"We read this statement as a self-serving and slanderous one which is offensive, not only to my client but in all likelihood to victims both silent and outspoken, everywhere," he added.
Sattro sought a settlement from Argento last fall after she became the center of the #MeToo movement as one of the first women to allege she had been raped by powerful producer Harvey Weinstein. The disgraced mogul has denied the allegation.
"Her most recent letter [is] seemingly crafted with the intent to intimidate, shame, and insult our client back into silence," Sattro said. "This is a familiar tactic which has been criticized by the #MeToo movement repeatedly over the past year. In Hollywood, the one thing that has never and will never be condoned, or tolerated, is the abuse of child actors."
He said Bennett, now 22, has a legally enforceable agreement in the settlement. "Upon securing the outstanding funds owed, Jimmy will be donating the entirety of it to the #MeToo movement."
The New York Times reported that on May 9, 2013, a teenage Bennett arrived with a family member for a reunion with Argento at the Ritz-Carlton in Marina del Rey, and Argento asked the family member to leave. When the two were alone, she kissed him, removed his pants and performed oral sex before having intercourse with him, Bennett's lawyer said.
The actress issued a statement after the story, saying she had not had a sexual relationship with Bennett and she agreed to the settlement only after her boyfriend, Anthony Bourdain — the culinary and travel personality who killed himself in June — put up the money and made the arrangements.
The actress is now characterizing the incident that led to the settlement in a different light. Her attorney, Heller, said text messages she recently sent that were obtained by TMZ.com show it was a sexual attack by Bennett.
In the messages, Argento, who was 37 at the time of the alleged encounter, reportedly said: "The horny kid jumped me. I had sex with him and it felt weird."
In the texts, which were sent to model Rain Dove Dubilewski, Argento also said: "I didn't know he was a minor until the shakedown letter. It wasn't raped but I was frozen," according to TMZ.
Dubilewski said the messages were turned over to law enforcement.
Twitter: @lacrimes
---
For reporting and exclusive analysis from bureau chief John Myers, get our California Politics newsletter.
You may occasionally receive promotional content from the Los Angeles Times.