Asia Argento, facing sheriff's investigation, now says teenage actor sexually attacked her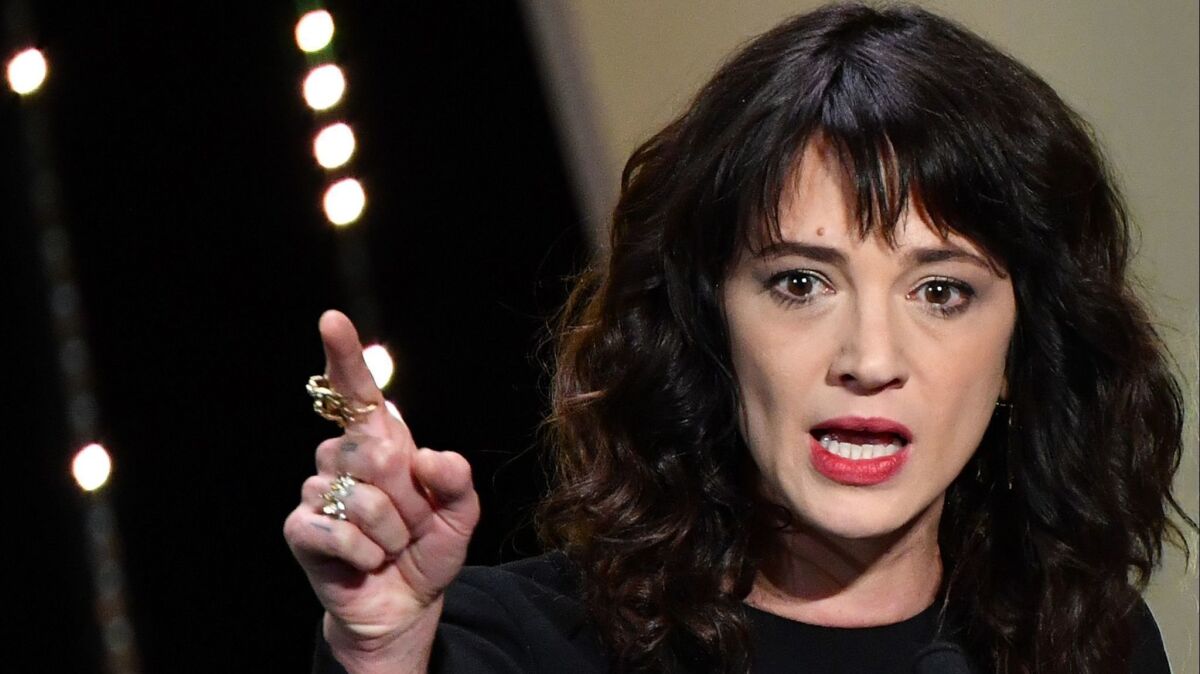 Actress Asia Argento, who is under investigation by the Los Angeles County Sheriff's Department following allegations she had sex with a minor, is now accusing the young actor of sexually attacking her in 2013.
Mark Jay Heller, Argento's lawyer, said in a statement that the Italian actress was the real victim of the sexual encounter, contradicting accusations made by Jimmy Bennett, who said he was 17 when Argento had sex with him in a Marina del Rey hotel.

For the record:
8:20 p.m. Sept. 6, 2018An earlier version of this article misspelled Rain Dove Dubilewski's last name as Dubliewski.
"Asia at no time initiated a sexual encounter with Bennett and in fact as she stated in her response to the New York Times article, concerning their past history, 'I have never had any sexual relationship with Bennett … but rather the relationship was a long distance friendship over many years,' " Heller said.
The lawyer said the encounter with Bennett in May 2013 was not consensual for his client. "Asia chose at the time not to prosecute Bennett for sexually attacking her," he said.
A New York Times story in August revealed that Bennett was paid a $380,000 settlement after accusing Argento last fall of sexually assaulting him in 2013 when he was 17. In California, the age of consent is 18.
The Times story said that on May 9, 2013, a teenage Bennett arrived with a family member for a reunion with Argento at the Ritz-Carlton in Marina del Rey, and Argento asked the family member to leave. When the two were alone, she kissed him, removed his pants and performed oral sex before having intercourse with him, Bennett's lawyer said.
The actress issued a statement after the story, saying she had not had a sexual relationship with Bennett and she agreed to the settlement only after her boyfriend, Anthony Bourdain — the culinary and travel personality who killed himself in June — put up the money and made the arrangements.
The actress is characterizing the incident that led to the settlement in a different light.
In text messages provided to TMZ.com, Argento, who was 37 at the time of the alleged encounter, reportedly said, "The horny kid jumped me. I had sex with him and it felt weird."
In the texts, which were sent to model Rain Dove Dubilewski, Argento also said, "I didn't know he was a minor until the shakedown letter. It wasn't raped but I was frozen," according to TMZ.
Dubilewski said she turned the messages over to law enforcement.
A sheriff's spokeswoman said the department has not had contact with either Argento or Bennett regarding the latest allegations.
Heller said his client will cooperate with any investigation. Bennett could not be reached for comment Wednesday but previously said he was traumatized by having sex with the actress when he was so young.
"I did not initially speak out about my story because I chose to handle it in private with the person who wronged me. My trauma resurfaced as she came out as a victim herself," Bennett said in a statement about the settlement. "I have not made a public statement in the past days and hours because I was ashamed and afraid to be part of the public narrative.
"I didn't think that people would understand the event that took place from the eyes of a teenage boy."
On the day of the alleged encounter, Argento posted a photo on Instagram showing her hugging Bennett, referring to him as "My son, my love," and included the month and year.
Argento insisted the settlement was paid last year at the behest of Bourdain to avoid bad publicity. Bennett's lawyers had threatened to sue Argento, who had become a leading figure in the #MeToo movement after she said last fall that she was raped by producer Harvey Weinstein when she was a young actress.
Weinstein's attorney Benjamin Brafman has said that all of the relationships between the former Hollywood mogul and his accusers were consensual.
As part of a potential lawsuit, Bennett's attorney sent photos of the pair in bed together. In the settlement, the copyright for the pictures was secured so he could not use or show them to others.
The payout to Bennett, which was made in small portions, has now stopped, Heller said.
The lawyer said, "This is the Phase Two of the #MeToo movement," and he called for victims with a negative history to have the "courage to come forward and say me too, I was a victim of sexual assault."
"Asia believes no sexual predator should be granted a pass simply because the victim has some gray area in their background." The statement accuses the media of giving an unfair impression of the victim.
Twitter: @lacrimes
The stories shaping California
Get up to speed with our Essential California newsletter, sent six days a week.
You may occasionally receive promotional content from the Los Angeles Times.