Compton officials are scrambling to explain the theft of 31 handguns from a municipal vault
Compton officials are scrambling to explain the theft of 31 handguns from a municipal vault that contained nearly 200 weapons from the city's long-disbanded police department and a corps of formerly armed code-enforcement officers.
"There's stuff a little too loosey-goosey around here," City Manager Cecil Rhambo Jr. told a Times reporter Tuesday evening.
Rhambo, who arrived at City Hall just over a year ago, said he ordered an inventory of the city's sensitive property not long afterward.
"I wanted to make sure we could account for those kind of things," Rhambo said.
Even so, Rhambo said it was unclear to him whether the weapons belonged to Compton's disbanded police force or its disarmed code enforcement officers, or might have been purchased almost eight years ago as part of an effort to reconstitute the police department.
According to authorities, thieves made off with 23 Beretta .40-caliber pistols and eight Glock .40-caliber pistols. The Bureau of Alcohol, Tobacco, Firearms and Explosives is now investigating the theft and has offered a $10,000 reward for information leading to the arrest and conviction of those responsible.
Ginger Colbrun, an ATF spokeswoman in Los Angeles, said a total of 198 guns were stored in a safe in a municipal building. In August, the city decided to turn the weapons over to the Los Angeles County Sheriff's Department. However, when the guns arrived at the Sheriff's Department on Aug. 31, an inventory found 31 guns were missing.
Sheriff's and Compton city officials notified the ATF and an investigation began In September. The guns were last inventoried in March 2017, Colbrun said, so there is a considerable window when they could have been stolen.
"None of them have shown up at crime scenes," Colbrun said. "That's in part why we decide to put out the reward."
Colbrun said agents have the serial numbers of the missing weapons to aid with identifying them once they are located.
On Wednesday, at least one weapons expert said the theft was just the latest in a long series of lapses in oversight in the troubled city.
"It is fair to say, it was likely an inside job," said Charles "Sid" Heal, a retired L.A. County sheriff's commander and weapons expert. Few people probably knew about the storage of the firearms, and the vault combination had probably remained the same for decades.
"This is latest in a series of fiascoes in Compton's history when it comes to law enforcement," Heal said. Such incidents included the theft of a handgun that was booked into evidence at the Compton Police Department in 1986 and later used to shoot and injure a Long Beach police officer in 1997.
Heal said the serial numbers would allow any law enforcement agency to identify them as Compton's stolen weapons. "Eventually these firearms will show and the persons or persons responsible will get apprehended," he said.
The stolen weapons retail for roughly $500 apiece, but fetch far higher prices on the street, Heal said.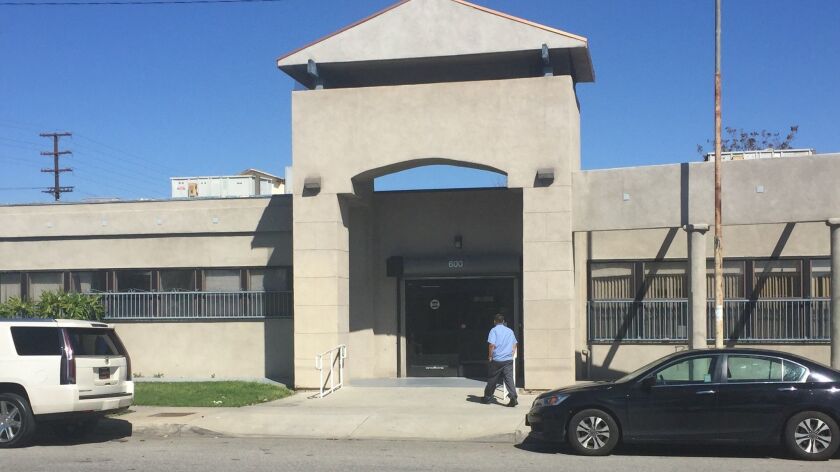 ATF investigators say the guns are likely left over from when Compton dismantled its police department in 2000 and contracted with the sheriff's department for law enforcement services.
On Tuesday night however, Rhambo suggested there were two other possibilities of why a city without its own police force had a safe filled with nearly 200 guns.
Rhambo said he was talking to a code enforcement officer who mentioned the city owned a stash of guns stored in the fire department and the old city hall building.
At one point, the city had 45 gun-carrying code enforcement officers, Rhambo said. The city disarmed those officers in 2014 however, citing safety and liability concerns. The city was one of only a handful in the state that issued its code enforcement officers weapons.
He speculated also that they could have been purchased as part of an effort to bring back the city's police department.
In 2010, former Mayor Eric Perrodin and the City Council voted to revive the police force. Those plans were abandoned a year later, however, amid a massive budget deficit and the prospect of layoffs.
Rhambo, who once served as a captain at the sheriff's Compton station, said there are no longer any plans to resurrect the Compton Police Department.
"The liability alone with law enforcement agencies is just cost-prohibitive," he said. "I don't see how cities can afford it, quite frankly."
The weapons heist is just the latest crisis to befall Compton City Hall.
A state audit released this month found that Compton officials overpaid themselves, charged questionable trips on city-issued credit cards and failed to safeguard taxpayer money, resulting in one staffer stealing millions of dollars over several years. Compton's weak financial oversight and rampant overspending turned a general fund surplus of $22.4 million a decade ago into a deficit of $42.7 million just three years later, the audit found. Even after officials adopted a plan to repay the debt in 2014, the deficit increased by $6.4 million the next year.
Fiscal mismanagement is not a new problem in Compton, where former Mayor Omar Bradley was convicted last year of misappropriating public funds. Current Mayor Aja Brown took office in 2013 on a good-governance platform and vowed to bring financial stability to a municipality that had run through city managers.
The investigation into the missing weapons is being conducted by the ATF. Anyone with information about the missing firearms is urged to call (800) ATF-GUNS or the agency's Long Beach office at (818) 265-3760.
---